While this year's Oscars undisputedly lacked color, ESSENCE magazine made up for it at the 13th annual Black Women in Hollywood Awards and luncheon, held Thursday, February 6, 2020 at the Beverly Wilshire Hotel in Beverly Hills, CA. This year's theme for the invitation-only event, in honor of the brand's 50th anniversary, was a celebration of women owning, expanding and transforming the art of storytelling.
"For so long we haven't been able to tell our stories," said comedian, television host, actress, Loni Love, who attended the event and has a second book coming out in May. "If we want to see our stories, we have to do it and we have to give big ups to someone like Issa Rae, like Robin Thede, like Ava Duvernay that are actually telling stories and telling it in their point of view because it is important."
"That's why I come out and support my sisters. I want to tell them 'Good Job," continued Love.
Thede, creator, writer, and performer of  A Black Lady Sketch Show, also a guest at the event, shared a similar sentiment about the theme.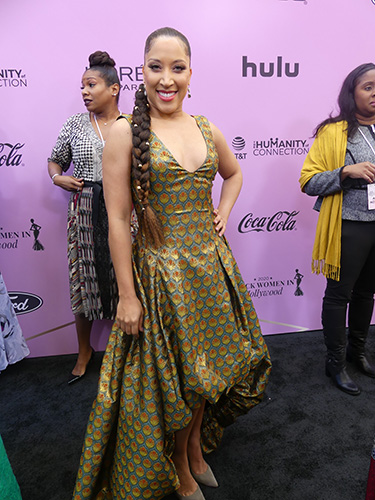 "Stories are so important for black people because that's what we began with the oral tradition and telling our stories and it continues today," explained Thede. "Even with the silly sketch comedy show that I'm doing on HBO. Being able to see black women in untraditional roles that you never get to see us in and playing these characters, just opens up a new world for the next generation to see themselves in."
This year's honorees included actress Lashana Lynch (Black Women In Hollywood Award Recipient); DGA nominated director and two-time Grammy Award-winning music video director Melina Matsoukas (Black Women in Hollywood Award Recipient); actress, comedian, director and producer Niecy Nash (Ford Vanguard Award Recipient); and the trailblazing cast and co-executive producer/director/writer of POSE Janet Mock, MJ Rodriguez, Indya Moore, Dominique Jackson, Angelica Ross and Hailie Sahar who called the award a blessing.
"I feel blessed. I feel humbled and I'm ready for it," said Sahar, who continued how it is the love in POSE that resonates most with viewers. "The angle is coming from the under dogs and the people who you don't normally hear about. It's connecting everybody as one body of people and showing us that we are no different. It's about fearless, strong women that have been through all types of stuff and still find it in themselves to keep going."
Alfe Woodard, Ava DuVernay, Billy Porter, Issa Rae and Kerry Washington served as presenters and award-winning musician, actress and television personality, Eve, hosted the event.
Rae presented the next award to Matsoukas, who candidly spoke about reclaiming her joy in the midst of injustice. Melina acknowledged Daughters of the Dust director, Julie Dash, as the "Black mother of cinema." Melina also thanked her mother, Beyoncé, Rae and Lena Waithe for their contributions, not only to her life, but also for her success.
"Being an actress is what I do, but my who is to be of service to the world," said Nash as she accepted the Vanguard Award presented by Ford. She spoke openly about her recent divorce, dispelling the family myth she inherited of being "nothing without a man," publicly reclaiming her happiness and providing steps for everyone to do the same.
Qunita Brunson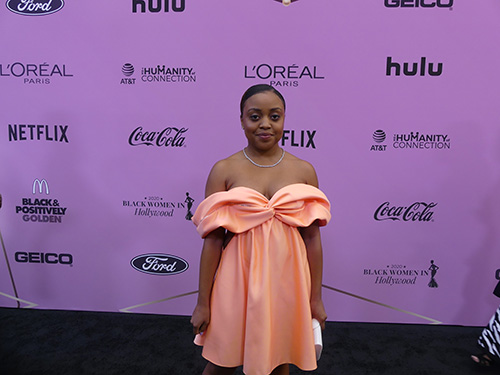 Naturi Naughton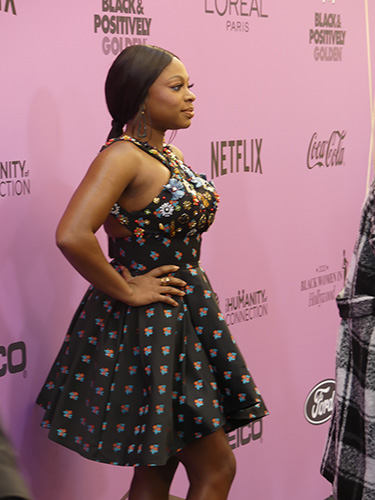 Logan Browning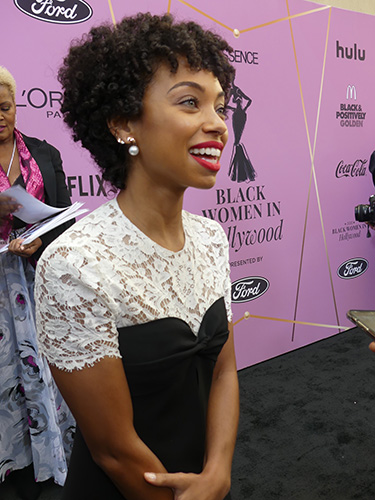 Issa Rae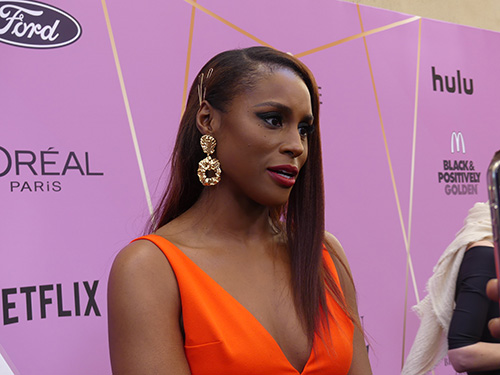 Bresha Webb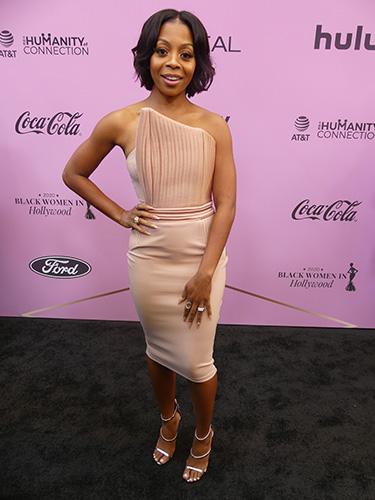 All images by Toni Bullock