We all know and love BET Sunday Best alum, Latice Crawford. Since gracing our television screens, Crawford has been up to making new music and is set to release a three-track EP titled, The Cure. We wanted to catch up with the Stellar Award-nominated singer to discuss her exciting new music, get insight into her time on BET's Sunday Best, and much more!
Tell us all about your new music.

My new project is called The Cure. I'm getting ready to release a new single in a few weeks. I released a song called "Amazing" a few months ago. The project is just trying to get people back to God. Not politics, church, or christianity but to the source. It's about the things that we all kind of go through as humans, as a believer or non-believer. 
How would you describe your overall experience on BET's Sunday Best?

Sunday's Best was awesome. I was on season two. I placed second runner up. The experience itself was tiring but so informative. Before I went on the show, I knew nothing about the industry. I wasn't looking or even thinking about becoming a singer, I went on the show so people would leave me alone about being a singer (laughs). I wound up becoming one anyways (laughs). I think the show was a turning point for me to understand that music, no matter what genre lifts people, encourages people, delivers people, and on the show I realized I wanted to be apart of that. I wanted to be in that fold of people that help other people heal and get through things they're going through in life. Sunday's Best was a turning point for me to realize what my true calling was.
Do you mind sharing how you are dealing with our current pandemic?
I am staying creative, not just finding work to do but finding things to do that keep me happy. I make doughnuts with my son and we'll try new experiments (laughs). I'm trying to do new things and not look at it as if I'm "stuck in the house." I have all this time. I look at it as a plus. All of the things I didn't have time to do before, I now have the gift of time. Whether that's creating more work or working on a new recipe so I can enjoy my food, whatever it is I want to enjoy this gift of time that I have. A lot of people may not know but I lost both of my parents within a three year span. Spending so much time grieving, my mom passed away March 1st before the pandemic so I have time to grieve instead of being on the road trying to lift other people. I have this time to lift myself, heal, and be whole so that when this pandemic is over, I can go back to work and do what I do.
What advice would you offer to our readers during this time?
Stay lifted and stay encouraged. Take advantage of this gift that we have. I think it's a great thing to be able to shift our minds and instead of being negative and fearing, be responsible, stay home, and find creative things to do. The internet is a wonderful thing and thankfully it has not been taken away from us. You get bored or can't think of something to do, find something creative to do. Don't make yourself pressured to find solutions to heal the world. Take this time to heal you.
What can we expect to see from Latice Crawford in the future?
I'm working on so many things. I'm hoping to have a cookbook or maybe a cooking show. I would hope to have a shoe or clothing line. I'm always looking to do more. I'm also an actress so I'm delving more into that so hopefully you'll see me in more plays. You never know! I'm working on an IGTV talk show so you will see that. It's called Girls Talk. I've got a few things in the works that I'm trying to make happen and bring to fruition.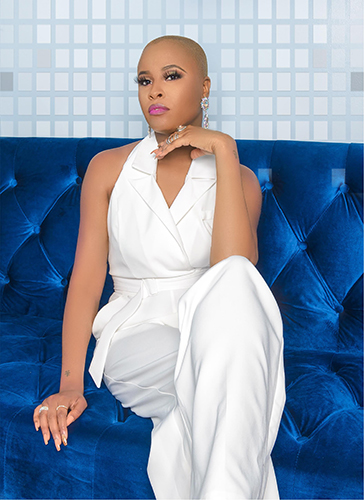 For more on Latice Crawford, click here!
Stay connected by following her on Facebook, Instagram, & Twitter.
All images by eOne Nashville