Actress, LaToya Tonodeo first won our hearts over when we witnessed her in The Fosters, The Oath, and she's continuing to captivate many around the world in her new role as Diana Tejada in the reboot of POWER. We wanted to know more about her experience on the POWER reboot, Power Book II: Ghost, what we can expect to see, and much more in our exclusive interview with the starlet.
How did you first get into acting?
I've always been into the arts. I love acting, dancing, and I even wrote poetry. As a kid, my mom would buy different products and I would find myself in the mirror doing these fake commercials. My mom saw me, and I don't know how she found out about this but there was this open casting call for a Nickelodeon show. I don't know (laughs), I went there, I clearly didn't book it, but I had so much fun. I remember being with all these kids and it being so free. Ever since that day, I knew I wanted to be an actress. I started taking classes and I'm still taking classes to this day. I'm truly doing what I love.
Do you mind sharing your overall experience working on the POWER spinoff, Power Book II: Ghost?
My overall experience has been a true joy. I am so grateful to be on this journey. I've said it a few times, this is one of my favorite shows. It's always been. I've always wanted to meet Courtney. This show is on my vision board at home. To be able to be a part of this universe is really a dream come true. Not only that but I get to be around great people outside of the acting world and when we step foot on set, the acting is amazing. You are learning from one another every single day. It's a great master class, everyone is so warm and welcoming, and it's like family. I hear that it's not always like that on other sets. To be able to say that these people are like my friends and family is really cool.
What can we expect to see?
You can expect to see a lot of the same foundation that you saw in POWER. You'll get a lot of shock factors, random deaths that you may not expect, and the suspense of course. There is such great acting and storytelling. There are layers that you'll get to pull back every single episode.
How has quarantine life been for you?
Initially, it was really rough. I tried to stick it out in New York when our production was shut down. That didn't work out for too long (laughs). I went back home to be with family so I could feel a little more secure. I settled in back home in my comfort zone and started to feel a little better. I've reflected, dealt with my own thoughts, and just become a better person. I know that people would post about the pandemic, but I literally took the time to deal with myself. I would say it was definitely needed to self-reflect and learn.
SHEEN Magazine is the Ultimate in Beauty. Do you mind sharing your beauty must-haves with us?
I have a few because I am really big on skin. I would say my first two are black owned by women.  First, Skinnsation Beauty Bar. Before COVID, I would go and get facials done by her and she has this Skinnsation Bio Sulfur Mask. Whenever I get a breakout especially with makeup, I could either put it in that one spot or the whole mask on and the next day it is gone. I love Tracy Hudson Skincare cleansers. It is so gentle and for my moisturizer, I love Tatcha Dewy Skin Cream or Skinnsation Collagen Cream. Oh my gosh, it makes your skin feel like butter.
What can we expect to see from you in the future?
In the future, I would say hopefully a lot of great films working with huge directors. I hope to constantly grow and showcasing even more of my talent.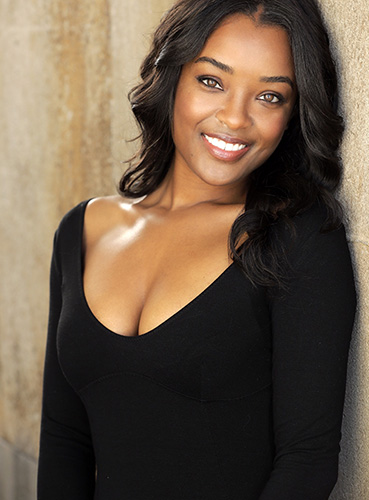 For more on LaToya Tonodeo, follow her on Instagram & Twitter.
All images by Paul Smith Photography