If you're a Law & Order fan like myself you will be thrilled that the new season begins with all three squads sharing an epic, one-night, three-part premiere. The stars of Law & Order, SVU, and Organized Crime gathered in downtown New York to celebrate this major television event—which really is equivalent to a major motion picture—airing September 22nd.
Held at the historic Capitale Ballroom in Lower Manhattan, long-time Law & Order stars and legends, Ice T (SVU), Christopher Meloni (Organized Crime), Mariska Hargitay (SVU), and Sam Waterston (Law & Order) walked the red carpet with their newer castmates, some of which included, Organized Crime stars Danielle Moné Truitt, our illustrious cover girl, Brent Antonello, and Rick Gonzalez as well as Law & Order's newest cast member, Mehcad Brooks.

Law & Order Stars Mehcad Brooks, Brent Antonello & Rick Gonzalez
Watching the stars line the red carpet, it was evident why Law & Order has had such long-lasting success—its casting.  Cast members from all three shows paint like a beautiful rainbow—Law & Order's Odelya Halevi hails from Israel, while SVU star, Octavio Pisano hails from Tijuana, Mexico.  California native and SHEEN cover girl, Danielle Moné Truitt shared with us how proud she is to be a black woman and to be able to represent so boldly on such a major platform. Our digital cover girl also represented for the women-owned businesses—styled by Marcus Blassingame, she wore women-designed pieces from head to toe.
Rick Gonzalez, a Puerto Rican and Dominican native New Yorker, and a very familiar face in the television and film industry (he has over 70 tv and film credits to his name), joins Organized Crime this season as Detective Bobby Reyes. Bringing a new cast into the existing world of beloved veterans has always been a trademark of Law and Order and this season is even more beautiful to behold.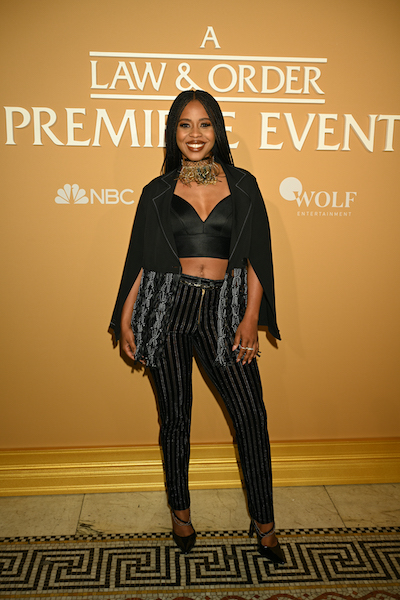 Law & Order Star & SHEEN cover girl, Danielle Moné Truitt| Styled by Marcus Blassingame | Photo by: Scott Gries/NBC
The cast shared their excitement for watching the three-part premiere, and surprisingly they will all be watching it for the first time along with fans—a few stars shared that they didn't know anything beyond the scenes they filmed, while Organized Crime stars Gonzalez and Antonello revealed they didn't know any details, as they didn't begin filming until the second episode.
Law & Order stars Octavio Pisano & Odelya Halevi and Sheen Correspondent, Elizabeth Samuel

Make sure you set a reminder to watch what is promised to be the most epic Law & Order premiere yet. Come for the legends, stay for the new diverse cast, the action, and even the fashion. Catch the three-part premiere event Thursday, September 22nd at 8/7c on NBC and streaming on Peacock.
And catch our exclusive interviews with the cast on Sheen Magazine's Youtube page!
https://www.youtube.com/watch?v=ZIa4wAmEkDU
Videos by Damien Emile