Humbled by her reputation as a music icon, Jody Watley defines herself as a template for contemporary music and fashion. She is a Grammy Award-winning songwriter whose career spans decades, countless performances, and millions of fans. Today, Jody continues to prove her relevance in the industry as she reinvents herself and showcases her talents time and time again. She's also committed to inspiring others as an example to "let your light shine." So, how does Jody set that example for her fans? Jody shared this and more in this Sheen exclusive you won't want to miss.
Who is Jody Watley?
I am a woman of depth with brains beyond beauty. I am totally committed to the business of Jody Watley, the captain of my own ship.
How does it feel to be a music icon?
I don't think of myself as an icon. I'm honored when others speak of me in that regard because not all artists reach that pinnacle.
What have you been working on during the pandemic?
First and foremost, trying to stay healthy. I'm keeping a schedule, eating right, and getting in some form of cardio even though the first three months of the pandemic I didn't go out for my morning power walks. I also shifted my focus from what I can't control in my work to what I can—building my online boutique, generating new revenue streams, fueling my creativity, and writing. It's easy to get depressed with everything going on, especially not working and doing what I love. I've learned the importance of self-care—mind, body, and spirit. Do something for others and make them smile because it's good for you too. 
What inspired you to launch the Jody Watley Online Boutique?
Business is always on my mind. The boutique has been open for nearly two years and offers a variety of limited-edition items from t-shirts, DVDs, and CD digipaks to signed items and vinyl for my hardcore fans and collectors.
What would you like the world to know about Jody Watley? 
I'm authentic in all that I do, and I'm not stuck in the 80s. I continue to evolve as an artist, songwriter, and entrepreneur.
How are you coping as a music artist during the pandemic?
It's about staying active, adapting, creating, and inspiring others. I've also launched my brand of facial coverings to benefit Feeding America.  
What are some of your greatest accomplishments?
 There are too many to mention and that's a blessing. Being here, right now, still Jody Watley, authentic, succeeding on my own terms and not broken down the way some hoped. As a veteran in the music business and someone who is always positive and constantly reinventing herself, I've never sold my soul or succumbed to the self-destructive elements and behaviors that have been the downfall of so many greats. I've remained true to myself professionally, which is a feat in this business.
I'm also extremely proud of my role as a mother to my daughter, Lauren, and my son, Arie. They are both the first college graduates in our family. I'm proud that they are grounded and wise. They are not like most show business kids who are thirsty for attention. This is the most rewarding for me. I don't exploit them and respect their privacy, which has fostered a healthy balance in our relationship.
What was your experience like as the first black woman to grace the cover of a Japanese fashion magazine?  
I'm still in awe of having my face across Japan from the magazine to billboards and television commercials. If social media was around then, I would have been trending!
As a fashion icon yourself, what is the art of fashion?  
Develop your personal style. You can draw inspiration from labels and trends but find your own authenticity.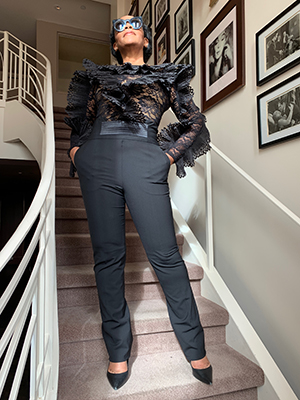 What advice would you give someone who wants to mirror your success?
Learn the business, know who you are, and never let anyone take that from you or dim your light. Always look at the big picture because it will keep you from making a short-term decision you might regret in the long run. Never be afraid to say "no" and follow your instincts, which is the voice of God and the universe talking to you. 
What sense of purpose do you draw from your culture or community?
I've learned to make things happen and persevere amid adversity and obstacles. Black women aren't as celebrated as we should be even though we excel in so many areas of life and business. However, I never use that as an excuse to give up or to allow others to marginalize me. That's always the message—define who you are yourself.  
What's next for Jody Watley in 2021? 
Stay tuned! A great business lesson is to never reveal all your cards. Do the work and let it speak for itself when the time comes.
Leave us with some encouraging words of wisdom.
Embrace your wattage—your light. Too often, circumstances and people put our flames out in childhood. As we age, we must remember to empower ourselves because we are worthy; we are enough. Never allow anyone to make you feel less than or that you must dim your light to make them feel comfortable. Be the badass you were born to be and pass your light to others because shining a light on someone else will never dim your own light.   
Where can we find you?  
My website, on social media as Jody Watley, on digital music platforms, and on my official YouTube channel. You can also book me for personalized shoutouts on the Cameo app. 
The Grammy winning and always fabulous trendsetter welcomes "Sanctuary" luxury soy candle and room fragrance spray with its comforting notes of green tea, lemon and vanilla limited-edition to her collection, now available exclusively at JodyWatleyShop.com.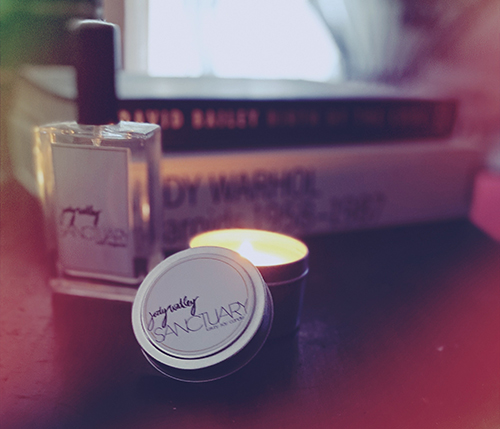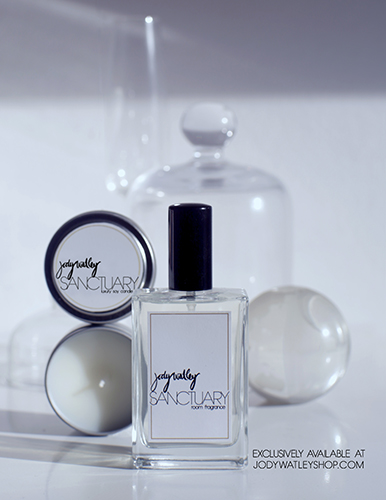 All images courtesy of Jody Watley