Country star Colt Ford brags about being 'little bit country, little bit hood' in his latest single, and fans around the world are here for it. "Hood" features rap star Kevin Gates who brings his own country/rap touch with a fire verse. Grammy award-winning producer Jermaine Dupri added some additional production to the track— and the rest was history. Ford and Gates bridge the gap between the two musical genres while receiving many positive comments from fans.
"Being from the hood and being an urban cowboy, we need more mashups like this! Let's continue to bridge the gap!" One fan wrote in a YouTube comment.
Another wrote, "The legend of Hip Hop with Dupri mixed with Gates that gets it out the mud and Colt that plays in the mud… gets no better than that! Need more collaborations like this!"
In the single, Ford sings the words, "I'm sticking to my roots like Velcro/ Bending them strings/ dropping that bass/ Spitting them bars/here's a little taste/I'm that hood smoking that backwoods like a fiddle/I'm jay Z mixed with some Hank III."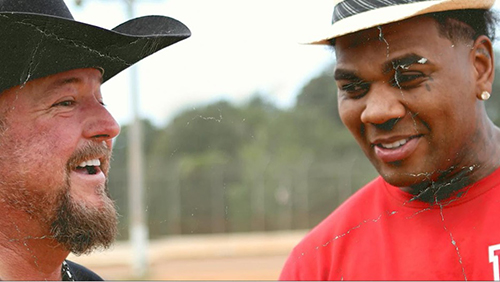 More fans in the comments of the single's video on YouTube are rolling in, and they're all praising the collaboration with hopes of more collaborations that showcase unity.
"This is what I love about Colt Ford. Been bringing the country and hood together for 20 years."
"Mad respect for doing something that really hasn't been done at this level y'all killed it, stay blessed stay dangerous."
"3 icons together — Colt, Kevin and Jermaine — man this is what people need to see cause this mean all 3 of them don't care if you white black yellow, green or blue. This is what our youth need to see."
The artists recently gave fans some behind-the-scenes footage of the official music video. It shows action-packed clips during the video filming— which African American Director Ed Pryor filmed. Written by Michael Hardy, Jordan Schmidt, Brad Tursi, and Kevin Gates, "Hood" will be featured on Ford's new EP, Keys to The Country.
Watch the official music video for "Hood" below.
Images courtesy of Tre Media.