Lexy Panterra is the Baddest of them all, and she's here to unveil all her beauty secrets! Hailing from Sacramento but now based in Los Angeles, the singer, songwriter, rapper, entrepreneur, and Twerkout queen is the definition of go-getter, someone who went after her dreams and stayed unapologetically true to herself along the way. 
Most recently, Lexy unleashed her standout single titled "Booty On Her" tapping the legendary Trina, heading all the way to Miami to shoot the cinematic visual. Sheen Magazine caught up with Lexy Panterra at her dress rehearsal at Dame Dash Studios in Los Angeles to get her beauty go-to's and fashion swag.
I love the look! What are you wearing?
We're going through outfit changes, outfit options for my show Summer Unlocked. DaBaby is headlining, it's in Ontario an hour away. Jack Harlow, Rick Ross, Bia, Tyga, your girl Lexy Pantera. I'm going through a little dress rehearsal, that's why you're here. 
"Booty On Her" with Trina out now, congratulations!
I'm so excited! Did you see the cover of Maxim? I fought for that cover. There was a lot of pictures, I said "this is an iconic photo, we have to do this one."
This is a very exciting moment in your career.
It is, I'm very excited. It's the biggest show I've done right now, so far. It's a really big feature for me and a really good record.  I'm pulling all my stops, coming all out for this record.
You were in Miami shooting the video with Trina. What was the vibe? What was the energy? 
It was hot, it was sexy. I was flirting with Trina! 
I just interviewed Trina and she's the nicest, most humble, human being. 
It was great! She got me drunk. She got on set and already had weed. I smoke, so I was smoking. She said "we're not doing this unless you drink." I'm like "dang, she's trying to get me fucked up." I was lit, I was having so much fun. It made it so much more fun. I said "alright" and we let loose. It was fun.
What are your fashion staples?
Everything and anything. Put me in a trash bag, I'll wear it. [laughs] You need to wear what you feel good in, then get some opinion from some friends. These are glowing in the dark. [raises legs].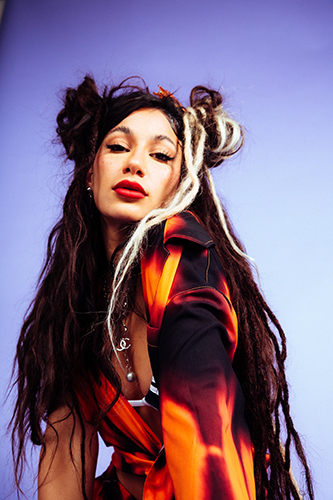 Are you able to move and dance in these pants?
I don't know, I'm gonna figure it out. My friend made this. We're going over custom looks, trying to figure out what works on stage and what doesn't. That's important when it comes to fashion on set because if it's not functional, I'm not wearing it. If I don't feel comfortable in it, it's going to be terrible. I like my chaps look because I can have my booty out and still have my thighs and everything else covered. I give you a little bit, but not everything. It makes me have a little more cleavage here, which I like a good push-up bra.
What about beauty go-to products?
Let's see… my lash glue. I always carry my lash glue. No matter what, gotta have my mascara with me. I feel confident when I'm out with that. 
I love your necklace layering.
I like the necklace layering recently. I really love it. Guess what? These glow in the dark. [shows nails] They're crazy, it says "Baddie Vibes." It says "Virgin," it says "Pantera," it says "gypsy." 
Which of your lyrics best describe your life?
"I'm a bad little bitch I accept it, so I bought me necklace. He like girls that live a little reckless, he got a death wish." Why was that the first line that came to mind? [laughs] At least I had an answer. "Yeah I'm a bad little bitch I accept it!" That's important ladies! That's a really good line, I'ma tell you why. You need to accept that you're a bad bitch and have that confidence. A lot of people don't feel like they don't deserve what they're working for, you gotta accept who you are. Live in your own beauty, showcase it and don't be afraid. 
What're you most excited for this year as the world opens up?
Let's manifest greatness and better things. The new music dropping. Me and Trina will be performing in October together, I'm really excited about that. A lot of music, I want people to know me. I'm excited for interviews like this because people get to see who I am. 
Featured Image by Cristine Jane | @visiblevibez_