"The Outfitter of the Stars" and "The Innovator of Formalwear," Mr. Carlyle has taken the fashion world by storm over the last 40 years. A renowned international designer, fashion stylist, consultant, model coach, actor, casting director, producer, mentor, husband, and father, there isn't much Mr. Carlyle doesn't do well and that's exactly why we chose him for our Sheen Magazine exclusive.
Join us as we sit down with Mr. Carlyle for a closer look at his impressive career as the founder of Designers on Tour and Durham NC Fashion Week to his work as an actor with credits in blockbusters like Black Panther and Guardians of the Galaxy Vol. 2.
Who is Mr. Carlyle?
Mr. Carlyle is the founder of Designers on Tour and Durham NC Fashion Week. He has over 40 successful years in the fashion business. He's also appeared in numerous films including Black Panther, Guardians of the Galaxy Vol. 2, A Rage in Harlemwith Gregory Hines, Jamie Foxx's Sleepless, Life without Hope, American, The Soul Train Story of BET, Boomerang on BET, Genius Aretha on National Geographic, Eddie Murphy's Coming to America 2, and The Resident.
Consultant, Actor, Casting Director, Husband and Father, Founder of Black Designers on Tour, film credits in Black Panther and Guardians of the Galaxy Vol. 2, and over 40 years in the business.
What is more meaningful to you—all your accolades and awards or the four decades of your work in the fashion industry?
My four decades in the industry, my family legacy, and my walk with God are the most pleasing to me.
What are some characteristics and traits that you bring to your profession?
A classic man and an innovator in fashion dressed for success with an eye for formal wear.
You're known as the "Outfitter of the Stars." Where did this title originate?
A WIZ-FM radio personality started calling me "The Outfitter of the Stars" because of my three formal wear shops in Cincinnati, Ohio. My downtown location attracted several artists because we offer same-day service, limousine service for our clientele, and are available to be on location for video shoots.
The first group I worked with was Kool and the Gang for their Jungle Boogie Tour. Since then, I've worked with Bobby Womack, Midnight Star, Confederate Railroad, LA Reid, Baby Face, The Deele, Frankie $ Waddy, Boosty Collins, Bootsy Rubberband, Dr. Charles Fold & The Fold Singers, Reverend Timothy Wright & The B.J. Mass Choir, the Gospel Music Workshop Cincinnati Chapter, Donald Lawrence, Allen Iverson, the Cincinnati Reds, and the Cincinnati Bengals, to name a few.
What is the art to fashion?
To me, the Art of Fashion is colors, a palette like an artist. Mixing and matching beautiful colors makes you feel happy and alive. Be bold. We of color can wear any color.
What advice would you give to someone who would like to mirror your success and expertise?
Don't be afraid to try new things and be creative, unique, and different.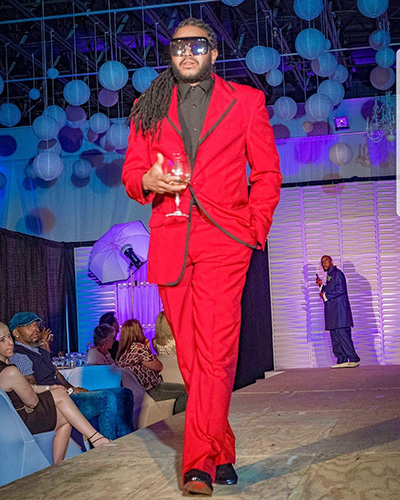 How do you define success?
Work to build your brand to make money while you sleep.
What sense of purpose do you draw from your culture or community?
Helping people whether it's in fashion, at church, or those who are less fortunate—to always have a giving heart.
What was your experience like producing Super Bowl LIII in Atlanta, Georgia?
I was blessed to be asked to show at the Super Bowl Weekend Fashion Show in Houston, Texas. This opened another door and I was asked to produce the Super Bowl LIII Weekend Fashion Show in Atlanta in 2019. We had 150 models and 20 designers; it was awesome!
The whole week in Atlanta was amazing. Every major artist performed at different venues. Then, we produced the Super Bowl Fashion Show in Miami abroad the cruise ship, The Navigator of the Sea. We sailed to Jamaica, Coco Cay, and The Bahamas. That was icing on the cake!
If you could do it all over again, what would you do differently?
The only thing I would do different is I would have purchased my own house at a younger age.
What can we expect from you in 2021?
2021 will include more high fashion and more family time.
Can you leave us with a few encouraging words?
Live life to the fullest. Keep God first in your life and always pray.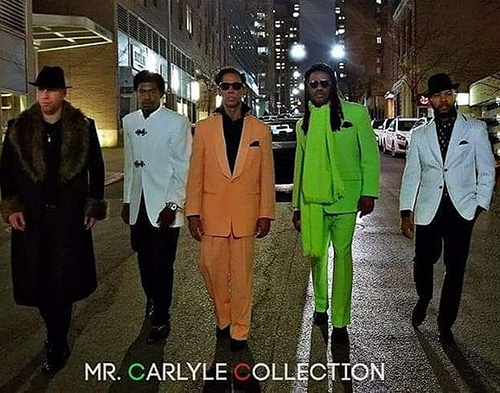 How can potential clients reach you or see more of your work?
(470) 418-7277, mrcarlylew@yahoo.com, or on Instagram.
All images courtesy of King Carlyle