Best-selling author, Linsey Davis has a brand new book and it's capturing the beautiful moments people around the world share with their children. With illustrations by Lucy Flemings, the Emmy Award-winning correspondent's new book, Stay This Way Forever is one everyone needs in their collection. We recently sat down with Davis to discuss all the details of the new book, how she unapologetically displays faith in her books, and much more.
Tell us about the release of your third book, Stay This Way Forever.
I guess I consider it a love letter, really from parent to their children. In part about savoring and wishing you could push the pause or freeze button so many of the aspects of childhood that you know are fleeting. The moments that they fall asleep in your lap, or want to read a book, or when they reach their hand up to hold yours. Those are the moments you know they are not going to carry with them into adulthood. And then the other moments that you hope they will. The ones that you are holding onto to preserve the creativity, curiosity, and unbridle joy that children have. I think that you really want them to hold onto those. Often at night, my son will say 'Tomorrow will be the best day ever,' and I just hope that when he gets older, he remains excited about the possibilities of tomorrow.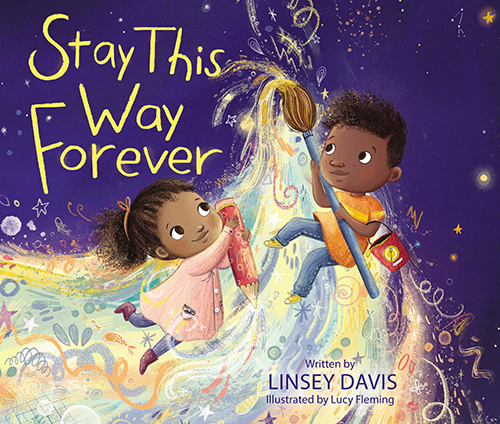 As someone in the public eye, how do you find the courage to unapologetically display faith in your books?
I think there is very much a separation of church and state, if you will when it comes to journalism. When I'm wearing that hat, I think there isn't really that space to interject my own beliefs, certainly. I started writing children's books when I had my son. He's been my inspiration and my muse. Part of what I hope to instill in him is a relationship with God and to have that faith-base. I think that there is a space for me as a mother to talk about God, faith, and religion because I look at it a little differently. As much as writing children's books and television news are two totally different industries, at the end of the day, I think of myself as a storyteller. One is very much just the facts and reporting the news. The other is really about talking about the good news and instilling the values that we want our children to have.
How would you describe being a creative during this time of the ongoing pandemic?
I think that it is so necessary. One thing that I would say, especially in regard to this book, Stay This Way Forever, is that we never know if we're going to get this kind of time. This precious, concentrated time. My son, we've been homeschooling him for almost a year now. He's just gone back this week to go back to school four times a week. In some ways, I felt 'Oh man, I don't know if we're going to get this time back.' That has been a blessing while the pandemic is just horrific and tragic on so many other levels and ways, I've tried to look for the positive and the bright spots. That's what uplifts us. I think that when we challenge ourselves and divert away from the gloom of the recent months is healthy. One big aspect, not only the physical concern is the isolation and being apart from your friends and family. I think that any type of creative outlet is really a tremendous asset for someone, while we're still trying to make it across the finish line on our way out of it.
What are you currently working on and what can we expect to see from you in 2021?
I just started anchoring ABC's World News Sunday and I am still anchoring four nights a week at ABC News Live Prime. I'm happy to be straddling both spaces in the streaming world and traditional network news on television. I'm also working on another children's book so that is exciting for me. The pandemic has shown me that you must foster the things that you love. So, I made the time to work on another children's book. I'm trying to keep all the balls in the air, really (laughs) that I am juggling motherhood, writing books, and doing the news. I stay busy but at the same time, I love the energy of being occupied.
For more on Linsey Davis, follow her on Facebook, Instagram, & Twitter.