Melanated Women are always lowkey and highkey dominating all industries—per usual and Lovinah Supernatural Skincare innerstands the beauty assignment—to nourish, restore, and protect your skin with a delicious variety of luxury, herbs, magic, Naija, science + Joy.
Introducing the most magical and luxurious skincare you will ever need—Lovinah Supernatural Skincare, founded by CEO Joy Ekhator— herbalist, scientist, and technologist, straight outta Nigeria.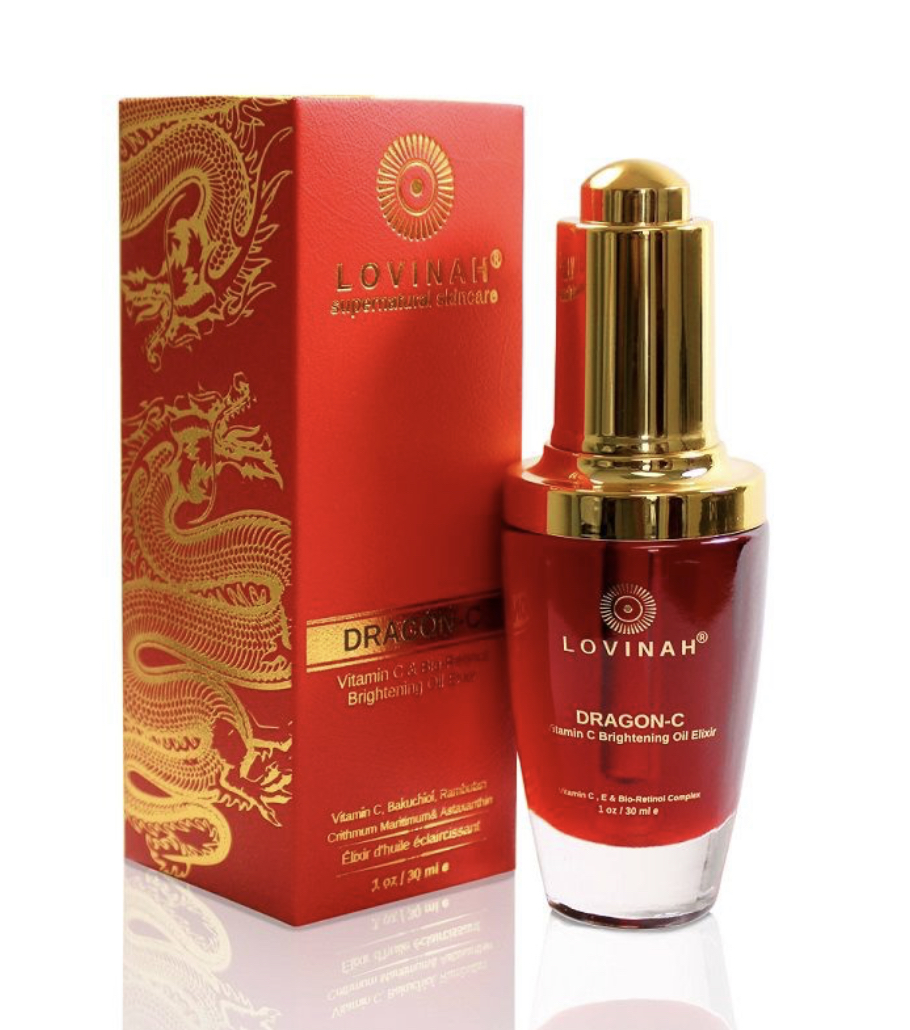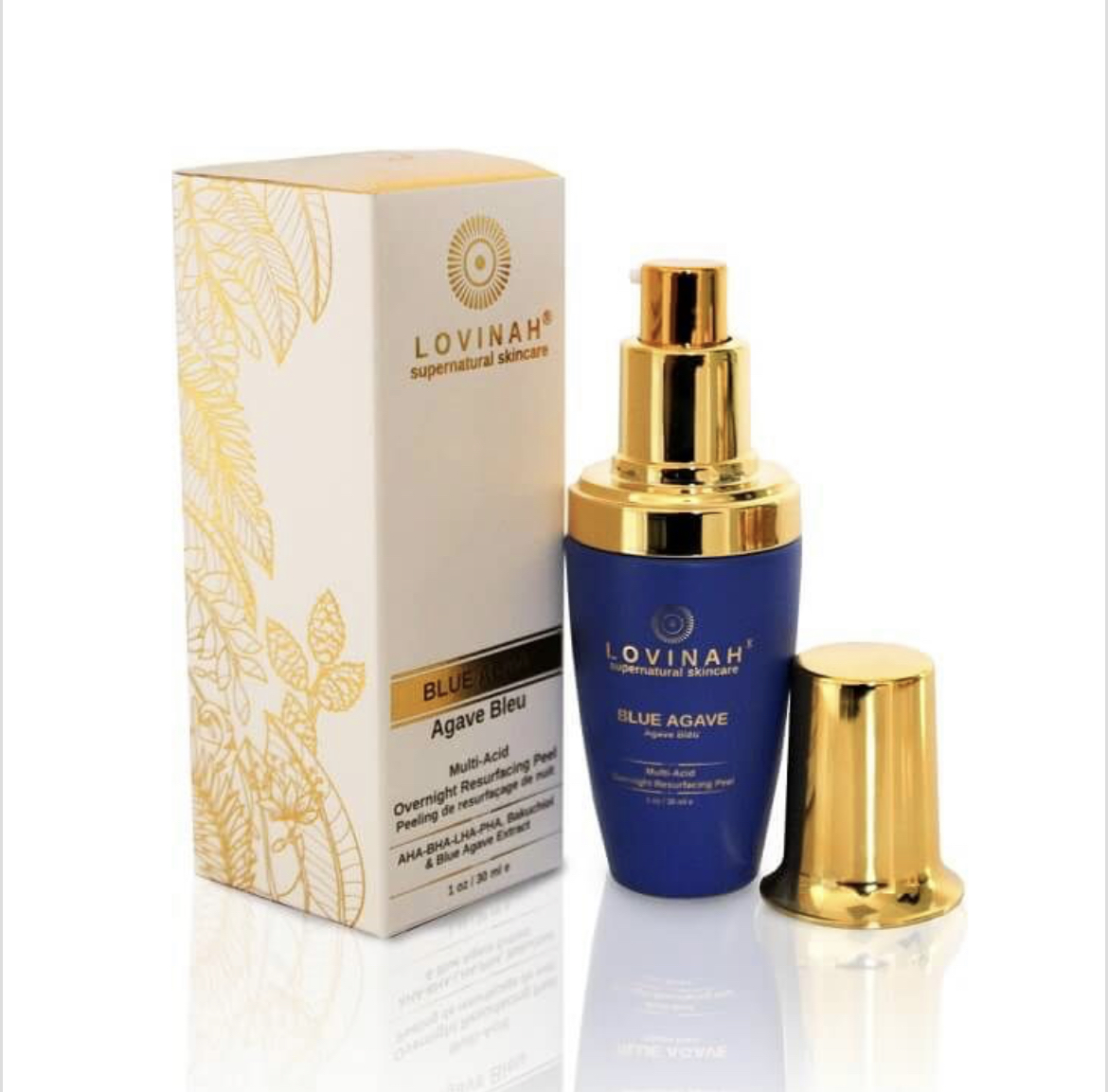 Lovinah products are elegantly jarred in bottles of gold, matte and glass, then wrapped in textured boxes, illustrated in gold, of roses, plants, dragons, and African tribal art. The supernatural skincare brand is fully covering your face, skin, and body with velvety creams and satiny oils, in hues of greens, blues, pinks, and reds—in the finest ingredients from regions of Africa, the Caribbean, and the Mediterranean. "Raw, ancient beauty and traditions of Africa, with a spice of western fusion. Giving unparalleled efficacy in its purest form." Joy continues the legacy of her family's matriarchs—her Grandmother and Mother's shared intelligence of the healing, lifesaving properties and powers of various herbs— externally and internally, from the leaf to the root.
Discover the Green Caviar Skin Elixir that contains antioxidants, Sytenol®, and rambutan—yes, the spiky, sweet, delicious fruit you may only find at a really good farmers market, is also meant to be applied to your skin—preventing wrinkles and sagging.
Allow the Bakuchiol—an advanced and gentler upgrade from retinol and Moth Bean extract—a herbaceous legume, to externally jump start your collagen and renew your cells, while the 24-karat gold flaked Lovinah Goddess Glow Brightening Balm illuminates you.
Deeply hydrate and sooth your skin using The Hammam Ritual Purifying Chocolate Mud Scrub, with Moroccan antioxidant rich cocoa extract and Beldi Black Soap—used in the finest spas in the world, blended with semi-precious gemstones and sea minerals.
The Third Eye Rejuvenating Serum not only rejuvenates with amethyst and gold and reduces dark circles and puffiness, but the serum tends to stimulate that third eye vision as well.
Lovinah's Dragon-C Vitamin C & Bio-Retinol Brightening Elixir is one of several Dragon Blood containing products the brand carries. This elixir is comprised of Dragon Fruit and Goji Berry oils, vitamin C and other aforementioned ingredients and is tasked with skin brightening, protecting and anti-aging.
Peel off dated and dull skin and reveal the supple, softness beneath it with The Blue Agave Overnight Resurfacing Peel. A combo of the Blue Agave breaking down dirt and oil, and the properties of Sea Whip soothing and hydrating, complete with AHA, BHA, LHA & PHA.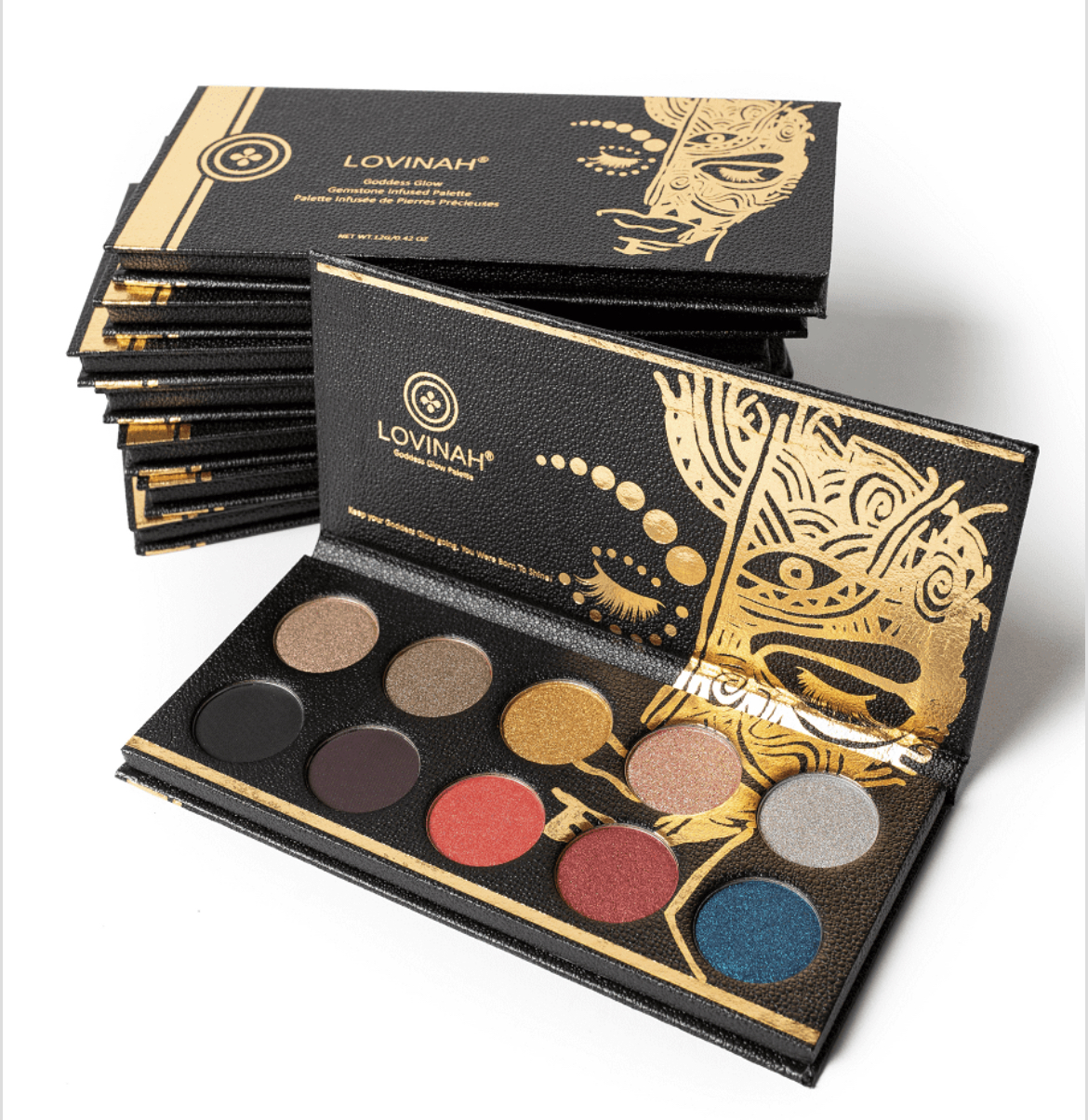 Lovinah knows you cosmetics queens love a palette and of course, the Goddess Glow Palette is far from basic. Created with moisturizing ingredients, highly pigmented colors, and crushed gemstones.
Drench your lips in the Lovinah 24K Gold Lip Plumper Oil, which contain more magical ingredients such as, Araucaria Resin, Brassica Campestris, Nilotica, and Shorea Robusta.
Taking care of your skin should feel like a soul ritual—not just something you rush through with petty products. This 100 percent Black Owned Enterprise is changing the skincare game with highly intentional Love, Luxury, and Lovinah.
Follow @lovinahskincare on Instagram and begin your collection by visiting Macy's and/or www.Lovinah.com