With ten years of experience the Washington, D.C. native most recently could be found playing Rashad Robinson in The Souls of Black Pebbles by Anthony Green. He also entertained audiences as Paul in the Off-Broadway production, Until the Flood by Dael Orlandersmith, D.J in Kenosis in Wonderland by Kenya Crawford, and Sleek Art Buyer in What Would Picasso Do by Andrew Brooks.
Can you tell us, who is Marcus Murphy?
Marcus Murphy is a native of Washington, D.C., and has always been driven to succeed at whatever he puts his mind to. Marcus has been in the entertainment industry for ten years starting out as a model and transitioning into film. Marcus has had the distinct honor of being trained by award-winning playwright Kelsey Collie. The career choice to pursue acting came after booking his first print ad with the Department of Public Health regarding the effects of synthetic marijuana known as K2. The print ad was shown in Times Square and throughout the DMV metro area on buses and train platforms. Despite, the success of the campaign much modeling work was not offered, so the next adventure was to rebrand himself by studying acting which has been rewarding as he approaches each character that connects to the everyday person.
Being that you graduated with a degree in political science, what career were you aspiring to have at that time?
Prior to embarking on the entertainment journey, my ambitions were to become a lawyer then a judge like the great Greg Mathis. Though, after my print ad booking, I felt more connected in the performing arts realm. Despite my career change from politics to entertainment I have been able to connect the two within my film roles and plans to study law in the future at Emory University as an entertainment lawyer.
What was the motivation behind your shift to have you become an actor?
Sidney Poitier has always been an influence and motivation in my career from the start. It was important to me when I took the craft seriously to represent myself and my community in the best light possible. Despite starting out as a model which I balance with acting. I feel more connected to scripts that represent the everyday person. Having the opportunities as an actor and model has provided me the tools to express more emotions not only in my career but my community.
With now 10 amazing years in the industry, you also focus in on helping children and young adults learn and build their acting skills. Can you tell us how you got started with that and why you want to give back in that way?
It was a moment in my career where I was not inspired and almost called it quits. One day after talking to my acting coach Kelsey Collie it inspired me to use the knowledge and skills, he taught me to give back to those entering the industry. It has been fulfilling to give back to those aspiring actors because I too, am aspiring to reach heights I can only imagine. One thing that has always been part of my journey is community and family. It has been rewarding to use my foundation to uplift others.
You're also in The Souls of Black Pebbles in the role as "Rashad Robinson" can you tell us more about this role?
The Souls of Black Pebbles written by Anthony Green is a social horror film about a black, gay republican haunted by the ghost of a murdered, unarmed black man. The plot explores society's fear of black bodies and the concept of sexual soul ties, where remnants of the soul linger within sexual partners. Not only is it an allegory for STIs but it depicts the body itself as a haunted house rather than an actual dwelling. It's a multi-layered narrative that has not been told before. Rashad Robinson represents Trayvon Martin, Mike Brown, and so many other black lives taken so suddenly. Rashad, like many who grow up in poverty and want better, are stereotyped due to their environments and skin complexions. The connection between Rashad and the black men who are no longer with us, is his resilience to keep his story alive through their spirits living on forever.
You have maintained many hats, writing, acting, directing, producing, and assisting the crew on the set, what is it that drives you to jump in when needed? If you had to pick one, which area do you feel you enjoy most?
What motivated me to learn and wear many hats in the industry is not being limited to one skill. The reality is in entertainment it can be short lived if you are not creative and finding ways to feel inspired by your art. I started out as a print model with the hopes of having longevity doing print. Nevertheless, transitioning into acting has given me more tools that I can create not only my own films but modeling commercials as well. I am able to balance both passions because of the experiences I have acquired. It is cool being a talent but creating your own content and opening the doors for new talent for the future. I enjoy the many hats I have learned throughout my career but acting will always be the first pick.
What advice would you give to someone that is interested in getting into the entertainment industry, but not sure how or which area fits them best?
My advice is always follow your heart in what you believe in. It is imperative to have a great support system and invest in yourself. Finding an acting coach or conservatory school is needed because the tools you learn can enhance your chances of booking a job and learning yourself throughout the process. And, if you feel some areas may not fit you at that moment, it is okay, just don't lose your drive and passion.
What would you like our viewers to gain from this interview?
It is okay to start out doing one thing in the industry. One thing about life's experiences is expanding yourself in areas that fit you. The only way to know what works for you is to take chances. In the process of taking chances, you learn so much and come out a stronger person. A quote I live by was written by Aristotle "We are what we repeatedly do. Excellence, then, is not an act, but a habit.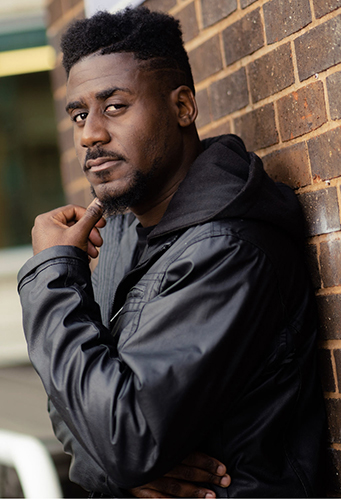 How can people connect with you and everything you have going on?
If you want to learn more about me, you can check me out on the following social media platforms.
Follow Marcus Murphy on Instagram, & Twitter.
All images by Derek Lamar Visuals