We absolutely love Fall around here, but don't let your hair get caught in the chilly season's crisp and dry air without a moisturizing hair regimen. With less moisture in the environment, our hair is more susceptible to dehydration, flaky scalp, and split ends which are commonly evident in the Fall and Winter months. That said, conditioning, especially for those of us with naturally curly hair, is crucial this season.
As the weather changes, what better time than now for Maria Nilato have recently released their new Coils & Curls collection! A collection for the curly girls is just what the brand needed to expand into a realm of diversified, luscious, and delicate hair that deserves all of the raving benefits that Maria Nila offers. The new Coils & Curls collection is a line developed specifically for textured hair of all types and curl patterns to nourish, moisturize, and define curls. The products are crafted to add definition without the frizz, while also conditioning and balancing the hair and scalp.
Rooted in leading sustainable beauty, Maria Nila provides the world with innovative, professional products in a "friendly, curious, and honest way." The Sweden-based brand carefully develops hair care with active ingredients, color protecting formulas, and without sulfates or parabens. All of the products are 100% vegan and are housed in CO₂ compensated packaging. The brand offers a range of various shampoos, conditioners, masques, and treatments for different hair types, routines, and concerns, including one of my favorites: The Eco Therapy Revive collection.
I'm a naturally curly girl with an oil-prone scalp, so I've been dealing with an odd combination of oily scalp and dry tresses lately this Fall. And to avoid drying out my hair with wash days once a week, implementing clean, ingredient-conscious, and moisture-rich products has been my #1 goal. Maria Nila curated an effective collection that caters to a number of needs for all curl types with its Coils & Curls Collection. Here's what to expect:
The Coils & Curls Co-Wash is a moisturizing, detangling, and conditioning wash that's made to enhance your natural curls while leaving the hair soft, moisturized, and clean. Co-washing simply means solely using a conditioner to wash your hair, without the shampoo. Shampoo can be drying and sometimes too harsh on the scalp, and in these colder months co-washing might be a solid move for you. Designed to gently cleanse and condition the hair, the Coils & Curls Co-Wash is a hydrating all-in-one wash that I've been using and loving on my "less-is-more" type hair. Maria Nila's Co-Wash contains their Curl Guard Complex with Shea Butter, Avocado Oil and Rosehip Oil to provide moisture, shine, and prevent breakage. Also formulated with a soothing mix of Jojoba Oil, Aloe Vera, Hibiscus extract, and Vitamin E the hair and scalp are left conditioned, softened and balanced. The infused Colour Guard Complex preserves your added color and reduces color loss caused by washing, styling, UV rays and free radicals. To use, apply the Co-Wash to dripping wet hair and massage through the hair and scalp. Then, rinse and repeat if needed. No need to follow up with conditioner as the pH-level and ingredients in the Co-Wash will close the hair's cuticle.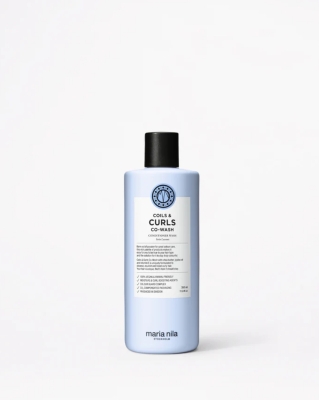 Give your hair and scalp a resetting refresh with Maria Nila's Coils & Curls Finishing Treatment Masque. This curl defining, deeply nourishing, and detangling finishing treatment is blended with Shea Butter, Jojoba Oil, Aloe Vera, and Vitamin E, leaving the hair soft and detangled with a frizz-free feeling. The perfect treatment for thirsty hair and 100% vegan, this hair masque is free from sulfates, parabens, and silicons. To use, apply a generous amount of the treatment masque to wet, freshly washed hair. Let the masque sit for three to five minutes, then rinse thoroughly.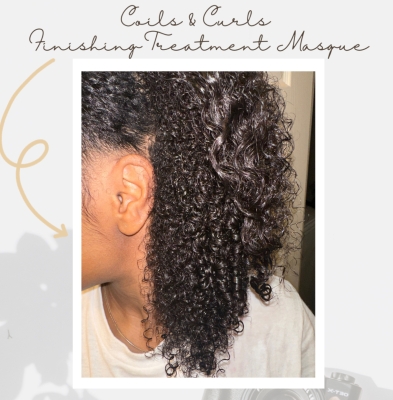 Sure, it may add a few minutes to the routine, but it's totally worth it. As someone who consistently straightens my hair, this masque improved my curl pattern after just the first use, and it's definitely one of the transitions you should make in your hair care routine this Fall for extra hydration and protection.
To complete the collection, Maria Nila offers a rich, curl-defining leave-in cream that's meant to rehydrate the hair, provide deep nourishment and conditioning, and hold curls all at once. The Oil In Cream contains the brand's Curl Guard Complex with Shea Butter, Avocado Oil, Rosehip Oil, Squalene, and Glycerine to provide moisture, shine and protect the hair from breakage. The formula is also designed with a soothing mix of Jojoba Oil, Aloe Vera, Hibiscus Extract, and Vitamin E that will condition, soften and balance the hair and scalp.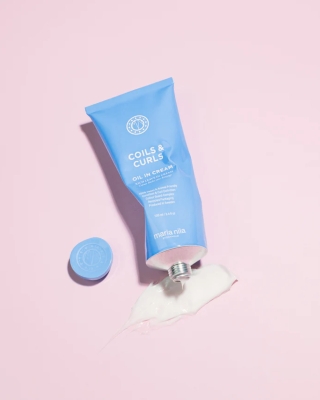 Fall and Winter call for gentler, deep conditioning products to maintain healthy and manageable hair. Treat your hair to an upgraded hair care routine with Maria Nila's new Coils & Curls collection. To shop the Coils & Curls collection or to learn more about Maria Nila, visit MariaNila.com!