The new season of Lifetime's Married at First Sight airs tonight and we could not be more excited! The series will make it's return on Wednesday, January 5th at 8/7c. As we gear up to see how romance will play out for the newlyweds on this season, we had the chance to sit down with one of the new couples going through the ultimate marriage experience. In my exclusive interview with Jasmina and Michael, we had the chance to discuss their own journeys as why they ultiamtely made the decision to trust the experts to determine what could possibly be their forever.
Tell us what we can expect to see from your story this season on Married at First Sight.
Michael: You can expect to see a man who came into this experience open and ready to fully commit to the process. Viewers will see me go through every emotion from sad and happy to defeated and hopeful to angry and calm. All of the growing pains that you would assume one would experience when taking the biggest leap like marrying a stranger.
Jasmina: I think watching my story unfold on Married at First Sight might shock most people because things I've been through could have turned me into a completely different person than what people will witness on TV. Hearing stories about my childhood and even my experiences as an adult sometimes has people questioning if things really happened to me because of how healed I am. If I'm being honest, I feel like since I've made peace with things and know who I am that scares most men. I believe it's part of the reason why I haven't found my person, so many are scared to be with me because they are still figuring themselves out when I'm so sure of the person I am and what I want/ deserve. I signed up to be Married at First Sight for that reason, because I believe whoever is signing up for this process is also sure of what they want in life. 
Jasmina, what made you want to put your trust in the experts to find your husband?
Putting your trust in these experts might scare most but when you're tired of being hurt and let down repeatedly nothing really scares you. I know people will talk and laugh about us individuals signing up for this but years ago I stopped being someone who cared what others think. I'm serious when it comes to finding love and being happy and I feel like I tried to find it on my own so putting it in someone else's hands is ok with me.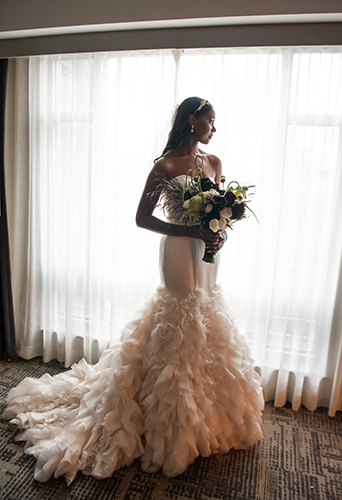 Michael, with no luck on dating apps, how did you find the courage to sign up for this opportunity?
I knew the life I wanted and I was willing to take the ultimate risk to make it come to fruition. I felt like my best scenario – finding my life partner, outweighed my worst case scenario – meeting someone who I did not get along with at all.
What do you each believe is the greatest lesson you learned in this experience?
Michael: The greatest lesson I've learned is that in a marriage you are better off overly-communicating than not communicating enough.
Jasmina: This isn't a lesson I learned during the experience but a lesson I carry with me always. It's something I live by and honestly helped me through this whole process. When things are hard, not going my way and sometimes just unbearable I always remind myself "It's okay to not be okay." It's okay to cry and to be sad, especially in this unique situation. Repeating those words to myself always make me feel better and remind me I'm human. They hold so much weight in my life and always pull me out of a funk.
Tune into the season 14 premiere of Married at First Sight tonight at 8/7c on Lifetime.
All images by Hizey Photography