Award-winning book publisher and movie producer, Tressa Smallwood needs no introduction. The media mogul first began her journey into entrepreneurship after writing her first novel back in 2003. today, she serves as a content catalog owner, entreprenuer, and movie producer – who's work have been featured on national platforms. Through her award-winning film company, MegaMind Media, Smallwood has worked alongside some of the greatest names in the world of entertainment. Clearly, we believe Tressa has no plans of slowing down anytime soon. Just recently, we sat down to discuss everything from entertainment to the latest projects she's got up her sleeve.
Tell us about the inspiration to create MegaMind Media.
I wanted to create a business that would resonate with Black women and Black audiences to serve our community with content that is written by us, for us, and produced by us.
How do you juggle marriage, being a mother, and being in business?
You know what, because people always use that word and ask how I "juggle it," right? I don't even know if I'm really doing that. I think for me, I'm trying to make sure that I'm merging all three of these aspects together. At the end of the day, when you create a business or a company that really consumes your entire life, you have to find out how to make it a family affair. Thank God my children are of age. I have a 19-year-old and a 23-year-old. They work in the business with me. They work in my art department for MegaMind Media. We are filming all-year long and they are on set with me. It's the same thing with my husband. Although he has his own company, he is so emerged into the business. It keeps us together at all times. We have this running tagline, "Anything for the family." We just stick together and we're building this Mega empire together.
Can you give us insight into the development of your scripted television series?
I actually have two. We're partnering with BET Her for one of those projects. It was inspired by Lorisa Bates at BET. She came up with this idea to do a health series, where we produce films centered around Black women's health. We target topics like domestic violence, mental health, breast cancer awareness, and more. We started this series last year and we had some phenomenal talent that came out. We always go for either actresses turned directors or actresses that come from the world of big business. They're typically directors that everybody knows. On this series right now, we're working with Vivica A. Fox, Mona Scott-Young, we've worked with Vanessa Bell Calloway, the names obviously strike people. We use these directors to help us spread the word about these health topics. BET Her, I am so proud of them for stepping up to do this. I'm really proud to partner with them to bring it to life.
I'm also preparing to shoot a series that we have called Cold Records – which is a spinoff from a movie that I produced and released last year called The Available Wife. It's a popular movie that can be seen on All Black Network streaming network, formally known as UMC. It will be on BET in May as well. This series will be the spinoff starring KJ Smith from Tyler Perry's Sistas, Terayle Hill, Clifton Powell, Roger Guenveur Smith, we have some heavy talent in this project. I'm really excited about this series.
What are you currently working on and what can we expect to see from you in the future?
I'm currently working on finding ways to expand my catalog. I have produced 12 movies in totality over the last few years. We're looking for ways to turn those movies into series. In the future, we're working on a feature film – which everyone is talking about called Black Wall Street. It is the 100th anniversary of the 1921 Tulsa Race Massacre, where they burned down Black Wall Street. We want to carry on that legacy and what a great time to be filming such a major feature like this? You will see that project from me, many more feature films and scripted television series but I'm really excited about Black Wall Street.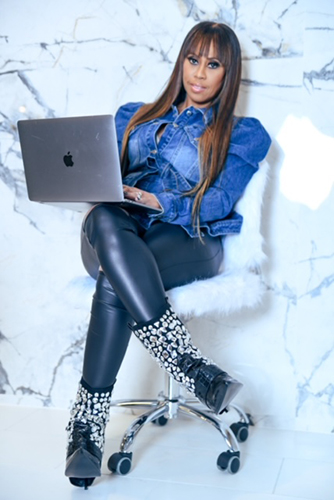 For more on Tressa Smallwood, click here.
Follow her on Facebook, Instagram, & Twitter.
All images by Joshua Freeman