During quarantine there has been a influx of young entrepreneurs on the rise, making moves. Hairstylist, lash techs, skincare products and more are piping up everywhere, and I am definitely here for it! I was so excited to feature this story of Ry'Miyah Pringle-Hamilton, a 14 year old, straight A student from Oakland Ca., who has used this down time wisely to start her hair braiding business at her mothers salon called the  Pretty B Lounge.  It is so important to empower our youth and recognize their accomplishments and I am honored to do so in this way.  I was able to get a exclusive with Ry'Miyah on business, her future plans and more.
How did you get your start in the hair industry? 
I got my start in the hair industry by watching other people braid on YouTube about a year and a half ago and they were interesting to me and it seemed like it was fun so I started to practice on myself (traditional singles) and I enjoyed it so I started to do other styles such as two feed in braids, knotless singles, straight back cornrows, etc. Then people started to come and ask if I could do their hair and I started to get better from there.
Did you have a mentor along and if so what's the best advice you have received?
I didn't really have a "mentor" but I knew people that also braid hair and they always told me to take my time and make everything as neat as possible and that parting is the main key to getting a beat style.
Tell our readers about the Pretty B Beauty Lounge. What services do you guys offer?
The Pretty B Lounge  is a black owned business which was founded by my mother. There are 4 women and sometimes myself working to offer different services mostly for other women to get their hair done such as lace frontals, traditional weaves, silk presses trims, and braided hairstyles, there's a nail teach who does full set acrylic nails, micro blading, individual eyelash extensions and more things that come with a "beauty bar,"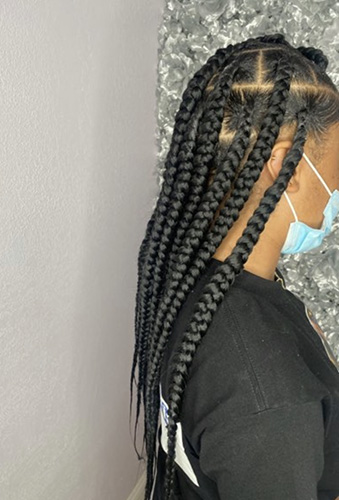 What are the 4 best protective hairstyles that women should be wearing?
The 4 best protective hairstyles that women should be wearing (in my opinion) are any type of singles (knotless or traditional), straight back cornrows, two feed ins, or lemonade braids.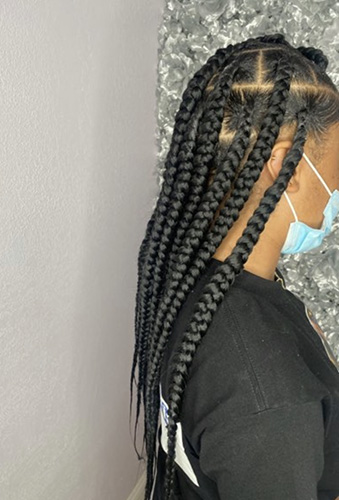 You are 14 years old and soooo talented at your craft, where do you want to see yourself within the next year?
In the next year I want to see myself perfecting new styles that I've never did or don't know how to do right now and I also want to see myself collaborating with other hairstylists or businesses.
A lot of people read our outlet, so "shoot your shot" if you could style anybody's hair who's hair would you love to braid?
Saweetie.
Follow @stylezbyyeez or @b_pretty_beauty_lounge
to see more amazing natural hairstyles
All images provided by Ry'Miyah