"The Masterful Storyteller and Talk Show Host Shares Her Journey of Healing and Life Lessons!"
Janette Auguar is a masterful storyteller, talk show host and author.
Her book, The Grace to Walk Away: My Journey to God's Love is a personal narrative detailing a transformative healing journey.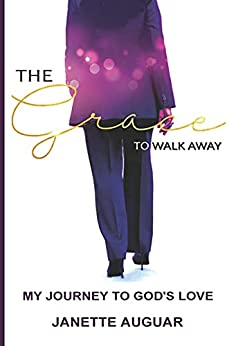 Sometimes, it takes a shattering event to change one's path in life. That breaking point is most meaningful when God orchestrates it. This is the story of Janette Auguar, a daughter, sister, mother, grandmother and a would-be-wife.
While heading toward a fairy tale wedding and a happily ever after life as the wife of a professional ball player, she finds the unthinkable instead.
This is the story of a woman's search for meaning in the midst of anguish and disappointment, her search for answers in the face of shock and treachery, and finally her submission to a will bigger and better than her own. The life lessons along the way of how the heart heals and wounds mend is Janette's story. It is the story of how the God who breaks and allows brokenness, knows where to find all of the pieces.
When asked about the goal of the book, Janette Auguar says, "I hope that by sharing my story, I inspire others to never settle for less and know that God's love will meet you in whatever state you are in." "Know that our stories have the power to break down barriers," she adds.
In her book, Janette offers a pathway to a more confident and empowered life.
It is the true definition of a labor of love, and Janette has filled its pages with life lessons.
The Grace to Walk Away was written to help people of all ages and all walks of life live a purpose driven life. There is something everyone can learn from reading the book.
Janette says, "If we can get people to [move] even one degree in their behavior towards the positive, the collective benefit will be exponential.
When asked if there's anything she wants to leave readers with, Janette shares, "keep moving forward, you're never stuck."
The Grace to Walk Away: My Journey to God's Love is currently available on Amazon
About The Author
Janette Auguar is a native of Columbia, South Carolina where she graduated from South Carolina State University with a B.A. in Professional Theatre and Communications. She has enjoyed being a Radio Disc Jockey and working in media for over 25 years. Her career started in South Carolina at WDIX and WQKI radio stations.
She currently produces and hosts an internet radio show, "A Spiritual Connection" www.aspiritualconnection.tv that is purposed to provide a platform for Christians to share their stories, which are miraculous recoveries from various trials. This is done so others will hear, have hope and anticipate a better outcome for their own situations and lives. She is inspired to respond to our community with inspiration, insight, and instruction for the challenging issues plaguing our society. The show is slated to transform from radio to television so be on the lookout for the pilot.
Her book "The Grace to Walk Away" tells of many of her experiences and the divine interventions that footnotes the passion of the program.
She is wordsmith who articulates her journey in a poetic collection entitled "Born" where she speaks of her experiences that range from relationships to parenting to navigating Corporate America.
By day Janette is a Family Service Manager in Corporate America where she oversees a team of counselors who meet with families who have had a loss. The primary focus is to educate, prepare and encourage families to preplan. She has earned numerous awards including Family Service Manager of the Year in her market and also in all of California. She was also among 10 of 500 people chosen as a 'HiPo', a "High Potential" candidate in the company.
Janette currently resides in California and is the mother of two and the grandmother of four. Outside of her dotting roles as mother and grandmother she enjoys concerts, the theater, fine dining, spontaneous travel, and a few reality shows. She is a member of SAG/AFTRA and has appeared in numerous theatrical productions.
For more information about her, visit www.janetteauguar.com
Connect with Janette Auguar
on Instagram and Facebook
@jauguar @aspiritualconnectionradioshow