Joeboy has the #1 song in Africa at the moment, and he deserves all the blessings coming his way. Hailing from Nigeria, Joeboy is the definition of a superstar, someone who's here to spread the word of Afrobeats from his hometown to the rest of the world. Each release is a banger that ensures nothing short of good vibes and energy, with a guarantee of making you dance and move to the beat.
Now with the release of "Alcohol," Joeboy proves once again why he's a mainstay in the music industry. Experimenting with a new sound that strays from his regular, the song serves as the first single from Joeboy's forthcoming second album, slated to be released February of 2020.
Sheen Magazine caught up with Joeboy at Paramount Studios in West Hollywood, during his first ever visit to Los Angeles. Read below as we discuss his love for the city, love for nature, roots in Nigeria, performing his first show in Sacramento, infatuation with shoes, starting his own clothing line, dream collabs, and more!
How are you feeling?
I feel good, I'm excited. It's a beautiful city. There's a lot to do and people are so welcoming. 
What's your favorite part so far?
My favorite part of LA has to be the hills where you can hike and see the view, it's pretty cool.
Have you been to Runyon?
Not yet, I was just driving past the hillside where I can park and take pictures. It's really nice, but I'm going hiking tomorrow.
Where are you going hiking?
I don't know yet. [laughs]
How does Los Angeles compare to Nigeria?
It's nice in Lagos too, it's one of the busiest cities in Africa. It's very beautiful, but not  enough natural looking places. It's like a concrete jungle really. I love green, I love nature. You can see my tattoos. [shows arms] It's a tree, this says "young legend." I love animals too. Anywhere that looks natural for me, I'm really into it. 
How was it performing in Sacramento for the first time?
It was lit! My first time performing in the United States, it could have been earlier but the pandemic. It was amazing, people turned up. The crowd was great, they were singing my songs word for word. It felt good. It shows I should definitely go on tour as soon as possible. 
Were you nervous?
No, not at all. Zero. I just wanted to have fun.
What's your favorite song to perform in a set?
"Nobody."
I saw somewhere that you love to dance.
A little bit, I'm not the best dancer though. 
Where's your favorite place to dance?
It has to be East Africa. [laughs] The clubs are always hyped. Everybody's vibing. 
Congrats on the success of "Alcohol," how does it feel to have it hit #1 instantly?
It's beautiful, it's my fastest #1 ever. "Baby" took a couple of months, but "Alcohol" was instant. In less than a week it was shooting up. It's so beautiful, big shout out to everybody. I was really nervous before I decided to put out the song because it was a total switch for my regular style. I was bringing something new, that can be risky sometimes. It goes left or it goes right. [laughs] Thankfully, it went right. A lot of people are loving the song, even without a video yet. The lyric video is almost at 2 million right now, it's beautiful. This song's going to really go far.
Were you sipping when you made the song?
I was definitely sipping wine. I love sweet wine. The inspiration behind the song is in life, there will always be challenges. It never ends. Sometimes, you need a break to actually relax. For me at that point, it was wine. 
Can we expect a music video soon?
Yeah, it's been shot. It was ready before the song dropped, I'm just trying to put some things in place so the premiere can be big. It's in Lagos, but it's different from my regular videos. It's a bit dark at the beginning.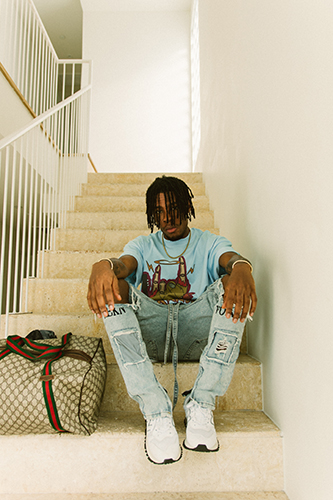 What are your go-to fashion brands?
I don't know about clothes, but I love shoes a lot a lot. 
How many shoes do you have?
I can't count to be honest. I keep buying a lot. I love shoes a lot from Nikes to sneakers  to boots. I'm really into boots at the moment. I'm a shoe fanatic really.
Where do you mostly get your shoes from?
From stores, I check them online then I order them. The ones I'm looking for might not be available in Lagos at that moment. I like them to be different.
Drip check, what are you wearing?
Dr. Martens boots, my shirt is Chinatown Market from a friend. These jeans were from a stylist, the jewelry I took it from my manager. [laughs]
Is your clothing line still on the way?
Yes! It'll be ready next year. Expect comfort. Expect style. Expect simplicity.
Your album is called Somewhere Between Beauty and Magic. What is beauty to you?
Beauty to me, is something that brings peace. Something that's warm, something that makes you feel good. 
Any artists you want to collab with?
I'd love to work with Post Malone. The Weeknd. Drake. Draaaak. [laughs] Rihanna, but I don't think she makes music anymore. She's definitely someone I'd love to work with.
What are you most excited for next?
Amazing music. With Joeboy, the sound's always on lock. Definitely amazing music coming through, it's a vibe actually. Definitely better than anything I've put out before. 
Are you getting inspiration from being here?
Definitely, the album is as good as ready. I might just hold on because I'm experiencing a lot of stuff, I might be able to add some new vibes to it.
Best encounter that you've had with a fan?
It was when I met with a parent, the mother of my fan. She said, "God bless you, your music got my daughter out of depression." That really really humbled me. I'm somewhere in my room or my house making music, but also changing and affecting lives positively."
What's something that fans may not know about Joeboy?
I'm a very very good dancer. You might not believe me, but one day. 
All images by Williummm