Melissa Morehead Moore does things differently. While some seek success by making themselves better and finding ways to dig deep and try harder, she goes out of her way to instead bring out the best in others.
She's all about empowering people in all walks of life and uses her considerable gifts to encourage everyone to be the best, whether it's at home or work.
Because of this approach, a funny thing has happened: the more Melissa Morehead Moore encourages others, the greater things happen to her.
Today, the resident of Evansville, Ind., is involved in local political, spiritual and civic affairs. She's a Navy veteran, a minister, a public servant, an investor and an influencer. She's a grandmother, a parent, an author, and a Certified Life Coach.
"Community has always been a huge part of my life growing up — it has allowed me to learn my strengths and weaknesses and focus on what I can contribute to make our community stronger," she said. "There is a quote by Churchill that I try to embrace every day: "We make a living by what we get, but we make a life by what we give."
Has your business been affected by COVID?
I started it during the height of everything in 2020. This helped me adjust my mindset and add to what I was already doing at home: not just living, sleeping, and eating but working too. This required setting boundaries so I could keep from feeling overwhelmed and stay motivated. COVID is still going on and requires the need to pivot, plan and process daily.
What are some ways you've helped your community?
In September, I turned 50, and instead of a party I organized a COVID vaccine clinic at my friend Teresa's salon. Our drive resulted in 16 people getting shots. Only 62 percent of African-Americans are vaccinated, and in Indiana, African-Americans comprise just 7 percent of the state's total vaccinations.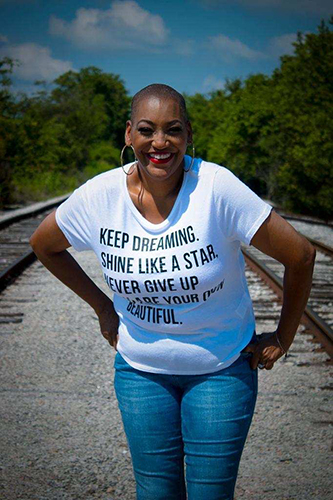 Who are some important people who have inspired you?
One is my mother, who has been nothing but supportive. She's my top fan and biggest supporter. This has helped my confidence, and also helped me stay grounded. I have professional mentors too who give good advice. But a high school teacher, Ms. Huff, helped me find my purpose, and eventually learn what it takes to be a strong professional Black woman.
In honor of Entrepreneur Month in November, what kind of challenges have you encountered as an entrepreneur?
Black women business owners must show up differently, be ready to hear "No" a lot, and be ready to respond, "Why not?" It can mean conversations that aren't necessarily comfortable. It can mean being mature about what people say and not take it all personally. It can mean being patient, knowing that even though something isn't happening this minute doesn't mean it won't happen later. I don't have to like the process, but I have to trust it. It's about being prepared for anything.
Learn more today by clicking here.
All images by B. Moore, GoodSide Photography