"Treat others the way you want be treated."
Erica Keelen is an internationally recognized, award winning hair artist who excels in bold artistic color, content creation, and competition coaching. She owns Studio Sage Artistry Space in Jacksonville Beach, Florida and has 20 years of experience behind the chair. Erica's diverse coloring skillset sets her apart, allowing her to compete and win National hair competitions like NAHA, L'OREAL Professional, Paul Mitchel and many more.
How did you get started in the beauty industry? 
Honestly I've never wanted to do anything else, my parents believed I needed to go to college but  allowed me to do trade school after high school. They thought I would do hair while in college but I struggle through high school so I had no intentions of college after about two years of doing hair. They then saw how happy I was pursing my passion and how I was able to pay my bills so they supported the decision.
What is the inspiration behind your work and how can it be applied to anyone in any profession?
About 10 years ago, I started mentoring newer stylist, not only behind the chair but helping them get their Instagram started, build clients, and entering contests. I'm really inspired by helping other, we are in a beautiful industry and I just want to share that with all.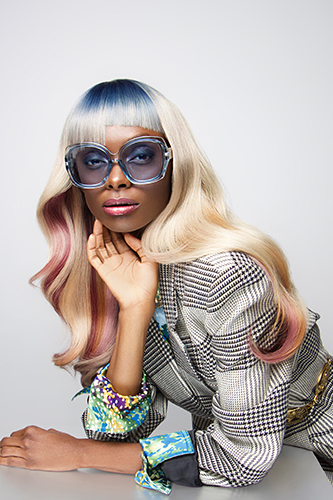 What are some of your inspirations for your hair color?
I typically watch what's going on with fashion, and love pull color palettes from nature. 
How is working with textured hair different from other textures?
The main difference I find working with textured hair is the use more product then other textures I work with.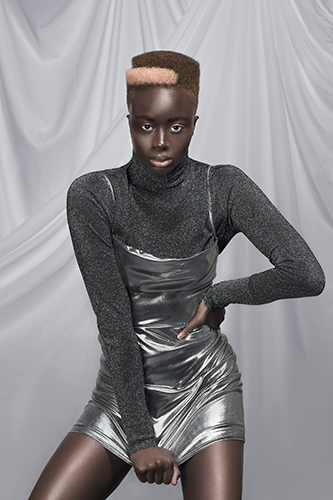 What are some of your favorite go-to products to hydrate the hair after coloring?
I use Brazilian bond builder in all my hair color services to keep the integrity of hair. After shampooing I use the Brazilian bond builder leave in conditioner and Air smoothing cream. 
How did you get started competing in hair competitions? What advice would you give to an up and coming stylist who desires to compete in these in-demand competitions?
I started doing hair competitions around 2015 at that point I have been in the Industry for about 15 years. I was bored behind the chair and needed something to keep me inspired. I found an incredible photographer and just went for it.  My advice to anyone wanting to get in to competitions, find a group of other artist that are as passionate about it as you are. Doesn't necessarily have to be other hairdressers but you need to make sure your make up artist and photographer understand your vision. This is definitely a team sport. 
What is your method of creating the perfect color melt for your hair units?
Using a clear on a dry brush is my secret to all my color melts on hair units.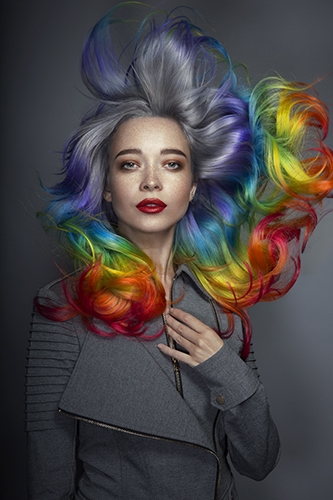 What are two things people don't know about you?
Scared to speak in public, social anxiety. 
What's next for you in 2021?
Working on my salon family, we are adding an education program that will also be available for stylist who do not work at our salon. 
What was it like winning the NAHA Contest?
Something I've always dreamed of, Love watching my friends collect the wins to. 
How do you manage self-care while balancing your career and salon?
I spend a lot of time in nature that's where I get re-energized, because of this year I have not traveled as much for work, and I probably will continue that I feel a lot less stressed. 
For more on Studio Sage Hair, click here.
Stay connected with Erica Keelen on Instagram today!
All images by Daryna Barykina