Growing up in the South in a family that understood the power of business ownership, Markesha Speed knew from an early age that she would be an entrepreneur. With the support of her family, some divine connections and a strong belief in the power of manifestation, she made a clear decision about who and what she wanted to be and then got on about the business of leaving her mark on the world. Hailing from Dallas, Texas, this boss with a purpose decided to change the game for herself and create a unique blueprint for her business partners.
Meet Markesha Speed, a southern beauty boss!
Markesha, tell us a little about who you are and how you began your career in hair design.
Well, I'm from Dallas, where I was born and raised and I'm also the mom of two amazing adults, ages 19 and 24. As far as business goes, I started out as a lash technician. After doing lashes for a while, I knew that I wanted to grow and expand so I decided to go to school to become educated on hair design. Once I graduated and became licensed, I got together with my sister-in-law and came up with the idea of opening a salon that offered affordable sew-ins. At the time that we started, the sew-in wasn't as popular as it is now so we started the $50 sew in salon and I have been in business for seven years now.
Tell us about the business model for your new salon concept and how you came up with it.
Since I offer classes in addition to being a salon, I wanted to make sure that I have the best of the best at my salon so in order to be a part of the salon you also have to be open to taking classes. In my last salon, most of the stylists were out on the floor but some stylists and clients do prefer a little more privacy so in the current salon, there are fifty chairs inside what used to be a gym. We did a complete redesign and it is very spacious, with two full floors. We offer classes every month and we do our best to stay on trend with current hair design techniques.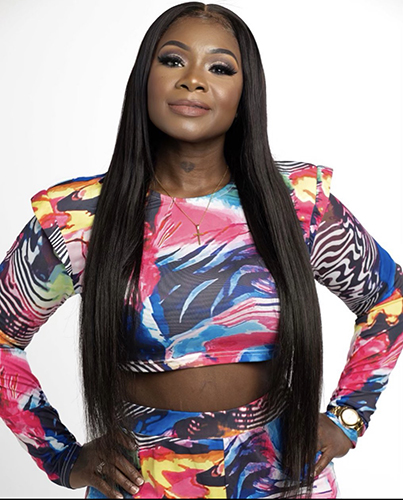 What advice would you give to someone that wants to get started in the business industry and achieve high levels of success? 
First and foremost, you have to believe in yourself and believe that anything that you want, you can have. I was someone that once needed guidance on that and I met someone that taught me the power of your thinking, so, now I write down anything that I want for myself and I visualize it as though it is already mine. I do that for everything. Believing that it is yours before you ever have it is very important. Keep a journal of your future and attach emotion to it and believe that it is yours and don't worry about how it will happen. Just know that it will.
What is one of your greatest lessons that you have learned in building your businesses to where it is now?
One of the greatest lessons is learning to believe in my dream and living it out and just do not give up. Growing up, watching my parents own businesses, they always taught me to know exactly what I want and go for it without ceasing. There is power in stating exactly what you want and believing that it can be and that has been the greatest lesson for me. I believe that this has allowed me to grow, even during a pandemic and because it is so powerful, I teach it to the stylists in my salon. We are doing a vision board class even, and I always encourage those same things in them because they have worked so well for me.
What do you see for yourself next?
I would like to own a beauty school so that is my next vision for myself and in doing so, I want to hire the stylists in my salon. In all things that I do, I want to help others, therefore, I alway put my stylists first. My goal is to be successful, of course, but it isn't all about me. I want to help them to be the best that they can be more than anything.
Markesha Speed has made it her mission to leave her mark on the beauty world through service to others and leading with education. With her dedication to cultivating greatness in others, is destined to create a lasting impression for years to come.
Find and follow Markesha's beauty empire journey on Instagram!
All images by Kauwane Burton