Created at the height of the pandemic, we virtually sit down with the founder of haircare line Vtessia Cosmetics, Vicktesha Cunningham is a mother and entrepreneur combining motherhood with business. The brand uses sustainable plant-based haircare products to help women combat postpartum symptoms such as hair loss. Vtessia Cosmetics helps to prevent women from encountering the same issues she once faced. Today we discuss with the founder her entrepreneurship journey and why she believes the beauty industry is becoming inclusive. Her passion for natural hair care products has created a significant brand that has started to be recognized in the industry. Expanding Vtessia Cosmetics, this is truly an exciting time for the brand.
To start off, can you tell us a little bit about your career journey and how you came about settling on a career in beauty?
It is a bittersweet story, VTESSIA was launched last year after I experienced postpartum alopecia in 2019. I was mortified by this and what made it worse, I was unable to find a solution to repair my hair. So, out of frustration, I created my own infusion, which worked. That is when the idea was conceptualized for me to start my own haircare brand.
Have you always wanted to be an entrepreneur?
Yes, since early childhood I have desired to start my own business. But I did not get the courage to start until I experienced postpartum alopecia after I had my child.
What would you say are the key elements for starting and running a successful business?
Passion to serve others, persistence, patience, determination, and hard work. To me, I believe they are the most important ingredients required for success.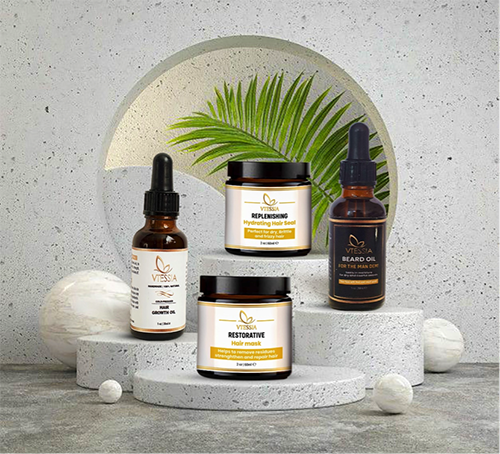 Can you tell me a bit about the products and what distinguishes you from other skincare and haircare products now?
We provide luxury handcrafted natural products for women with dry, thinning, and damaged hair. We are 100% Recyclable, vegan, and cruelty-free. We also have a low carbon footprint and a strong passion to help women embrace their natural beauty with confidence.
Explain, briefly the process of how you source your ingredients and what does clean beauty mean to you?
At Vtessia Cosmetics, we love nature and all its goodness, that is why all our ingredients are plant-based. We also only use ethically sourced suppliers from the UK. Clean is not just a statement to us, it is our fuel. That is why we avoid at all cost nasty chemicals in all our ranges.
The beauty industry is becoming more inclusive; however, it has a long way to go. What are your thoughts on the progression?
You are right and movements like Black Pound day in the UK and Black Lives Matter has been helping a great deal. I also believe that soon there will be more businesses at the forefront from ethnic minority groups. It is my aim to be one of them.
What are the main challenges you have faced since starting Vtessia Cosmetics?
Wow, one of the challenges I faced was sharing my story. I did not feel comfortable doing so as I felt it was a personal experience. The other was getting customers to buy my products- This went on for months but has gotten better.
Unfortunately, we are during a global pandemic and it has significantly impacted businesses and the economy. How has it impacted your business?
Hahaha. I know right! The business was launched March 2020, just at the start of the pandemic. It has been tough. That is why I had to learn very quickly how to sell online and network to increase the company's brand awareness.
If you could give 3 tips to boost your well-being during this season. What would they be?
Take time out, I need time to recharge.
Trust the process, nothing good happens overnight.
Ask for help, I cannot do it by myself.
All images courtesy of Vtessia Cosmetics