Cassidy Bass (Savannah State University alumna, Alpha Kappa Alpha Inc.) and Dominic Jones (Xavier University, Alpha Phi Alpha Inc.), the owners of Conversation Games LLC, a gaming company that produces The Conversation Party. The HBCU couple created the game while on a group trip to Paris, France. The married and greek alumnus decided to create the game on the trip to bridge the communication gap between several languages and groups of friends on the trip.
A fun game for game nights or dinner parties, or any gathering of people older than high school age, The Conversation Party is meant to provide fun through conversation and debate. Using three card types  Q&A, Statement & Reaction, and Open Discussion, this game is sure to get the party started and the discussion flowing.
Additionally, there are three different decks that change the game up. The initial deck is "Love & Relationships," which is followed up by "Love & Relationships: After Dark," and last there's "This Is Not A Game," which is a black and conscious deck, all of which can be found here.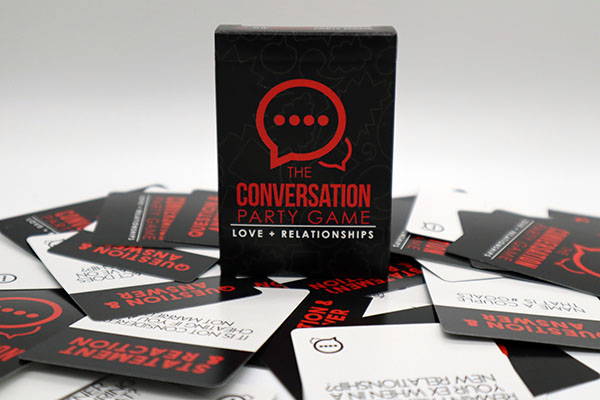 What inspired you guys to start "The Conversation Party" ? Were you tired of non-social gatherings?
We went to a dinner party at a friend's home in Paris. There were others who attended that we didn't know, all from different parts of the world. They all spoke at least 3 different languages including English. The conversation and vibe was so fluid, it was like we had known them our entire lives. No one was on their phones, no TV, no distractions. Just pure conversation and a good time. We wanted to bring that vibe back to the states. With the influence of social media and other card games out there, we decided to make the game into a card game format. We felt as though something like this was needed, especially in the African American community, where for some reason it's more difficult to talk openly about important and sometimes difficult topics.
Tell me about the trip to Paris and how you ended up creating a game on the trip?
We're a couple that enjoys traveling and using trips as an opportunity to spend quality time together. It was the dinner party during the trip that inspired the game, but the actual creation process took place about two weeks after we returned to the states.
Tell me about the different card types and how they work?
There are three types of cards in each deck. Question and Answer: Open-ended questions that encourage dialogue and debate. Statement and Reaction: Controversial statements that encourage conversation and debate. Open Discussion: allows players to come up with their own statement or question.
Which card types are your favorite to play?
Statement and reaction are our favorite because they are always controversial and it's always fun to see people's reactions when they hear them.
How did you select the questions for the deck whether political, sex, financial, or religious topics?
Each deck is topic-specific. When we first started out, we put a range of topics in one deck and we noticed that the vibe was all over the place and it didn't flow well. So we decided to make each deck specific. Our questions come from different places such as social media, friends, family, and players can also submit card topics to us (if we use their suggestion, we give them credit by putting their name on the card). Most times we are able to create one deck in a weekend. We grab a seat on the patio, grab some wine or cocktails, set the vibe, and start brainstorming and calling out topics and ideas. Then we go back and select our final choices by actually testing them with friends and family. Inspiration comes from different places, our This is Not a game deck was inspired by the killing of George Floyd followed by Amahd Aubrey.
Do you guys plan on making a game specifically geared around HBCUs since you both are products of HBCUs?
Actually yes. We have been contemplating a college-related deck but can't decide if we want to target alum or current students or both.
How is it working and managing a business with your spouse?
It's crazy. Cassidy typically handles a majority of the operations, logistics, etc of the brand while Dominic creates a lot of the card content and steps in when needed for everything else. We both know our strengths, what we are good at and what we are not, and we stay in our lanes. That works for us.
Do you feel social media took away people's ability to communicate, socialize, and engage in person?
Absolutely, but not just social media. Phones and the ability to text message and search the internet in general. Technology is like having a drink. It takes off the edge and pressure of having to be engaged in conversation. Think about it. If you take a girl out on a date, let's say you go to a park where there's no one around. No food. No drinks. Just the two of you. There's nothing to do except engage in conversation. Awkward right? Believe it or not, most people would fail miserably. But going on that same date where there's food and drinks takes off some of that pressure. In a social setting, that's what phones and social media does.
What sets your game apart from similar card games or brands?
Anyone can come up with some hot topics and put them on some cards. However, we set ourselves apart by providing high-quality games and exceptional customer service. Our games are relatable. They are real-life topics that otherwise may not be discussed in a normal setting. If you want to know how a person feels about a subject, it may be in our deck. Playing the game with them and talking about the subject is easier than coming right out and discussing it. It's less pressure.
Although we try to make our topics as diverse as possible, the games are created by two African Americans so a lot of the topics will come from our perspective. We are fine with that because our goal is to get people back to engaging in conversation and off of their devices, especially in the black community where there is a stigma around sharing feelings, opinions, and thoughts around certain topics for fear of judgment.
What's next for your brand?
Continuing to grow. Build. Expand. Providing more fun and engaging avenues that encourage conversation. We hope to build retail partnerships with big box retailers as well as mom and pops to provide more access and exposure to our games. Our hope and dream is for our brand to become a household name by creating games that allow us to expand into sectors such as education, mental health, and even corporate.