Meet Natural Hair Care Brand Founder Jessica Oduro, Tipharah is a UK-based establishment which aims to provide natural and organic products for the maintenance and growth of natural hair.  Jessica decided to create amazing natural handmade butters for healthy hair. We speak with the beauty entrepreneur to find out more…
How did you develop the idea for Tiph'arah, and what motivated you to start up your brand?
Tipharah was developed during a season where I encountered issues with my hair. Honestly, I wasn't taken good care of it, so it began to break quite easily. I also didn't want to use products with a lot of chemicals to replenish it, so I started looking into organic products that could bring my hair back to life. I came up with a few ideas and purchased some organic ingredients, mixed them together and began experimenting on my hair. My hair began to get stronger and thicker and so I posted a picture of one of the butters on my WhatsApp status, to encourage the women I know to try it. However, interestingly enough, they asked how much I was selling it for. After that, I made a small batch for those who requested it (mostly sample sizes) and it sold out completely. Subsequently, people didn't want sample sizes anymore but rather larger portion sizes, and from there I thought to myself "right I am going to have to do this right and as a proper business". And so that's how the journey began.
What makes Tiph'arah stand out from other hair brands
Tipharah overall as a brand is unique in nature, our logo and name are quite unique in the sense that, its derived from the bible. We pride ourselves in integrity as a result, to deliver exactly what we say we plan to deliver. Our main priority is to influence women with natural hair to embrace their authentic selves and showcase it more often. We aim to achieve this through:
the provision of products that will enhance the beauty and growth of natural hair.
sharing information about products as well as their pros and cons 
So essentially, we're not just a brand trying to sell products, but also a movement to aid black women in embracing their hair as major part of their identity.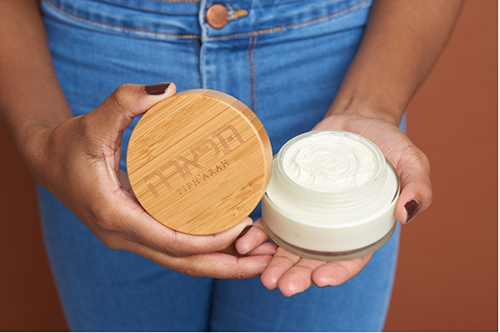 You have a custom option (create your own butter) on your website, please talk us through that?
We wanted to give customers the chance to play around with some uncommon ingredients and have the opportunity also have a say in what they wanted to apply to their hair. By creating your own butter, you also have the chance to research some of the ingredients available, which also provides an opening for education. 
What made you want to pursue a career in Beauty products?
Initially, it was just a personal search for remedies to prevent hair breakage and stimulate hair growth. Upon doing that I came across a remedy which was then developed into the Tiph'arah products available today. The first trial was posted on a friends whatsapp status which pulled in quite a few enquiries, so I thought it'll be sensible to establish a business as the products are of help to me and all those who have used it.   
What makes your brand different than other natural hair brands?
We believe our overall mission sets us apart from other haircare brands as we are not just a brand but a movement. Also, our ingredients are carefully researched and manufactured specifically for Tiph'arah, which adds value to the brand as these ingredients are exclusive to the brand. 
Where do you see your brand in the next 5 years?
In 5 years, we hope to have a complete haircare box including shampoos, conditioner, leave in conditioner, growth oils, amongst many more.
You can find more about the brand here.
All images provided by Tipharah