It seems like Gucci Mane is always finding the new and best upcoming talent in the game. Sheen Magazine had the pleasure of speaking with the New 1017 artist Li Rye. Li Rye has been on fire putting out music that is going crazy on the streaming services. Check out this exclusive interview below.
How are you enjoying your newfound celebrity?
It's a big change, but I like it. The best part is when people see me in person, and I put a smile on their faces. I like being able to make people happy and change their day. Everywhere I go, I take pictures. Even if it's a quick stop the mall or McDonald's, everywhere. It was weird at first, but I got used to it.
How was it coming up in Mobile, Alabama? 
It was harder than probably most places. Mobile doesn't really have anything to do or anywhere to go. The minimum wage isn't that high. There aren't too many high paying jobs, so there's really no money in Mobile. 
I used to love going to school, though. I always wanted to be better than everybody, so I used to always have high scores on tests in high school. I like competing and being the best every day.
Did you have any influences from your city that made you want to get into rapping? 
You don't really hear about celebrities coming from Mobile, but recently we've had rappers like Rylo Rodriguez and NoCap come from our town. They're the ones from the city that let me know I could do it, too. That's just one of the problems. My city, we got a lot of talent, but no one knows.
When I started hearing their music, I was like, "That's different." They got wordplay, so you might listen to a song four times and just not catch this one bar on the fourth time. When you turn their songs on, you will listen to it from start to finish and all the way back again. That's talent. 
How did you end up signing with Atlanta mogul Gucci Mane? How has that relationship been? 
Gucci Mane found me on YouTube. Somebody sent him my music through YouTube. And then he tried to find me on Instagram, but my account was deleted. Then, I finally got my Instagram account back and he found me. 
He contacted my manager Caden and then my manager called my friend's phone to wake me up and say, we're going to talk to Gucci. He ended up calling me while I was asleep on the couch at my home. They woke me up to talk to him. That's really how we start talking.
Gucci just want me to focus on my business. My relationship with him has been a learning experience. Just soaking up all information I can from him. He's cool, relatable. I'm just like paying attention to everything, getting ready for everything that I know is going to happen. 
I recently sent him an unreleased song and he was like, "This shit so hard, it's unreal." It's crazy because I grew up listening to Gucci. To the point, it ain't just me listening to him. Everybody listening to Gucci – grown people, kids, teenagers, everybody listen to him for years. He made music anybody can listen to. So if he say, your shit is hard, that means everybody is gonna like it. And he said that about my song. It felt really good to hear that from a legend like Gucci.
If you could work with a producer to create a collaboration album, who would it be and why? 
I really like MCVertt and Hitman. I just made like eight songs with them. For me, when I do music, I like to be comfortable, so I got to really focus. 
For you to even be around me and for you to sit in the studio with me for a whole session, I got to really vibe with you. I don't do stuff with people I don't know a lot. That's why I rarely got features. 
Are there any artists that you're looking forward to working with in the future? 
I want to do a song with Rylo Rodriguez. I mean, I know I'm going to do a song with Rylo. He's from my city and his music is hard. 
What did that day feel like when "Go Li Rye Part III" hit streaming services? What do you think the fan favorite track is? 
It felt good because I was ready for them to have all of the songs at one time, in one spot. But the fan-favorite song is probably "Proud of Me." The fans like when I make songs like that. A real, I wouldn't even just say pain, but the sound is like pain. 
What has been your biggest accomplishment in your eyes since you've been in the music industry? 
Having a fan base, having people recognize me when I'm outside. I'm not blown away by too much because I put the work in. But, when fans recognize me when I'm outside, it's a reality check for me. Working with someone I looked up to growing up like Gucci Mane is a big accomplishment, too.
What do you see in the future for yourself? 
I'm trying to be looking at my bank account and wonder why they just took $750,000, because I got $112,000,000 in the bank. That's what I hope to see. Like, "Alright, I'm going to call the bank later." That's a dream.
I want to be the number one rapper. It's just something about being the best. I want to make music until I get that feeling when it's that time. You know what I'm saying? I'm going to ignore it until I can't. 
I used to want to be a dentist. It would probably be crazy for someone to walk into the office and see that I'm the dentist. I would do something like that. I used to want to be a computer technician, too. I took a whole computer apart and put it back together when I was like, 9 years old. Stuff like that, that I know I can't do right now, I'll probably do later on.
How can readers and fans be able to follow you on social media platforms? 
Readers and fans can follow me on Instagram: @lirye26, TikTok: _lilrye, Spotify and YouTube.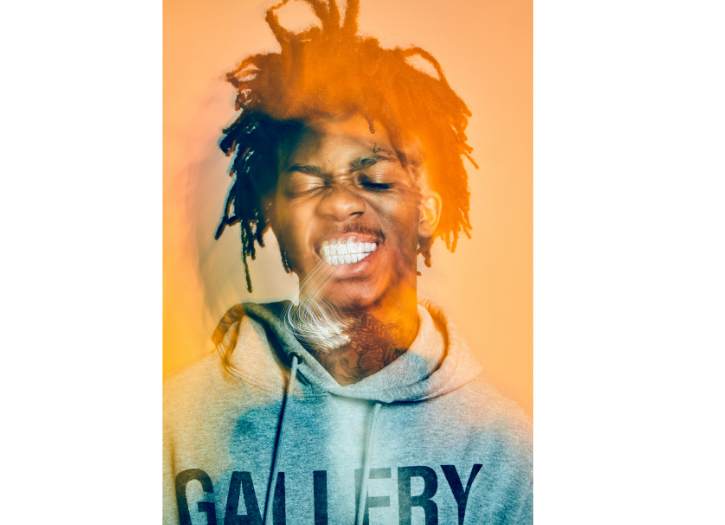 Photo credits: Jimmy Fontaine