Around 2014, Esther Etienne birthed the company known as Etienne Glamour. Having spent many years of planning and searching for her passion, she knew that building a unique brand in the hair industry was something she soon would come to realize as her niche. Esther began putting her creativity to work by creating styles like the invisible part and her impeccable closure sewing. Her unique style has helped take Etienne Glamour to the next level while continuing to establish a brand that is unlike others, making her one of Georgia's top hairstylist!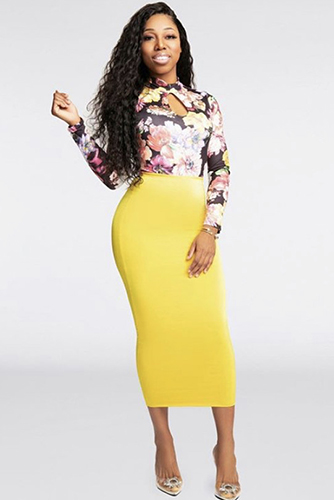 "Doing hair was not always a passion of mine. Growing up, I tried doing everything but hair. Once I became pregnant, it forced me to become more independent and self-reliant. I knew I had to do more since I was bringing my son into this world, and working a 9-5 was not cutting it! I started doing hair at home, never thinking it would grow this big! I believe what helped me become one of the top hairstylist in Georgia was the way I stood out in my closure sewing.  I haven't found one person to do it the way I do!"
Esther states that becoming a great hairstylist means you have to be genuine. Being genuine means "having love for the business and care for the client overall." I truly believe your hair grows when it's handled with genuine love. The passion and love for her clients is what has helped set her apart and has continued the establishment of longevity within her company.  For the Queens searching for ways to establish healthy long hair, she highly recommends that you take vitamins that contain Vitamin E and Biotin as well as drink plenty of water. 
"Eat right, drink plenty of water, and take your vitamins. Keep hair moisturized with conditioning shampoo."
Ladies you know that our hair is like a garden and a garden with no water will not produce growth or anything healthy. So having a hair stylist that truly understands what it takes to help you maintain healthy hair is always a plus. 
In the midst of meeting client needs, she is currently getting on her boss woman status and making plans to put on a brunch this summer called "The Moment I Became Fearless." When you get away from your fears and step out on faith, you break down all the barriers that try to defeat or hinder you for success. Knocking down barriers in the hair industry is what has helped Etienne Glamour stay on top!
Etienne Glamour has done work for celebrities like Erica Dixon and Shamari Devoe!
Connect with Etienne Glamour on Instagram today!
Click here to visit the official Etienne Glamour website.
All images by Nathan Pearcy