Marline Francois-Madden Is a transformative social worker, educator, advocate, and policy- facing therapist developing consistent action plans that drive change. Marline Holds A Bachelor Degree In Psychology From Penn State University As Well As A Masters Of Social Work From Rutgers University-Newark. She Is The Chair Of The National Association Of Social Worker – Legislative And Social Action Committee And Is Currently Licensed As A Licensed Clinical Social Worker In The State Of New Jersey. Her bestseller book, The State of Black Girls: A Go-To Guide to Creating Safe Spaces for Black Girls, is the solution and a step-by-step guide and resource that can be leveraged as a tool to innovate the way we see mental health while creating change-makers in our society. Her work has been featured in Forbes, Essence, Fox 5, Hot 97, MadameNoire, Therapy for Black girls, etc.
What have you encountered/experienced as a black woman and therapist that compelled you to write The State of Black Girls?
What compelled me to write the book was learning about the death of several Black girls as a result of suicide. As a therapist, I worked closely with alot of Black girls and recognized the challenges that they were experiencing and the lack of resources readily available to them. Mental health challenges impact the Black community, but very little attention was given to Black girls. I wanted Black girls to read a book that spoke directly to them to tackle mental health issues and various social issues they are faced with daily.
Can we talk about the state of black girls without addressing  systemic racism?
No, we can't do that. Black girls are often underrepresented and discounted for opportunities in the academic and community setting. There are many disparities and equity gaps that we have yet to address when we are talking about the mental health of Black girls. Recently, a research report was released by the Congressional Black Caucus that discussed the death by suicide rate for Black youth have increased over the last decade while it has declined for other racial and ethinic groups.
What are some ways educators and parents can empower and equip black girls especially those who are dealing with trauma?
Parents and educators can start off by validating Black girls. It's important for parents and educators to recognize any changes in their behaviors and learning ways to assist Black girls who are dealing with trauma. There are different forms of trauma and every Black girl will not respond in the same manner to their traumatic experiences. It is important to be patient with Black girls and create healing spaces for them to navigate their emotional well-being.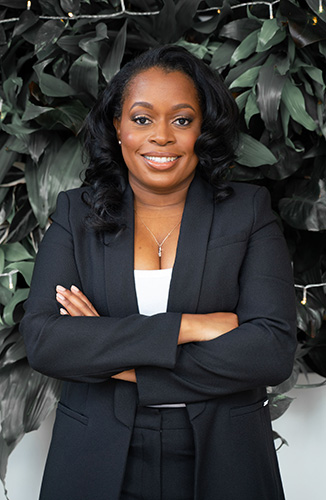 Believe Black Women became a hashtag, if black women are not being heard, seen and believed, what is it like for black girls?
If Black women aren't being seen, heard or believed, you can only imagine what the experiences are like for a Black girl. There are so many adultification biases that are happening where Black girls are less likely to receive protection or support compared to their white counterparts.
Please elaborate on how racism and misogynoir push the adultification of black girls?
It further pushes the adultification biases of Black girls by dehumanizing our girls or viewing them as hypersexual or aggressive. Black girls are disproportionately criminalized at an alarming rate compared to their white counterparts and we know structural racism plays a role. Many Black girls aren't given the same opportunities or a fair chance as other girls and receive unfair treatment.
Any commentary on Surviving R Kelly: the justice system and its role in the adultication of black girls?
The justice system has continued to fail Black girls and many sexual abuse cases is underreported which makes it difficult for Black girls to feel safe and protected by the justice system.
Mental health is becoming less taboo in black and brown communities, more people of color are becoming more comfortable talking about it, in your practice, do black girls feel like they have to be strong/resilient? If yes, what do you suggest can be done to unlearn this way of thinking?
Many Black girls who come into my practice know that they are allowed to show up in their most authentic being. I let them know that "it is okay to not be okay" and allowing them to redefine what being strong means. Oftentimes, many Black girls associate crying or being vulnerable as being weak, but I let them know it's a sign of strength.
As an activist who believes in advocating for policy changes on behalf of black girls and black women, please elaborate more on the disparity in mental health when it comes to access, opportunity and equity? And what are some of the challenges have you encountered in your advocacy work?
Some of the challenges I have encountered are the gaps in access to quality treatment for Black girls. They are often mislabeled and funneled through the school to prison pipeline and disregarded for mental health services. We need to make it mandatory to have a mental health curriculum in K-12th grade of every school, but ensure that the material is culturally responsive for Black girls. In addition, we need to increase practitioners in the academic setting that can address the trauma Black girls are faced with in the academic setting. The Congressional Black Caucus is working on a mental health equity bill to address some of these issues and are looking to increase fundings to conduct research in this area.
The Church plays an important role when it comes to how black and brown people approach mental health, do you consider the church to be a barrier or an asset when it comes to dealing with mental health as well as healing?
Many churches fail to discuss mental health and will often say "just pray about it" and never discuss mental health. I do believe that the church can be an added asset by partnering with mental health professionals to offer training in the church on topics related to depression, anxiety, bipolar disorder, etc. The church can also work towards creating a judgement-free zone where their members feel safe to express their mental health concerns and be linked to a therapist.