Just because the summer months have exited doesn't mean you should stop wearing sunscreen!
In the year 2021, we are debunking skincare myths, properly moisturizing, and taking care of our body's largest organ – our skin of course! Shontay Lundy is the mastermind behind the revolutionary brand, Black Girl Sunscreen. The critically acclaimed sunscreen that was specifically formulated for melanin skin without white residue and casting is typically experienced in most sunscreens on the market. Shontay recently gave us the gems on how to fashionably incorporate this product into your routine and other awesome products her company has to ensure your Black don't crack!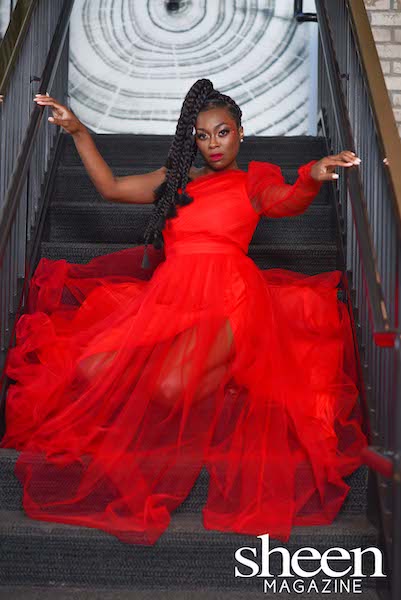 For many years, there was a large amount of people who didn't know African Americans were supposed to use sunscreen. How have you cultivated a brand that is not only necessary but trendy enough to attract those who may not have known the significance of sunscreen?
We are the culture and the consumer and can easily relate to why Black people weren't protecting their skin. Because we can relate, we can speak directly to the community in a way that resonates with them. Understanding there was a lack of education around sun safety in the Black community, and also understanding that many of us didn't have a relationship with sunscreen. Growing up comes from being Black – which shows we are being our authentic selves, which has built trust in the Black community to support Black Girl Sunscreen.
Healthy and protected skin never goes out of style. During colder months, how often should we be applying sunscreen?
Healthy and protected skin helps us preserve our youth. What is the phrase "Black don't crack"? Well, it does if we don't take care of it. Winter and colder months are most important, as our skin can become dry, calling for extra moisturizer and hydration. With our newest launch, Make it Matte, we make it easy for us to wear sunscreen in the winter, as the sunscreen serves as a lightweight primer. If you are just heading to work, then apply Make it Matte once under your makeup in the morning, and if you don't wear makeup – you can rock Make it Matte on its own. Now if you were to go on a ski trip, reapplying every 2 hours is the protocol as UV rays reflect off the snow and penetrate through the clouds.
Your product, Make it Matte allows everyone to stay fabulous and protected. What elements of the product provide fabulousness?
Ohhhhh, Make it Matte is silk in a bottle! It's lightweight with a gel consistency that leaves a matte finish – it literally looks like you have nothing on. The silky Make It Matte formula melts into your skin like butter because it's infused with ingredients such as coconut oil, shea butter, and squalene.
You've introduced apparel as well to the brand – what inspired this?
Our apparel is inspired by our "Women of the Sun" collective. A Woman of the Sun truly embraces the skin she is in. She understands the impact of her melanin and protects it with vigilance. She loves to BE in the sun. She loves to travel. She loves being in peace and manifesting her dreams. She shines bright, understanding that her optimism is contagious and radiating in her own light, inside and out.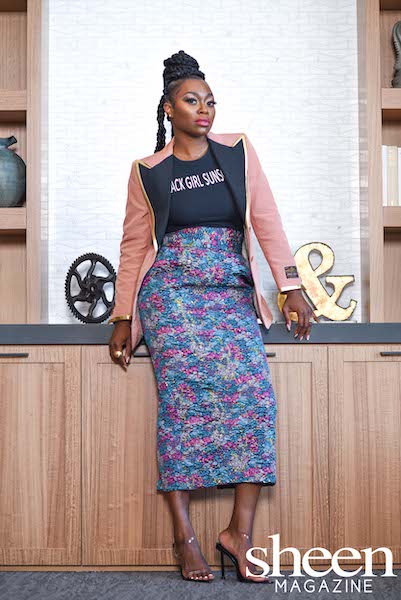 Do you plan on continuing to incorporate fashion into your brand?
Yes, fashion is our culture and expressive to who we are. As long as our pieces correlate to our mission and vision of sun safety, you will see more from Black Girl Sunscreen!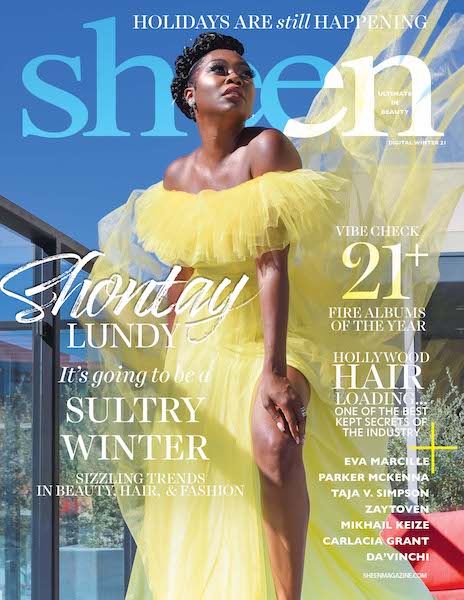 Photo Credit: Mark Gunter Photography
Coco Blue Shoes
@cocoandbluecollective
Skirt by Destination 1610 @destination1610
Red dress Intertwine Collection @intertwinecollection
Styled by Sir Joe Exclusive @Sirjoeexclusive
Asst stylist Rafiq Calder
Hair & Makeup by AD Lewis
For more information on Shontay Lundy:
WEBSITE | TWITTER | SHONTAY'S INSTAGRAM | BLACK GIRL SUNSCREEN'S INSTAGRAM