Emerging artist, Big Arie is an artist you want to make sure you begin tuning into. This young artist is on a mission to inspire others through her music. With her soulful lyrics and bubbly personality, we completely fell in love and had to get to know her upon the release of her upcoming EP! Tune into our exclusive interview with Big Arie as she dishes all the details on her latest music projects.
Why would you say your love for R&B is so strong?
The reason I would say my love for R&B is so strong is because it helped me get through a lot. Its been like therapy for me. I love being able to write music and express myself. I've been able to use R&B as a tool to get over the things that I have been through in life. R&B has been there for me to help me.
How do you believe you as an artist can help our world fall back in love with R&B?
I think that times are changing. Before, R&B singers weren't really able to say what the things that men are saying now. The music industry now is dominated by women, we're able to say exactly what's on our mind. I'm doing the same thing through R&B and giving my audience a different element where you can sing along and still say "Fuck You" at the same time (laughs). I don't know if I can say that or not (laughs). You're able to sing along with it, if you're in your feelings, you can say exactly how you feel! I'm being unapologetically me! I'm saying how I feel and exactly what women want to say.
Why are you so passionate about inspiring young women persevere through their struggles?
I'm passionate about it because I was a young girl that wanted to give up before. If you give up, it's a guarantee that your dreams won't happen. Now, I'm in a place where I didn't give up so I want to show people that they should go towards their dream. Keep doing what you want to do because eventually, it will happen. If you give up, it's definetly not going to happen.
Can you give us insight into your new EP titled, I Said What I Said' expected to release this month?
Basically, I'm talking about the different things that women go through during a break up. Time is over with, now I've said everything I needed to say, I'm moving on past you, its done, now I can move forward.
What can we expect to see from you in the future?
You can expect me to tour around the world, putting out more music, working with different artists. I want to collaborate with other women in the industry and make more music!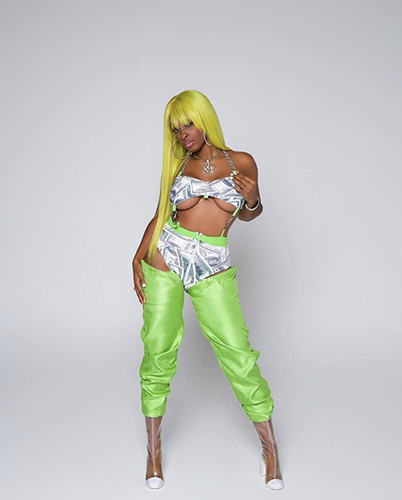 For more on Big Arie, follow her on Instagram & YouTube.
All images by Royaleyez