The tantalizingly beautiful bombshell proves that she is here to stay and shows us how to level up and beat the odds!
SHEEN Magazine, the Ultimate in Beauty, is basking in the warmer weather! There's less clothing, and it's a time for passion and romance – smells like a sweet summer! As the world continues to push through the pandemic, and now more than ever, it's time to celebrate…but with precaution of course! Dive into these summer trends and staples that you'll need to create a fun and safe atmosphere!
Ensuring we start out with a Hot Girl Summer, model, entrepreneur, and social media maven, Jordyn Woods shines on our cover. Facing adversities and making herself a greater person in the meanwhile, Jordyn is finally unmasked and writing the lyrics to her own tune. The charismatic queen is only just beginning her journey!
"I think that this is the time to really lock in on yourself. Learn yourself, know yourself, and find an outlet for your self-expression – whether it's writing, drawing, painting, whatever it is. Find a way to express yourself. Those outlets are really important as well as your faith in God or finding your faith in your spirituality, whatever it may be. For me, it was finding my faith in God." –Jordyn Woods
Our double-cover features R&B Sensation and Neo-Soul artist, Ledisi. The acclaimed singer/songwriter is imparting pieces of her beauty and elegance in her inside cover story. She's molded herself in love, and has embarked on a journey of self-discovery, but now she's ba-ck! Ledisi is giving us a glimpse into what self-worth looks like!
"Love feels good when it's from within and you're sure of your self-confidence. Sometimes we can't be that all the time and that's okay. That's why you have to be particular about who's close to you." –Ledisi
With her beauty and brains, comedienne and budding entrepreneur, Pretty Vee is a lethal combination for success as our Beauty Spotlight. Body contouring specialist, Lior Dior, reveals the tricks to leave you feeling fabulous and snatched this season; while Samantha Jane gives date night looks that are summer proof! Our Hairstylist Spotlight, Denise Michelle, has mastered the pixie cut and shares the weightless secrets to it!
Fashion stylist, Zoe Dupree, wants you to step outside your comfort zone and to help you create fashion as our Stylist Spotlight, and Oyemwen showcases her designs laced with tulle. Just in time for Summer, we want you to get into these trends: padded muscle tees, pleated Bermudas, and low block heels – what more could you ask for?
Find ways to be safe and fit while at home with tips from Elizabeth Colen, while becoming a gourmet chef with Chef Hezekiah. The Clark Sisters' phenomenal story is shared throughout our shimmering pages, along with the inside scoop from the entire cast of the film and the Clark Sisters themselves! We take a closer look at black love through the ages, and we've got you covered to grow your money bag this Summer to help you get credit worthy with financial literacy coach, Sypreme Essence!
SHEEN Magazine's July/August 2020 Summer Love will be available on Tuesday, June 23rd and available on newsstands soon!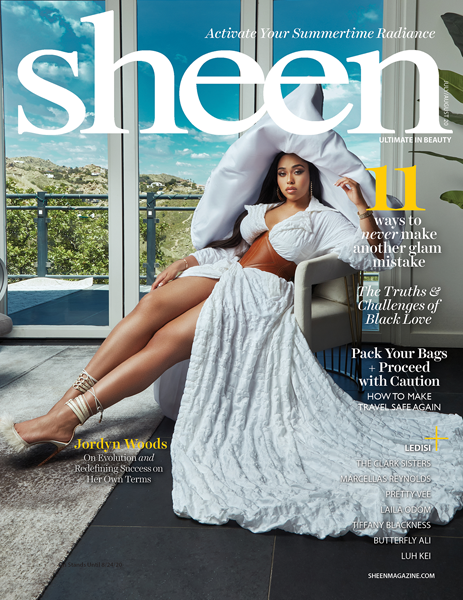 Photo by: Malik Daniels
About SHEEN Magazine
Sheen Magazine is The Ultimate in Beauty for the modern day woman. The lifestyle and beauty publication is the preeminent voice on new trends, techniques, and products. Sheen Magazine is a national and international distributed publication. Published bi-monthly, Sheen Magazine maintains its influence by always remaining current on the trends of beauty, fashion, hair, and entertainment. The publication seeks to cultivate, educate, and motivate, encouraging the full potential of their readers. The Ultimate Beauty Guide and can be purchased nationally at Target, Walmart, Walgreens, Books-A-Million, and Barnes & Noble. Visit us online at SheenMagazine.com and follow us on Facebook, Twitter, and Instagram @sheenmagazine.