Sports Illustrated model, Jasmyn Wilkins is force to be reckoned with. As someone who comes frmo a great line of professional athletes, it's no surprise that she naturally stepped into the limelight showcasing her very own talents. Besides holding prestigous titles such as Miss Georgia USA, it's clear to see that Jasmyn is focused on spreading light and love through others and using her platform to use her voice. We recently caught up with Wilkins to discuss everything from her start in entertainment and why she is so passionate about the topics, most people in the limelight are too afraid to speak on.
What made you want to step into the world of entertainment as a model, social media personality, and actress?
I have always wanted to get into the entertainment-sphere. I grew up in a family of athletes, which are essentially entertainers if you really think about it. I always did plays, musicals, and I was in the band. I always had this desire to either be in front of a camera or crowd. It's funny because I was actually really shy (laughs). When I entered high school, I signed my first modeling contract with Forbes. They had an agency in Atlanta at the time. It was a big catalog casting, and I just went for fun, not expecting anything out of it, and signed my first modeling contract. From there, the ball kind of got rolling, I entered a pageant on a whim to see if that could expand my network of people to get more into acting and modeling. I've been modeling now for eight years full-time. I would say that I was definitely inspired by my own family and drive to be an entertainer.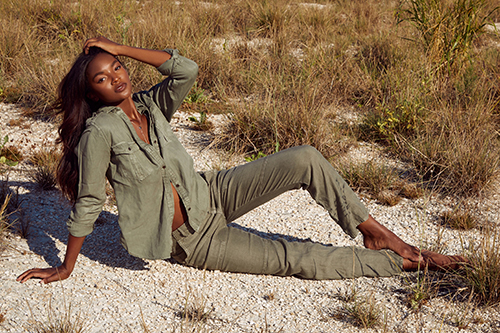 You were Miss Georgia back in 2012; do you mind sharing your experience holding the prestigious title?
That was so much fun! Like I mentioned, I had never done any pageants before. I was in college at the time. I was going to Clemson University and I wasn't doing too much in my modeling career. I did little shows at the mall and my roommate suggested entering a pageant.  She thought it would be fun for me, so I did it for the experience, not knowing I would win. Everything I took, once I did get that title was very intense. I had a lot of personal trainers, interview trainers, I had a pageant walking coach because I didn't know how to walk on a pageant stage. I learned a lot, it was so much fun, and I made so many great friends. I feel like it really prepped and primed me for my modeling career. I was able to go into castings and interviews and nail it with all of the training that I've had. It was really incredible; I got to go to different schools and hospitals and the community outreach that came along with it was fulfilling and rewarding. Even though it was so many years ago, I think back on the benefits it has put in my life and I'll always remember holding that title.
Aside from entertainment, it is clear that you are passionate about social issues such as mental health de-stigmatization, racial injustices, and even organ donation. Would are these topics so important to you?
I am very passionate about all of those topics, but those in particular. Mental health de-stigmatization is really important to me. When my dad was coming out of his basketball career, he ended up being diagnosed with bipolar disorder. He had bipolar 1. It was difficult for my family and we had to learn a lot about that illness, how it affects families, and how it affects the individual. At the time, people weren't talking about mental illnesses. It was still very stigmatized, no one wanted to talk about it, but it didn't negate the fact that there were people still dealing with those same issues. I decided a few years ago, that I wanted to be transparent and honest with it. I wanted to talk about my experience having a parent with it. In terms of my own mental health, I've struggled with a lot of anxiety in my life and depressive symptoms. It's not easy talking about those things. I wanted to bridge the gap, help people get resources, and just get people to think open and honest about it. Organ donations is important to me as well because my mom has a very rare liver disease. She's had to have two transplants because of it. I feel like that is kind of a space that people don't really talk about. It's a little nerve-wrecking, especially in the Black community. I just wanted to educate people on that. With social issues, this year specifically was when I began to open up about that with what happened with George Floyd and everything that happened. I was nervous to come out and talk about it because I know that I do have a wide range in audience when it comes to political and social views. I didn't want to offend anyone, but I felt like this was a topic that I couldn't stay silent on. Again, I just try to share resources and have those open and transparent conversations about the social climate going on right now.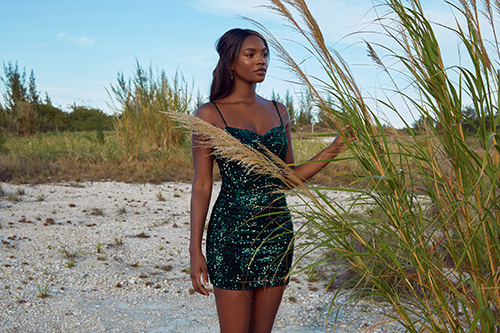 What are you currently working on and what can we expect to see from you in 2021?
Aside from my modeling career, I'm still modeling full-time, which is great. I'm excited about the endeavors that I have coming up with that. I have worked with new clients but personally, I am starting a unisex skincare line. It's called Morning People; I can finally share that now! It's been under wraps for a while. It is a unisex skincare line and mental awareness brand. It is inspired by those of us who struggle to get out of bed because we're thinking of happier times or have circumstances that hold us back. It's a vitamin C and CBD-enriched line. That is my new endeavor right now, which is exciting. Follow us on Instagram. I am hoping to launch by Fall 2021.
For more on Jasmyn Wilkins, follow her on Instagram & Twitter.
All images by Vivian Arthur