Women have definitely been increasing their visibility in the tech space for a while.  #Mompreneur, author and founder of the Discreezips app, Dominique Daigle couldn't have created this app at a better time.
Discreezips is a highly responsive app that puts family bonding and communication at the core of its offerings. This app intuitively collects, stores, and facilitates the sharing of information. Information such as symptoms, feelings, cravings, menstruating, and more. Discreezips aims to help improve the quality of life women all over the world.
Give our readers 5 adjectives to describe Dominique Daigle.
I would say… Powerful, impactful, conscientious, tenacious, empathetic, loving! Omg that's six(laughs)!
When our team heard about your new app Discreezips, we were really excited. How did you and your sister, Jahnee Roldan come up with the  Discreezips app?
Sorry sis, (laughs), but Discreezips is my baby. When I was pregnant with one of my sons, I had made note of a period app that I wanted to possibly create. At the time period apps weren't a thing but I always knew I wanted to create one and incorporate different communities within the app that women could relate to. My sister Jahnee is my wingman. She's the VP! We come up with things that we want to create and see in the app and she enforces it, helps research it to get the job done. We literally are ying and yang. I couldn't be prouder than to be on this journey with her learning with each other and from one another. Discreezips is our baby.
You also have expanded Discreemen. Tell our readers what they can expect from that.
You can expect more chats groups aka communities from Discreemen as well as more insights. I also want to expand our fitness portal with Discreemen as well as a portal for future life planning whether you are with the opposite sex of the same sex.
With the current shift in the world and everything being virtual, and more consumers shopping online, can we expect and retail products from you?
We are definitely working on retail products in the future as soon as our world is safe and healed. Covid-19 has put one of our biggest projects at a vault tight now. However, we are eagerly yet patiently waiting.
What's next for Dominique Daigle?
Our app being the top five apps globally, a product line to match Discreezips. You can look forward to more children books from me and possibly and autobiography.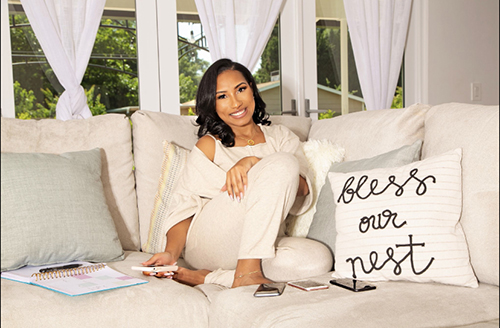 How can our readers keep up with you?
Visit the Discreezips and The Many Adventures of Donald website. Follow the apps on social media with the handles below.
@dominiquepenn_
@discreezips
@discreemen
@themanyadventuresofdonald
All images by Shannon Laurine