Music artist, professional chef, cookbook author, multi-media influencer – those are just a few of the titles Lazarus Lynch holds. Today, we're focusing on his talents as a music sensation, ahead of the release of his first full-length album titled, SANCTUARY. The album is ser to release this month and naturally, we wanted to obtain all the details from the multi-talented star himself. In our exclusive interview with Lazarus Lynch, we discussed the visuals behind 'Black Queer Anthem,' his album, and much more!
Where does the name, The Son of a Southern Chef come from?
"Son of a Southern Chef" is the story of me growing up with a southern dad and chef, from Alabama who inspired me to cook. My dad spent years learning how to cook by watching his mother, who was an amazing cook herself. He ran a popular Soul Food restaurant in Queens, New York which is what inspired me to become a chef. Over the years, Son of a Southern Chef has become the monicar I go by and a form of celebrating my family's culinary roots. 
Tell us about your first full-length album, SANCTUARY.
SANCTUARY is my debut album. I didn't know that I was making an album in 2019 when I began writing all of the songs. The songs just came to me in stillness and I wasn't sure why they were coming all at once, but I was grateful they did. Over the course of a year, I spent turning demos into actual songs. I linked up with an amazing producer, now brother for life, Itamar Gov-Ari to bring these songs to life. Two years later, it's finally ready to share with the world. 
SANCTUARY is a healing album for me. I was raised in the Pentecostal/Apostolic church in New York and so much about who I am was formed in that setting. As a queer person, it took me a long time to embrace who I was. The songs on SANCTUARY really speaks to the journey of becoming the person I always knew I could be – free in my own skin, at peace with my spiritual path, and queer.  
How do you juggle your many titles as a professional chef, author, influencer, and music artist?
I don't think about it, I just experience life in all of its many facets. I am not one-dimensional, neither is life. I embrace all that I do as being "Lazarus". I am grateful to have a very large soul tribe of people who support me in these separate areas, but creating is creating to me. I am just grateful to be able to create and freely express my ideas.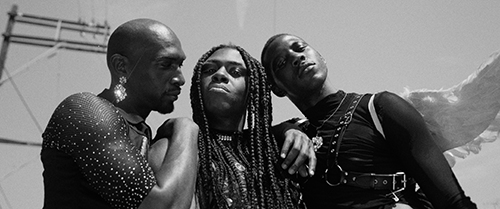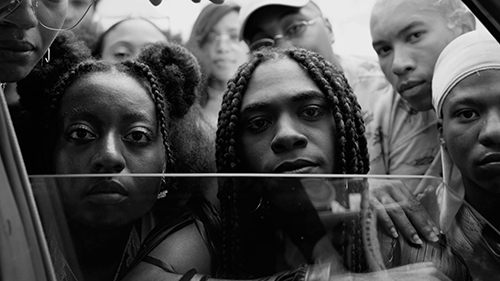 What inspired the visuals for the Black Queer Anthem music video?
There was a lot of inspiration. I presented the song to my director Vincent J. Walker and he just ran with it. Within hours, he sent me back a 14 page deck outlining his vision for the music video. We really didn't deviate from the original idea which was to be Beyonce meets Missy Elliot – Black and raw and in your face and fun. We wanted it to be Black AF with tons of powerful queer representation. We were inspired by the work of Gordon Parks. His images of Black people are truly moving. 
What are you currently working on and what can we expect to see from you in 2021?
We can expect my album release in July 2021! I cannot wait. 
CREDITS:
Photographer – Tanisha Moreno. 
Artist – Lazarus Lynch 
Director – Vincent J. Walker @vincent.j.walker 
Director of Photography – Tanisha Moreno @dp.tanishamoreno 
AC – Ricarda Valarie Keyes @ready_steadi_ric 
Dancers – Christopher Isaiah Frazier and Justin Porter @_isaiahchristopher @justinnporter 
BLACK QUEER ICONS: 
De Vonte' Tasker @devonte.k.t
Ami Miller @amimilleromg 
Keilah Bailey @keilahrose_ 
Tirek Johnson @its_tirekj 
RJ Royster @romero_j_royster 
Desirée Irving @tressreliever 
Xan @xan_church 
Ferr Mas @ferr.mas 
Joe T. Carter @joethomascarter 
Annisse White @nissy_blanco 
Costume Design / Makeup Artist – CHR!STOPHER QUARTERMAN @lejoursdechris 
Leather Tassel Jacket by Alabama Blonde @alabamablonde 
Sabaa Goods Earrings @sabaagoods
Bonheur Jewelry @bonheur_jewelry  
Barber – Barbie's Braids & Fades @barbiebarber_ 
NY Hair Stylist – Sabina Clarke @4sdesignss 
SONG CREDITS 
Written by Lazarus Lynch 
Produced by Lazarus Lynch and Itamar Gov-Ari @igov 
Sample by Michelle Skyers @adriftt.x 
Mixing/Mastering by Joshua Pleeter @joshuapleeter