The Queen of Dancehall, Spice, Music Mastermind, Muni Long, and Gospel star Koryn Hawthorne all serve up summer music in time for Black Music Month.
 FOR IMMEDIATE RELEASE
Music is the universal language that connects people from different places, time periods, and all walks of life. With music, you can remember an amazing time in your life, daydream, and change your vibe totally. Travel can give the same tingly feeling – along with the ability to relax and unplug!
SHEEN Magazine, the Ultimate in Beauty is celebrating the universal influence of music and travel, and we are ready to take you on a musical journey, all-round the globe! Get your passport ready, your bags packed, and your fave playlist ready, because you are in for a wild ride!
To kick off this issue is none other than Spice, the Queen of Dancehall! With the number one reggae song in the country, "Go Down Deh," featuring Sean Paul and Shaggy, Spice is a formidable force to be reckoned with! With her debut album, TEN at the helm, set for a July 30th release, Spice is hard at work. With her hands literally in everything–from music, to fashion, reality TV, and beauty, Spice shares her level up journey from her humble beginnings in Portmore, Jamaica to her superstardom. In this SHEEN Cover Story Exclusive, Spice talks all things spirituality, synthetic wigs, and ending a label feud.
 "I broke generational curses. I went from homeless to owning houses in Atlanta and Jamaica." –SPICE
 Our cover also features R&B Pop Singer-Songwriter, Muni Long. Formerly known as Priscilla Renea, the music industry's mastermind is known for penning hit songs as a co-writer for Rihanna's "California King Bed," and Selena Gomez's "Who Says," among others. Muni recounts her songwriting experiences and how it has mold her into the artist she is becoming today and is ready to show and tell what she's been releasing to the world under her previous pen name.
"I love my journey and all of the things I learned as a songwriter. I've contributed to the greatness that I've been able to create so far with Muni." –MUNI LONG
 The third cover installment, we couldn't forget to bring in the inspiration with Gospel sensation, Koryn Hawthrone. "The Won't He Do It" singer continues to captivate and inspire us with her soul stirring hooks and melodic melodies that make us want to kneel down and pray! Koryn's young and gospel life is one filled with inspiration, and she shares just why!
"Hopefully, as somebody that widened the lane of gospel music, as someone that did something different. I feel like each generation that comes, is supposed to push whatever was there before to the next level." –KORYN HAWTHORNE
 South African singer and actress, Nandi Mandida, shares her beautiful South African culture – *hint hint* red clay is one of her go-to beauty items, in an exclusive Beauty Spotlight. Celebrity MUA, Tai Young shares her five simple steps to a flawless beat; while Beauty influencer, Shuntae Price, gives her guide to the best products to travel with! For our Hairstylist Spotlight, Plush Midtown Barber & Beauty Salon, Step the Barber is talking about all things hair, starting with his new line of products, Kinks and Coils Hair Care." Alexa, play "Around the World" by Nat King Cole! We're taking you around the globe in this issue's SHEEN Beauty Tour.
Our featured Stylist Spotlight, Celebrity Stylist, and director, Lunden Olin tells a story; one fashion piece at a time, while we explore the fashion evolution of designer, Maxie James, and her fashion brand, Ellá Lisqué. Plus, we will make sure your next voyage includes this fashion forward luggage!
Join in on our intimate conversation with artist, Mir Johnson, as he details his journey through art in our Artist Spotlight. South African R&B singer, Elaine, gives insight into the release of her debut album in the midst of COVID-19 for the Music Spotlight. Singer/Songwriter, Chrisette Michele, has found a steady balance from within and now hopes to help others, while renowned Christian artist, Naomi Raine, shares how music can bring hope and healing. Jamaican-born stylist, Kristia Franklin, popularly known as "My Repeat Offender," has us visualizing the sights and sounds of our next getaway. Our fitness journeys start with self-care, and CEO FitReeFitness, Reanna Nicholson, shares how positivity guided her along her wellness journey.
SHEEN Magazine's July/August 2021 The Music & Travel issue hits stands on Tuesday, June 29th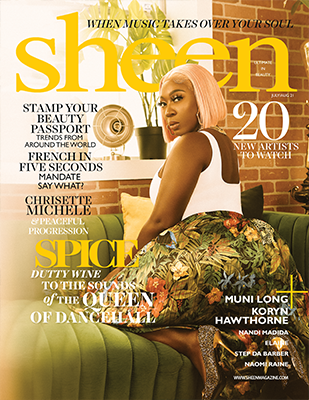 Photo by Blair Devereaux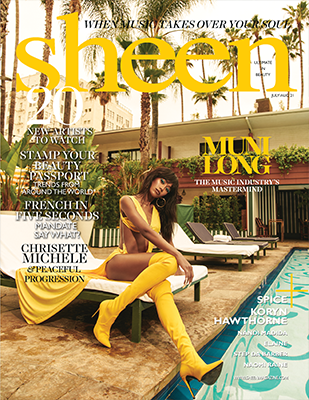 Photo by Orin Fleurimont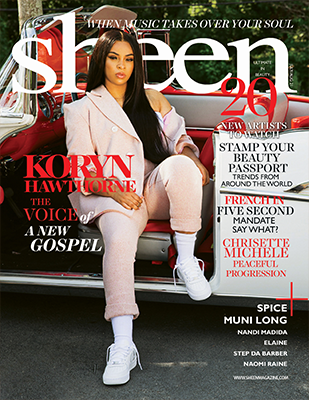 Photo by Robert Ector
About SHEEN Magazine
Sheen Magazine is The Ultimate Beauty Guide for the modern day woman. The lifestyle and beauty publication is the preeminent voice on new trends, techniques, and products. Sheen Magazine is a national and international distributed publication. Published bi-monthly, Sheen Magazine maintains its influence by always remaining current on the trends of beauty, fashion, hair, and entertainment. The publication seeks to cultivate, educate, and motivate, encouraging the full potential of their readers. The Ultimate Beauty Guide and can be purchased nationally at Target, Walmart, Walgreens, Books-A-Million, and Barnes & Noble. Visit us online at SheenMagazine.com and follow us on Facebook, Twitter, and Instagram @sheenmagazine.