Entrepreneuer, speaker, event producer, chef, author, and business strategist, Nadege Fleurimond has a lot on her plate but you wouldn't be able to tell because she does it all with much grace. Fleurimond once used cooking as a way to connect with her friends in college later made it a side hustle that eventually took off to become a full fledge catering company. Today, she has catered for companies and institutions across the nation and is the author of many books. In our exclusive interview with her, we discussed the inspiration behind her book, Taste of Solitude, her embroidered apron line, and much more!
Do you mind sharing with us where your love for cooking came from?
My love for cooking started at an early age. I came to the United States at 7 years old to live with my dad and I remember not being too fond of the food. I missed everything about Haiti, especially the food. Initially my dad thought I would appreciate the American food as it was new and exciting, my young 7 year old taste buds craved the taste of my tropical paradise.
Since I loved cooking, I became the head cook at my house at an early age. Once my dad showed me the basics, I would entertain him and his friends as they came over for a game of cards. I cooked what he would say, gwo manje- big food-indicating that I was making full adult dishes.
Those gatherings fueled my love of cooking for a crowd because I saw the joy that existed around those gatherings. I think that's why I've always been drawn to catering. It represents to me the celebration of life with family and loved ones with food serving as the glue.
Tell us about the inspiration behind Taste of Solitude.
Taste of Solitude was born out of my desire to serve and comfort during a very challenging time that impacted all of us including our businesses, health, friends, families and our way of living and working. 
While cooking has always been my therapy and my coping, upon seeing how it benefited others as I connected through my various social media platforms, I was inspired to do more. To encapsulate the experience of both food and emotions.
I believe what we've experienced through COVID, and will continue to experience in life in general, have a universal chord. There are always bigger lessons and messages to be garnered through all of life's experiences. And Taste of Solitude is the delicious, comforting and inspirational way in which I relay that message.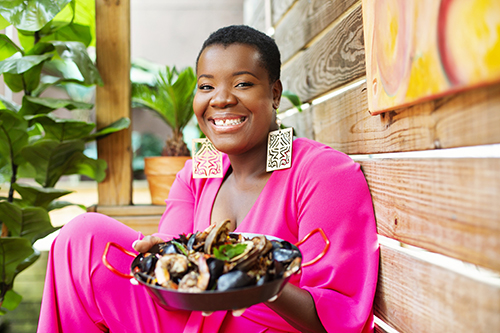 What can we expect from your embroidered Carabella Apron line?
A beautiful well crafted apron full of history, heritage and pride. The carabella dress, Haiti's traditional peasant dress, has always represented to me hard work, and perseverance. The images of everyday life, of merchants, farmers, serve as a reminder of where I come from, and the pride associated with that lineage.
How has quarantine life been for you?
Quarantine has served as a double edge sword. While many of my businesses have suffered greatly, I've been given the opportunity to push myself in ways I didn't know were possible. But more importantly than the work I was able to accomplish, I'm grateful for the opportunity and time that I had to reflect, rethink and re-strategize.
Quarantine made me realize that rest is not just a nice treat but a necessity. Self care, whether in the form of sleep or doing whatever form of rejuvenation you deem, is not just nice but necessary!
What do you hope to accomplish in the years to come?
Oh so much! But it all boils down to hoping to keep creating and developing in ways that inspire others to follow their own path to create their own impact!
Click here to visit Nadege Fleurimond's official website.
For more on Nadege Fleurimond, follow her on Facebook, Instagram, & Twitter.
All images by Francesca Andre