Kelli Ferrell recently graced our television screen when we saw her on OWN's newest cooking show, Food Fantasies. Before that, we knew her as the author of the cookbook, Kooking with Kelli and as the owner of the popular Atlanta restaurant, Nana's Chicken-n-Waffles. Naturally, we had to get to know this woman of many hats a little better. Ahead of the grand opening for her second restaurant location in Atlanta, Georgia, we spoke with her to discuss her experience on the hit OWN television series, her cookbook, and much more!
What inspired Nana's Chicken-Waffles? 
A vision board. My husband and I did a vision board a few years ago. We put on there everything we wanted, I've always enjoyed cooking, but I would never what have thought of cooking for thousands of people. 
Tell us about the grand opening of your second location? 
I can't tell you much, hopefully I can make the announcement very soon. What I can tell you is you will LOVE IT, it's in the heart of downtown Atlanta, I can't wait to open! Hopefully when we get COVID under control. 
How was your overall experience being on OWN newest cooking show, Food Fantasies? 
It was absolutely AMAZING, I had the time of my life, seriously I was just happy to be doing what I love the most, just to be out the house with everything going on. I was honored to be amongst so many other talented chefs. It's such a FUN show
Can you give us insight into your cookbook, Kooking With Kelli? 
My cookbook was something I always wanted to do. I knew I wanted it to be different and a representation of me. I wanted it to represent all the things I love (Family, food, and fashion). So, it's not just a cookbook It gives a little bit of everything, and of course some fun recipes, with pantry ready ingredients. 
What can we expect to see from you in the future? 
Well of course the show is still running so make sure you check it out every Saturday on OWN. Check your local listings 1pm|12C. Of course, working on new locations, and we have a line of waffle mix coming to you soon.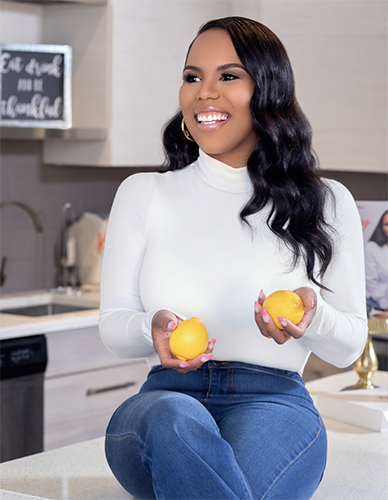 For more on Kelli Ferrell, click here.
Visit the official Nana's Chicken-n-Waffles website today!
Follow them on Instagram now!
Stay connected with Kelli Ferrell by following her on Instagram!
All images by Corey Reese