Natalie Lee Martin is the ultimate Mom CEO Coach!  As a mom of five children and military spouse, she coaches moms out of corporate and into entrepreneurship.  Her passion is to help mom CEOs find success in the marketplace. As a former educator (middle and high school math teacher/tutor) for almost 20 years, she realized that although concepts and principles don't change very much, methods do. Her mission is to impact future generations today, so she guides her clients through transformation beginning with their mindset in order to have lasting success in the marketplace.
Tell us more about your journey as a Mom CEO.
I have started and failed at business quite a few times which is all part of my amazing story. But now I am excited every day that I get to coach other moms who are also called to this life of motherhood and entrepreneurship.  I believe most mothers understand how trauma affects their relationships but they never truly understand that it also affects how we do business as well. Fear and doubt can sometimes destroy a business faster than a bad marketing plan or lack of resources. When I work with my clients, we are establishing a new mindset and identifying their "why" that goes deeper than making money or being recognized by others. We are establishing a legacy that will outlive them. This work requires the client to think about a future they have not seen yet. I get excited during sessions when moms begin to see that they have full creative license over what can happen in the future based on the choices they make today.
What inspired you to become a Mom CEO Coach?
My clients inspired me to become the Mom CEO coach. After coaching for some time I realized that many of my clients were inspired by my journey.  For 20 years I was an educator and as I transitioned from an educator to a certified life coach I began telling my story.  Many of my friends were inspired by my story and began referring me to their friends. After some time, I realized that most of my clientele were mothers who wanted to start their own business and needed consultation as well as accountability.  It wasn't until I had an eye-opening session with my amazing coach that I realized that I was called to mom CEOs and mompreneurs around the world. My coach helped me see what was right in front of me all along.  And with the knowledge I've gained from my journey, I am excited to share, support, and guide other moms as they make the jump from corporate to entrepreneurship. Now I'm seeking all the entrepreneurs who are hidden within their 9-5.  I believe this is our season to be revealed. There are so many moms just like me who have an amazing idea, product, or service but with the new trends and online culture that has emerged over the last few years feel that it may be impossible to bring this dream to life. Well as the mom CEO coach and midwife to your business, I'm here to ensure that this time it carries to full term.
How do you balance self-care, business and babies?
I have to say that my husband is amazingly supportive. Where I fall short, he fills in the gaps. He often takes the kids to sports events, parent-teacher conferences, and even entertains them when I have sessions. He is a tremendous support to the family and business.  He brings balance to my life especially during those times where work is at the forefront.  When it's time for self-care I am all about bubble baths, massages, vacations, and date night. My husband and I recently invested in a massage chair. Each day I take a few minutes to unwind with a hot cup of tea as my chair goes to work. When it comes to business, I actually have 3 calendars that I keep to help me stay on task and focused.  Each week I created a to-do list for my business which includes my top three tasks, in addition to my calendar. I also have automated systems that keep track of sales, correspondence, and appointments. Before starting my business, I really developed a disciplined lifestyle. I have a strict morning routine that includes prayer, meditation, reciting affirmations and routinely reexamining my to-do list. I continue that routine even now which has helped me tremendously when it comes to balance.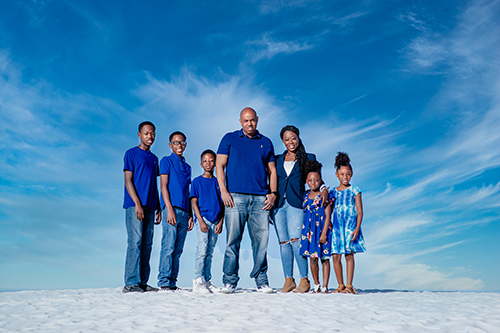 Any advice for mom's who desire to enter entrepreneurship but may feel apprehension?
The best advice I can give an aspiring mompreneur is to create a strategic exit plan. As the author of one of my favorite books would say, "Start with the end in mind." Think about what date you would like to leave your current job, how much capital it would take to run your business as a start-up, how much time you want to dedicate to your business and family, and don't forget to discuss your plans with your spouse or partner.  Also, invest in yourself by getting a coach or a mentor.  One of the best decisions I made was investing in a coach.  I actually interviewed various women before I chose my current coach.  The value and insight that my coach brings to each session saved me a lot of time and money.
What's next for you and how can readers connect with you online?
I am excited to partner with the Glambitious brand by hosting a mom CEO room on Clubhouse. I'm also starting a mom CEO group on Facebook in August and launching the Mom CEO Coaching Program this fall! I'm excited because I've already had several mompreneurs who follow my journey on social media reach out to ask for such a program. Moms from around the world have been asking when I'll be teaching and what I'm currently offering.  I currently offer 1-1 sessions for moms who've already decided to leave their corporate jobs but don't have a concrete plan on how to do so. You can book an appointment directly from my Instagram page or email me at hi@natalieleemartin.com. You can also find me on Facebook and Linked In via Natalie Lee Martin.
All images by Isabella Joy Martin