September 16th

is National Dance Day! National Dance Day is an annual celebration dedicated to dance, that encourages Americans of all ages to incorporate dance into their lives. 
Grace A. Johnson-Wright is an accomplished dancer, studio owner, published choreographer, dance educator, movement and dance team coach and artist developer. She is the founder, owner, and artistic director of Neema Dance Collective, located in Temple Hills, Maryland.
Grace's training began at the young age of 4 at RJV Dance Studio in Washington, DC.  With 28 years of dance experience, she has studied at: Suitland High School's Visual Performing Arts Dance Program, The Christian Dance Academy, Dance Theater of Harlem, The Ailey School Summer Intensive Program, the Debbie Allen Dance Academy, Maryland Youth Ballet, The Washington Ballet and the Greensboro Ballet. Wherein, she mastered various genres of dance from ballet, tap, jazz, folk, African, Hawaiian, modern, Horton Technique, ballroom, and hip-hop with certifications in the Cecchetti method. We caught up with Grace to learn more of her backstory and passion for all things dance. 
What was the inspiration behind your brand?
Grace: My daughter, Dawsyn was the inspiration behind Neema Dance Collective. The month after she was born, I knew that my time working in the corporate industry was coming to an end. My pay and position were cut just before I entered maternity leave and that gave me all the passion, I needed to jump start my business back in 2016. Neema means Grace in the Swahili language.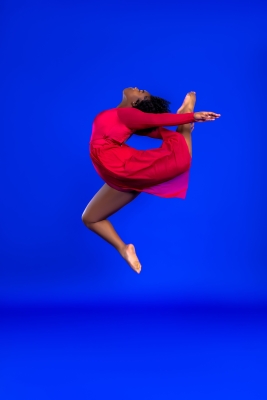 What makes your dance studio unique? 
Grace: I grew up training in a strict ballet, jazz, and contemporary dance studio and performing arts high school. Although I wanted to venture into other styles of dance, not many studios offered those other styles all in one location. I found myself hopping around to different studios just to get a more diverse experience. NDC is different. We offer classical ballet and pointe training, hip-hop, horton, jazz, tap, dance fitness, mommy and me dance class, father/daughter dance practice, aerobics, zumba, tumbling, liturgical, and acrobatics training.
What's your favorite style of dance? 
Grace: Ballet and Acrobatics
How do you inspire and motivate your students?
Grace: I coach with a firm hand and a kind heart. I invest my time into their personal growth as artists and as individuals. I use a lot of my experiences to help coach and guide them on the right path.
Connect with Grace and Neema Dance Collective online: 
Grace: https://www.neemadancecollective.com/register-now
Photo Credits: Photo Provided