November is National Picture Book Month, a literacy initiative celebrating the print picture book in an increasingly digital age. Meet two young sisters who have created phenomenal picture books.
Madison Symonne is a dynamic sibling duo who writes children's books about family life lessons. Their purpose is to provide everyday families with stories and motivational clothing that allow them to express their personalities and step outside their comfort zone. 
Anaia Symonne and Aliyah Madison are the 11 and 9-year-old sisters and children's book authors that make up Madison Symonne. Their picture and chapter books are based on lessons learned from their parents.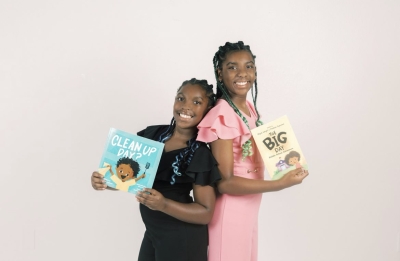 What do you define as success? 
Madison Symonne: Our success is defined as reaching as many families as possible to obtain our books.  If we reach one family who truly loves are stories that is a major success.
What was the inspiration behind your brand? 
Madison Symonne: We hope our books encourage families to read more and use their imagination while reading.
What makes your business unique? 
Madison Symonne: We are two sisters who bring different ideas together based on our lives to write books about our daily lives.
Do you believe in work-life balance? If so how do you maintain it?  
Madison Symonne: Our balance is based on family, school, and friends.
What's your best piece of advice for other kid authors and entrepreneurs?  
Madison Symonne: Follow your dream and don't be afraid to tell your parents so they can help you to make your imagination come true.
What do you have planned for the next six months? 
Madison Symonne: We plan to write two more books, one for the Prince Lance Series and one for the Madison Symonne series.
What would attract listeners to your story?  
Madison Symonne: Two young sisters coming together to write stories about a Black boy and his family. We have received a lot of compliments that our readers are proud to buy books about a Black boy by two young Black authors.
What is your proudest business accomplishment?  
Madison Symonne: Our proudest moment was seeing our book, Clean Up Day, in the library.

How can our readers remain connected with you? 
Madison Symonne: Website: https://madisonsymonne.shop/
Photo Credits: Photo Provided