The acting industry is filled with so many talented individuals who all are determined to make it on the big screens. This industry can either make your dreams come true or delay them. The industry requires strong determination and a heart that knows what it desires and will not give up until you hear "You got the role!" I had the pleasure of meeting up with Nicholas G. Sims who is an aspiring actor in pursuit of his dreams. He shared with me about his experience thus far with preparing for roles as well as his advice for other aspiring actors hoping to be successful in the industry.
What made you choose the path to becoming an Actor?
Acting is my calling. The prime reason why I'm doing what I am doing now is because God called me to do it. I don't want to sound cliché but that's the truth. I have a purpose and the more I walk down the righteous path the more his vision for me continues to clear up. I was destined to play professional football because I work hard for everything that I want and I just knew that's what I wanted to do. Though as time passed from my senior year of high school to now my junior year of college, a void in my life started to create itself. This void left me confused, depressed, and angry at times because I couldn't figure out what it was that I was missing in my life. I had what any college student would want which is a full scholarship and I was getting playing time for a division I football program. None of that mattered to me because it wasn't making me genuinely happy so I started putting my happiness in the Lord, and I started praying for what my next step in life needed to be. I kid you not on April 13, 2019 I stored in my notes "I don't know what my calling is, but I want to be here for a bigger reason." I wasn't talking to myself I was taking to God but in that moment I didn't even know I was crying for help. It was not even a day later but rather nine hours later where I started to figure out what my true calling was. I had been running away from it all my life. I was born to be an actor! All of my life from when I was a child doing improv in church plays when I didn't even know what improv was to my first drama class my senior year of high school winning monologue competitions all across the state. All of those memories hit me all at once at 3:00 AM on April 14th. At that moment I felt surer about my destiny than I had felt in any moment of my life.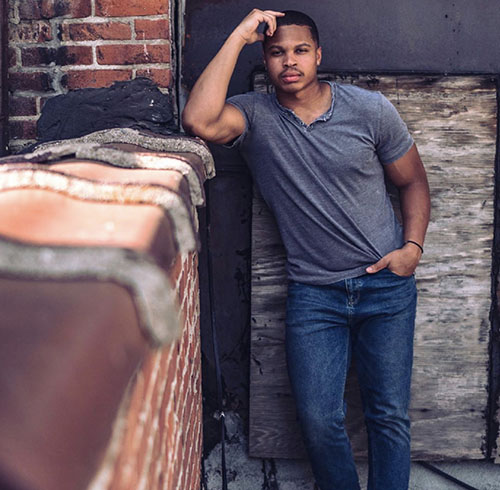 What has been the toughest part of this journey?
 The toughest part was giving up the game of football and telling my parents I didn't want to play anymore but take the craft I love more seriously. I have been playing the game of football for over fifteen years and it has taught me so many lessons. I have truly grown into the young man that I am today because of football. Though it had done so much for me, it is time for it to come to an end. At times I've questioned my decision because of other people putting their inputs about struggling as an actor but this is my journey. Nobody will be able to see your vision but you and I had to understand that moving forward. God didn't call any of my family nor friends to fulfill my vision but me.
What techniques do you use to prepare yourself for upcoming roles?
The first time I receive a script, I don't necessarily focus too much on the lines but rather the character. I try to find the similarities me and the character share to build that mutual relationship within. I don't care who you are, we as human beings on this earth all share similar qualities whether it be physical, mental, or spiritual. There is something you can find in someone that you'll find in yourself. This analysis gives me a basis of why the character made some of the choices he or she made in certain situations and then compare that to what I would do. I then spend time surrendering to and becoming one with the character. Acting isn't really acting, it's living through your character to project real life emotions. My greatest experience on set wasn't for a feature film but rather a pilot episode with Actor Terayle Hill. I mean that dude made my first time as an important role smooth and comfortable. I truly believe God placed me on that set with him to make that connection and give me confirmation on what I needed to do. He is a phenomenal actor but also a phenomenal mentor/brother.
What advice do you have for other upcoming actors?
 The most important advice that I can give to an upcoming actor is know who you truly are before you start this journey. The reason I say that is because there will be many obstacles in your journey that will test your character and you have to stay true to who you are. I also would say don't listen to the outside noise because if this is truly what you want to do, follow through with it and give it all you got. There will be highs and there will be lows but continue to keep the strong faith.
For more on Nicholas G. Sims, click here!
 Connect with actor Nicholas G. Sims on Instagram & YouTube.
photo courtesy of Nicholas G. Sims
photo by Shots by Top Notch
Featured Image by Shots by Top Notch