In an effort to support mompreneurs around the world, Nicole Lashae Ben decided to take action in the best way she knew how! Ben created a 4-day virtual business summit for black millennial moms all over the world! The virtual experience featured over 20 workshops and speaker sessions designed to help every type of mom entreprenuers out there. Why? Because it's time to take your business to the next level! With August being National Black Business Month, we couldn't think of a better time to sit down with Nicole to discuss the launch of The Become Momprenuer Launch Summit, how she's been affected by the global pandemic, and much more!
What inspired the creation of the Become Mompreneur Launch Summit.
In January 2017, I launched my first business, which was a hair product subscription box. I was running that business as a solopreneur while working full-time. Four months after my business launched,  I learned that I was pregnant. The balance of running a start-up, working a lot, and dealing with the transition into motherhood was overwhelming. By October 2017, I had to make a devastating decision to close my business in order to focus on the things I knew were certain: motherhood and a stable job.
That wouldn't be the end of entrepreneurship; it was only a pause. The first few months of my son's life, I spent my free time taking online courses, watching webinars, listening to podcasts, and reading books. I got obsessed with learning how infopreneurs were running their businesses. I considered creating a course around my career expertise (sales and business development for product-based businesses) or around preparing for motherhood, but those ideas didn't seem quite right. 
Then, I thought about having to close my business. At that time, I didn't have the know how or systems in place for my business to thrive as I became a mother and faced personal challenges. Many other moms of color have similar experiences. And thus, the idea for Become Mompreneur was born. I wanted to create a community of support and give mompreneurs of color the resources they need to achieve business success. The Launch Summit is a catalyst for more to come. 
How have you been impacted by the global pandemic?
This global pandemic has had some major changes including working from home full-time and having my son home 24/7 (he was going to daycare 5 days a week prior). I find myself switching between the role of a homeschool teacher, chef, housekeeper, CEO, and employee every five seconds. It can be exhausting! 
Yet, this pandemic has also forced me to acknowledge how precious life is and that my time can't be wasted on things that are not aligned with my purpose. We have one life to live. 
Over the last few months, I've become super clear about my next steps as an entrepreneur. I've been relentlessly knocking things off my to-do list to get to my next level of success. 
Why do you believe it is so important to support black businesses, especially now more than ever?
Black people deserve success. Our history in this country has been challenging, to say the least. Yet, we are resilient, smart, creative, innovative, trend setters. 
The odds are typically stacked against us. But, I believe that supporting black businesses will give black people an even greater chance to bring dreams to fruition, to make an impact on communities, and to gain wealth. 
I've seen a movement to support black businesses grow over the last few months, whether it be in my group chat, in Facebook groups, etc. We have so much zeal to keep this momentum going and I feel that we are finally fed up with playing small. 
What piece of advice would you offer to black millennial moms?
Being a mom is only a part of who you are. Don't let the role of  motherhood cancel your dreams and visions. Let it ignite your flame and your belief that your wildest dreams are possible. 
Once you get into that frame of mind, dive into learning mode and pick one thing to try. If that one thing works, scale it. If it doesn't, pick something else and try again. Don't give up.
What can we expect to see from you in the future?
This Become Mompreneur Launch Summit is the second virtual summit and will be happening once a year moving forward. You can also expect the continuation of the #BecomeMompreneur Tribe (becomemompreneurtribe.com) and a paid membership community, which will offer monthly masterclasses, coaching, accountability, and events for millennial mompreneurs of color.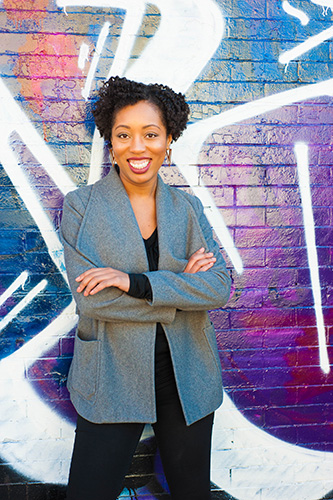 All images by Marsha Faynshtayn