The talented young actress continues to prove that she was made for the big screen!

Since a very young age, Shahadi Wright Joseph has known that she wanted to move the world through acting. In fact, when she was only in third grade, she auditioned for a school play using the unforgettable 2014 Oscar speech given by Lupita Nyong'o when she was awarded Best Supporting Actress for her role as Patsey in the film 12 Years a Slave. The bold move made by a very ambitious young girl served as an indicator of just how amazing Wright Joseph would grow to become.  
Born in Brooklyn, Wright Joseph's first major acting role was as young Nala in the Broadway production of The Lion King and she continued to build her budding career with roles in other hit Broadway shows such as Hairspray and School of Rock. Proving that she is versatile in her creative offering, Wright Joseph would later get to star alongside Nyong'o in Jordan Peele's mind-bending horror film Us in 2019. Now a young woman with a pretty impressive resume, she flexes those horror scene muscles once again, but this time in Little Marvin's highly anticipated series Them.  
 Shahadi has all but proven that greatness can be achieved at even a very young age as she continues to realize her dream and dominate as a rapidly rising young star.
 
How do you embody each role in a way that is so believable at such a young age? 
Thank you, that is such a compliment! I definitely look for distinct differences in every single character that I portray. I also search myself for a wide range of emotions so that I can have a wide range of depth and nuances with each character.  
With all the roles that you have done, which would you say has been your favorite so far? 
I would definitely have to say either young Nala or Zora. Those are probably my favorite so far. 
When you are preparing to go onto a new set, what is your favorite part about that experience? 
I most definitely love meeting my castmates and co-workers – the people that will be playing my family, will become like my real family. That would definitely have to be my favorite part.  
Do you have a certain process that you go through when you are preparing to go into a new or unique role that is thick with emotion like in the series Them? 
Definitely! Just being in a different generation and in a role that is in the Jim Crow era, with me being born in 2005, I had no real point of reference so definitely I had to really prepare myself. I think Little Marvin and Lena Waithe made that part of it easy for us.      
Tell us a little about your character on Them. 
I play Ruby Lee Emory, a fourteen-year-old girl going into high school who is struggling with her own self-identity and issues within herself and also struggling with racism at her school. Then, she also has some generational struggles so I really do feel for her throughout the entire project.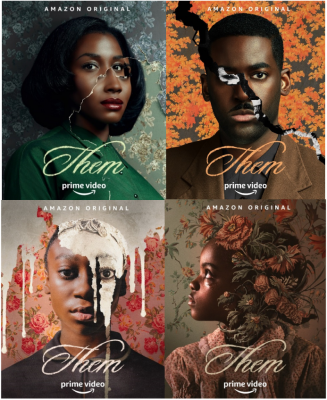 What did you find to be the most difficult thing about filming during a pandemic? 
Well, it was definitely tough to film during this time. With COVID, it was especially challenging because we had to take a break from filming for quite some time. Then when we were done, we weren't really able to hug each other or get too close so it was definitely a challenge.
 
How did you handle such a large gap in filming? 
Production just kind of jumped right back into filming but for me, it felt a lot weirder just because I felt that I had grown so much during that time. Sometimes you get to feeling like you're letting go of the character but I was able to get back to it after a few takes. It was definitely a challenge.  
 How do you find a balance between joining your craft and maybe wanting to be a typical teenager? 
There are sacrifices that you have to make when being a child actor. You have to find balance with your friends and doing your schoolwork because if you don't have good grades then you can't work. You figure it out once you start getting into the process and find a rhythm in it all. I realized at a young age that I was going to have to sacrifice a lot to pursue my dream of acting. 
You are so well-spoken and seem so well-rounded. What kind of content do you consume to cultivate that? 
I definitely enjoy reading. I try to read when I can but to be honest, it was passed down from my grandfather. My grandfather was always on me about the way I spoke. My mother was always on me about my grammar so it came kind of naturally.
 What book are you reading right now? 
I just finished reading Purple Hibiscus by Chimamanda Ngozi Adichie, and it was a beautiful book. 
Since you have a background in music, tell us, who is on your playlist right now? 
I have been listening to a lot of Erykah Badu, Solange, and Willow Smith. I am also listening to a lot of SZA right now.
Now, we are all about beauty here at SHEEN, so we would love to hear about some of your beauty faves right now! 
I think my favorites would have to be Glossier Face Tint and then something that I have been using since I was a baby has been Palmer's Cocoa Butter. Also, since it has been getting warmer, I have started using Cotz Healthier Sunscreen. 
Check out Shahadi in her latest role as Ruby Lee Emory in the highly emotional and much-anticipated anthology series Them, set to premiere on April 9th on Amazon! 
https://www.youtube.com/watch?v=WL3Jz8fDgFI
For more information on Shahadi Wright Joseph.