Co-presented by Odyssey Impact, Faith Matters Network and Chaplaincy Innovation Lab
Odyssey Impact is a leading interfaith 501(c)(3) that harnesses the goodwill of faith-based and secular organizations to build audience awareness, change social attitudes, and catalyze action for social change. Odyssey Impact will co-present a live town hall event, "Movement Chaplaincy: Meeting Spiritual Needs in Our Struggles for Justice" on Wednesday, July 29th, with Faith Matters Network, and Chaplaincy Innovation Lab, to highlight spiritual needs in our struggles for justice.
In this moment of social uprising and the compounding crises related to the global pandemic, many clergy and lay leaders are experiencing a pull to use pastoral skills in service to the wave of social change and constantly shifting needs. Movement Chaplaincy, the work of spiritual accompaniment to justice movements and their leaders, is an emerging vocation that brings care, healing, and resilience-building to our struggles for justice. Join us for a conversation on how spiritual leaders can show up in this movement moment in supportive, healing, justice-centered ways of accompaniment such as the emerging vocation of movement chaplaincy and beyond.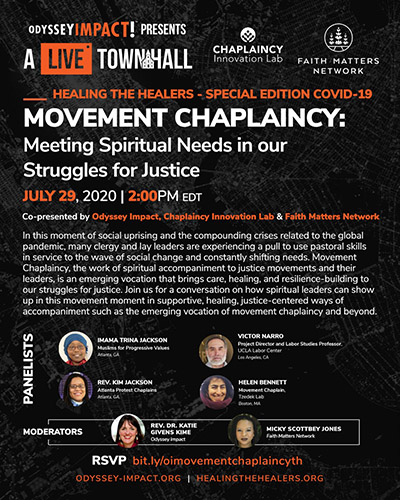 Panelists include: 
Imama Trina Jackson, Muslims for Progressive Values
Trina Jackson serves as an Imam for her local mosque, the Atlanta Unity Mosque, which is a chapter of Muslims for Progressive Values (MPV) USA. She is a founding member of the Atlanta Protest Chaplains Collective and a co-host of the I'm Sorry Ms. Jackson Podcast: A Lyrical Analysis of Faith, Love, Apology Culture, and the Movement. Trina's activating/agitating work includes resisting, disrupting, and removing the structures of oppressive systems within the ecologies of educational, religious, and community-centered institutions.
Rev. Kim Jackson, Atlanta Protest Chaplains
Rev. Kim Jackson is a founding member of the Atlanta Protest Chaplain Collective. She is also the Lead Pastor of the Episcopal Church of the Common Ground where she builds a Spiritual Community with people who are experiencing homelessness in downtown Atlanta. As a public theologian and a fierce community activist, Kim works to end the death penalty, advocates for women and children's issues, and is passionate about building a cleaner, healthier, and more just Georgia. She is currently campaigning to become a Georgia State Senator.
Helen Bennett, Movement Chaplain, Tzedek Lab
Helen's progressive Jewish background serves as a foundation for her work as a movement leader, community organizer, facilitator, network weaver, spiritual director, and movement chaplain for 10+ years. Helen is a co-founder and co-director of Tzedek Lab, a national network of political educators, organizers, spiritual leaders, and cultural workers, Jews and allies, working to politicize and mobilize the Jewish community into collective action against racism, antisemitism, and white supremacy. 
Victor Narro, Project Director, and Labor Studies Professor, UCLA Labor Center
Victor Narro has been involved with immigrant rights and labor issues for over 35 years. Victor is currently Project Director for the UCLA Downtown Labor Center, UCLA Labor Studies Professor, and Core Faculty of the Public Interest Law Program at UCLA Law School. Victor has emerged as a leading voice for spirituality in the work for justice as a Movement Chaplain for Faith Matters Network.
The panel will be moderated by:
Rev. Dr. Katie Givens Kime, Director of Religion and Civic Engagement, Odyssey Impact
With experience that includes congregational leadership, university instruction, community mediation, and restorative justice, social justice advocacy, chaplaincy, and spiritual caregiving, Katie Givens Kime brings more than 15 years of experience in motivating theological education and faith communities to take on civic issues. 
Micky ScottBey Jones, Faith Matters Network
As a womanist, faith rooted, contemplative activist, movement chaplain, and nonviolence practitioner, Micky supports students, clergy, activists and everyday leaders in a variety of roles – speaker, writer, facilitator, pilgrimage guide and teacher. She is the Director of Resilience and Healing Initiatives with Faith Matters Network known for The People's Supper which gathered more than 10,000 people around tables after the 2016 U.S. election for bridging and healing conversations and the Daring Compassion Movement Chaplaincy Project which has trained hundreds of people in accompaniment, healing & resilience building in social change movements.
WHEN:
Wednesday, July 29, 2020
TIME:
2:00pm EST
WHERE:
Webinar, via Zoom. To receive a private viewing link, please register here!
About Odyssey Impact
Odyssey Impact drives social change through innovative storytelling and media, connecting faith and secular communities. Founded in 1987 as the National Interfaith Cable Coalition, Odyssey Impact is an interfaith 501c3 that harnesses the goodwill of faith based and secular organizations to build awareness, change attitudes and catalyze actions for social change through award-winning films, powerful stories, impact campaigns and coalitions of change makers. Odyssey Impact has partnered on campaigns with organizations like Google, Prison Fellowship, The Vera Institute of Justice, ACLU, NAACP, Emory Candler School of Theology, WISDOM, Healing Communities USA and more.
PRESS CONTACTS:
Strategic Heights Media
Simone Smalls | Michelle Huff Elliott
All images courtesy of Odyssey Impact