September is National Suicide Prevention Month. All month long, mental health advocates, prevention organizations, survivors, allies, and community members unite to promote suicide prevention awareness. According to the Centers for Disease Control and Prevention (CDC), suicide is the 10th leading cause of death in the United States. Major depression is a significant risk factor for suicide. Depression is very common in the United States and there are more than 3 million U.S. cases per year. Depression can form as early as 6-years-old and surpass 60-years-old! Even though depression is classified as a mental health disorder, Jacque Aye took her depression to a positive level by flipping it into a successful business that helps women all over the country. She decided to take her pain and healing by forward through Adura and her career shift into becoming a licensed therapist. Jacque's simple tweet about her self-care box grabbed women's attention.
What inspired your self-care box/kit?
I'd been dealing with the worst depression of my life during the COVID-19 lockdowns. I went from happily, albeit anxiously, running a successful business to still running that business while fighting impostor syndrome, being isolated, dealing with heartbreak, seeing black pain broadcasted all over social media, and having thoughts of suicide. It was so overwhelming and I found myself spending every single night crying and fighting my urge to end it all. Luckily, I was able to find a therapist through the Loveland Foundation and I started the long process of working through my pain. At the same time, I signed up for graduate school to become a therapist myself, and signed on with Ulysses Press to write a self-help guide for others who may be struggling as well, called The Magical Girl's Guide to Life. It was all very divine.
After pumping the brakes on everything in my life so I could rest and strategize, I started planning Adura. Adura is a self-care brand focused on making nighttime wellness rituals pleasing to the eye! In the darkest times, it was activities like journaling, lighting a candle, and listening to music that helped ease my emotional pain. So, I created a brand where I could curate all the things that helped me and use all of my talents, such as merchandise designing and creative community building. There's even a free self-care hotline, where I send nightly texts so people feel less alone because sometimes it was a single text from a family member or friend that kept me hopeful for the next day.
What is your favorite product in your self-care box/kit?
My absolute favorite product is our Dream Dream Dream journal! It has four simple prompts inside to help you end the night on a hopeful note while thinking about the next day. I kept it simple because personally, too many prompts usually overwhelm me and blank journals are a little daunting. I love the gold foiling on the title and the moon, and our Sleep Witch Anika is featured on the first inner page. It's all-around cute!
What are your short-term goals with your business?
Short-term, I hope to reach as many people as possible with my story and through my hotline. I want people to know they are not alone. Suicidal ideation and depression don't have a "look" and it can strike anyone, at any time. I hope to destigmatize conversations around mental health and the loneliness of nighttime. I want to help people create an evening routine that elevates their mood.
What are the reviews on your products?
Right now, we're taking pre-orders to be shipped the first week of October, but the tester boxes I've sent to friends received rave reviews!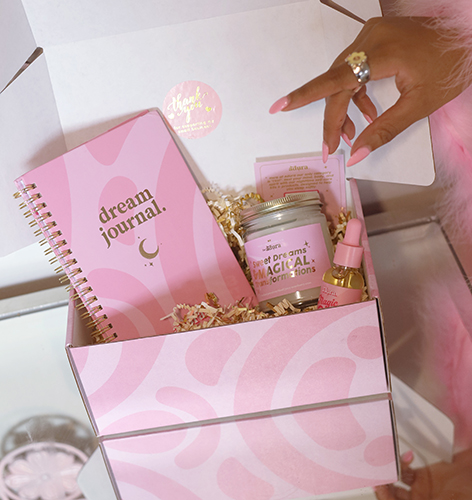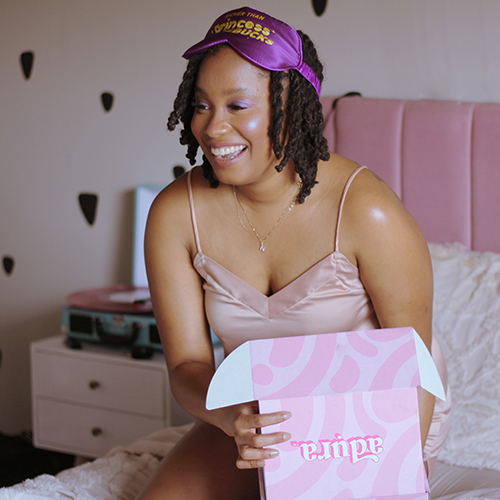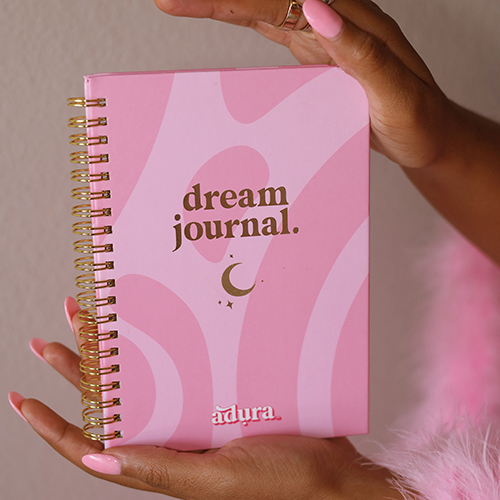 What can we expect from you in the future?
Each box will have a different theme with different products meant to help you sleep softly. Up next will be our money manifestation box, which will feature silk sleep masks, perfume scented candles, and cute coloring pages! Keep up with updates and future drops on Instagram or Twitter!
Inside your self-care box/kit you receive a dream journal, body oil, body butter, a candle, a QR code for a nighttime playlist and a self-care hotline. The body oil has ingredients for stress relief to relax you before bed and even the body butter was specially made for Adura by LotusBtr, a Black-woman owned body care brand. Jacque also took to Sheen that the QR code and hotline was a unique adding. "Hearing the right song can lift your spirits and the hotline are for those who feel isolated due to the pandemic." You can follow Jacque and dream box on IG at aduravibes. She is brainstorming a TikTok for her customers all while writing a book about mental health and helping people become their best selves. If you know anyone who suffers from depression there are numerous centers that are willing to help. Please be sure to check on your loved ones and continue to spread awareness about suicide.