Grind Pretty, the online platform designed for female entrepreneurs in the beauty and lifestyle space today announced its partnership with reality star and mompreneur, Angela Simmons. The collaboration includes a limited-edition box inclusive of Angela's new Simmons Beauty skincare line along with other specially curated female owned products.
"I'm really excited to be working with one of my favorite clients on this partnership and I feel that this box is needed to help women with self-care in such a volatile time!" said Mimi J, CEO of Grind Pretty. "We wanted to continue our mission of encouraging female entrepreneurship by pushing female-owned businesses forward and that's what we did with this collaboration." 
"I am thrilled to be partnering with Grind Pretty for this month's beauty box and always love whenever I have the opportunity to work with super dope & like-minded women,"  said Angela Simmons
"One of the reasons why I started Simmons Beauty is because I've always loved skin care and am very passionate about keeping up with a good regiment. The best part is being able to now provide a quality product & also share my personal tips and secrets to maintaining healthy skin – from the inside out."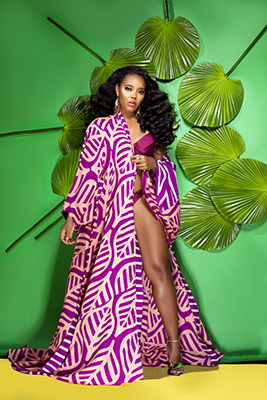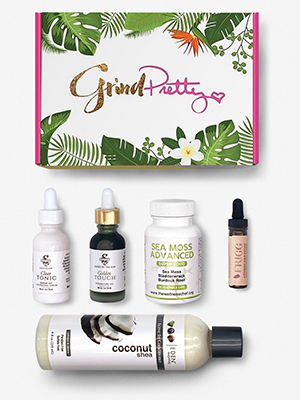 Every quarter, the subscription service features various beauty and lifestyle products by female-owned brands. In addition to Angela's limited-edition box, subscribers can also purchase this year's standard Grind Pretty Summer box.
The Angela limited edition box has a retail value of over $150.00 and is priced at $49.99 including:
Simmons Beauty Skin Glow Clear Tonic Hydrating Serum – full size
Simmons Beauty Kissed By The Sun Golden Touch Hydrating Oil – full size
Eden BodyWorks Coconut Shea Leave in Conditioner
Frigg Attuning Hair Potion
Fine A$$ Chef Sea Moss Advanced Super Food
The Grind Pretty Sumer box has a retail value of over $100.00 and is priced at $24.99, including:
Black Girl Sunscreen – full size
Eden BodyWorks – Papaya Castor Scalp Massaging Serum – full size
Hue Noir – Eyeshadow
Inspiring Spirits – 5oz Spring Breeze Premium Cocktail Mixer
Mama Gaile's Baked Peacans
Fubu Frames – 20% off coupon
Grind Pretty's subscription box provides helpful tips and advice from beauty and lifestyle industry entrepreneurs, products sold by female-owned businesses, as well as its industry magazine that profiles the women whose products are included in the box.
To learn more about Grind Pretty and its quarterly subscription box, click here!
About Grind Pretty
Grind Pretty was founded by Mimi J, an accomplished makeup artist, entrepreneur, and owner of The Glamatory, a Smyrna, Georgia beauty boutique. Designed with the goal of helping other female entrepreneurs realize their dreams of building their own businesses and leading their most authentic lives, the online platform seeks to connect business experts and aspiring entrepreneurs with one another. Grind Pretty provides a wealth of helpful resources, including blogs, instructional videos, exclusive business-building tips, beauty advice, and more. To learn more about Grind Pretty, click here.
All images by Drea Nicole