Thank goodness for Afrobeats, and thank goodness for Oxlade. If you aren't familiar, the Nigerian recording artist arrives on the scene with his own catchy sound, undeniable swag, and critically-acclaimed feel-good anthems. 
Speaking on what Afrobeats means to him, Oxlade states, "Afrobeats is beyond a genre for me, it's a movement. It's an identity, it's part of being an African now. Everywhere you go as an African, you put people on to new sounds. Our sounds are now crossing over, our songs are charting. More people need to know about it. It's an identity and we're trying to work more ethnic groups into it, to dig the Afrobeats sound."
Music was never considered a means of income for Oxlade, it was something he simply loved to do. Growing up listening to everyone from Lauryn Hill, Bob Marley, and Michael Jackson to Wizkid, Davido, and Burna Boy, the young superstar hails from the streets of Lagos where had to learn survival at an early age. Losing his mom at age 3 is hard enough in itself, but thankfully music would be his saving grace.
Most recently, Oxlade released the official music video for "Ojuju," which hails over 1.7 million views on Youtube in just a month.
Sheen Magazine caught up with Oxlade in downtown Los Angeles to discuss his name, his favorite artists, his first time in Los Angeles, favorite fashion brands, his project Eclipse, new single "Ojuju," goals, and more!
For those who don't know, who is Oxlade? 
I'm a Nigerian boy from Lagos. I'm an Afrobeats artist and I've been doing this music thing for 3 years professionally, but all my life because I started from the church. I didn't know I could use music for the money, I was doing it for the love of it. But when the time and opportunity came, I became Oxlade and the rest is history. [laughs]
Where did you get the name from?
I got it from my grandpa. He lost his best friend the same day that I was born. He gave me the name in honor, in remembrance of his best friend. 
What American artists do you like?
I've got a couple of friends. Do you know Beam? That's my brother. I'm flying to Miami tomorrow to go work with him. I already worked with Dre Skull, he's a dope producer too. When I was in New York, I worked with Michael Brun. He's fire. I've been connecting with people, networking, creating music and creating memories. I had this video I shot yesterday with Matt B. Matt B is an artist that just started trying Afrobeats out, he's really really good. We shot the video at Malibu yesterday so it's been work work work.
Are you excited to go back home?
It's a mixed feeling. I came here to learn the culture and everything. I miss my people obviously, I just have to know how to balance doing and coming. 
What's your favorite part about LA?
I think the fashion, and the fact that you can see celebrities everywhere. [laughs] Anywhere! Actors, you can see anyone. I saw this guy that acted in Die Hard, Bruce Willis. I was going to Dre Skull's studio here in Los Angeles. He produces a lot for Chronixx, all those dancehall and reggae artists. I saw Bruce Willis casually driving, I'm like what?! We've seen this guy on TV, been seeing him from little. Seeing him in real life was crazy. 
Is that how you are in Africa? Do people freak out when they see you?
[laughs] Yeah, it happens sometimes but you learn how to control it. You have to learn how to stay calm and collective when those things happen. You have crazy fans, you have crazy people that believe in your music and your hustle, but it doesn't mean you have to react in some type of way. Stay calm and collected when you see stuff like that. 
How does it feel though?
It feels crazy. There's this event I went to in New York, One Africa Music Festival. A certain fan literally came to the event because of me, just to see me. She stumbled upon my A&R and told him that oh, she's a big fan. She literally sang to me, it was crazy. They made a video as she sang to me her favorite song, I felt special. Those are the kinds of things that make you know you're on the right path, you're doing the right thing. 
Did you think "Away" would blow up like this?
Nope. [laughs] I didn't like the song. It was a project that I put out and that's why you need the best people around you. The right team of A&Rs, the right team of engineers and producers. I wasn't a big fan of the song. It was a project and I already had my favorites. It was our first single. It was amazing, it was fun. Everybody was loving it. I thank God for my team and making the right decisions, it made too much sense. The music, the construction and how it came about, how people joined heads together to make it work out. It was during the pandemic, there was no media or press. We couldn't go out, so all I had was social media and Instagram. That song is a miracle song. 
Talk about your new single "Ojuju," what inspired this one?
It's about a love cycle, me getting tired of falling in love over and over again. Me being about my insecurities. With "Ojuju," this particular term is love. "Ojuju" means a masquerade where I come from. For example when we're little when they want us to some some stuff like chores, they'll say "if you don't do these, Ojuju will come to you at night." Just like a masquerade will come to you at night. Oh my god, love is an Ojuju to me right now. I'm afraid of falling in love over again. 
Are you?
At that point in time when I was singing it, that was my mind frame. That's why I sang it. The majority of the songs I sing aren't fiction, they're personal, real songs. You can hear it from my songs, you can hear the pain. You can hear and feel everything 100%. 
What's one thing you want people to get from Eclipse?
The depth of love itself. The dynamism of love. The unpredictability you could be getting, everybody doesn't know who is who in love, literally. We're just optimistic that this person is the right person. I was trying to diversify different topics you can get from love, the insecure part. "More" was me talking about how I yearn for her, how much I want her. "Pay Me" is me talking about how — you know the famous bible verse "What shall it profit a man?" I rephrased it like "what should it profit a man to gain the world and lose a gem like you?" In this term, the girl is the gem. The fourth song is "Incomplete," I'm incomplete without you. It's literally all about love. It's a love-themed project, bu has different topics in it.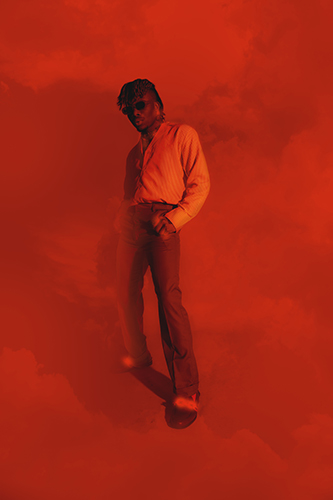 Do you have a girlfriend?
I used to. She inspired the whole thing.
How does she feel about…?
She should feel great that something special came out of it. [laughs] Shouts out to her though, she inspired everything. 
What are your favorite fashion brands?
There's Daily Paper. [shows glasses] There's LV, then there's Nike. I love Air Forces, I've always liked them. Now I'm starting to dig Lacoste [shows shoes], then Off-White. But you can put me on to new brands too. [laughs]
What are the pants?
One of my friends Mikey, he started the pants. This jacket, I don't know the brand but it was a gift from one of my brothers. This jacket is one of the brands of my brother Serge Ibaka, he gave me this. This is Lacoste. 
Goals for yourself at this point of your career?
Definitely trying to be one of the biggest Afrobeats experts from Africa to the world generally, not just in the States. I'm trying to make music with great minds. I'm trying to keep on promoting the African culture. I'm unapologetically African and I'm trying to push the Afrobeats culture too. The Wizkid's and Burna Boy's are doing it on a large scale. At some point in time, they'll pass the baton to us. Hopefully, we'll be prepared for it.