After completing her North American tour with SHEEN cover girl, Dani Leigh, music sensation Lexy Panterra is letting us know she is not slowing down. Earlier this year, the pop/R&B artist released her highly anticipated EP, Gemini Valentine and many of her singles have already made the Billboard charts! We caught up with Lexy to discuss all things music, her EP, and much more!
Tell us about your newly released EP, Gemini Valentine.
It's five records of being in a relationship. Heartbreak, ups and downs, and my feelings. I wanted to release it on Valentine's Day because I like themes and I love Valentine's Day. I know not everyone has their typical lovey Valentine so it's a great mixture of a little darkness and love, it's not all lovey (laughs).
What is your favorite song from the EP and why?
My favorite song is "Room." I wrote that really fast. It was raw and natural coming out. I think that's why I like it the most to be quite honest.
Can you tell us about the inspiration behind your music video "Want Him Now," just released this past Valentine's Day?
Well, I had an ex-boyfriend that I had broken up with. He became really obsessive and wanted to go everywhere with me. It conflicted with my work and it was a complicated situation. It kind of was about him. Not a lot of my family or friends liked him and began not to like him, so that was another conflict I had to deal with. (Laughs) It was so upsetting. That song was perfect for it because I felt that way right before we broke up. I was all in but suddenly it went downhill from there. That's where the inspiration came from. I just wanted it to be real and for others to know more about me and my relationships.
How would you describe yourself as an artist?
As an artist, I would feel like I'm kind of everywhere. I like doing a lot of different genres. I feel like I have many personalities on stage. I'm kind of a show girl (laughs) if that makes sense.
What do you hope to accomplish in the years to come?
I would love to have at least a few albums out touring. I'd love to be on tour with someone major, that's one of my goals. I want to connect and have a solid fan base that supports me and my endeavors. My visuals for "Room" is coming soon so be on the lookout for that. I'm going to be dropping a lot more music, make your videos, your TikToks, I'm excited to see them.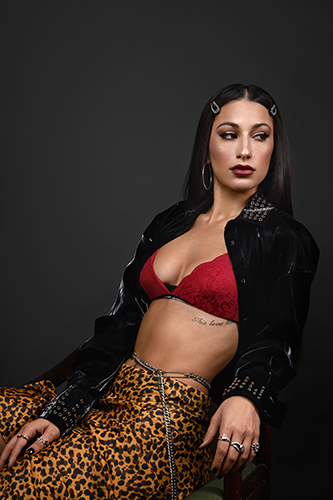 For more on Lexy, click here!
Stay connected with her by following her on Facebook, Instagram, & Twitter.
All images by Helen Suleymanova