A moment with Ray Leonard Jr. will leave you with a huge smile on your face and inspiration on your heart. How do we know? We sat down with Ray, an award-winning motivational speaker, for this exclusive and saw it for ourselves as Ray shared his vision for the future as well as his life's mission to empower and inspire everyone he encounters. Get ready to be inspired in this Sheen Magazine exclusive!
As an award-winning motivational speaker, when did you know you could motivate and inspire people?  
It just happened. I've always had a positive outlook because the alternative of being negative seems miserable. At a young age, I saw the effect that putting out good energy had on those around me and I knew I wanted to use the platform I was blessed with to inspire others to be the best they can be. After my father and I did the 7Up commercial, so many people came up to me and were excited to meet me. I knew that if I could bottle up that feeling and share it with others that I could make the world a better place.
You're also a successful entrepreneur after founding Launch Team Consulting and the Universal Media Group. Can you share more about these companies?  
Launch Team Consulting was inspired by the passion that my business partner, Dr. Joy Wright, and I have for helping others. I've traveled and worked with some of the most successful people in the world. As I matured, I witnessed the habits and traits of these individuals, including Dr. Joy who was one of the first women to integrate Naval Aircraft Carriers and was a backseat pilot on f14s. We came up with the idea to help organizations function at their highest level by combining our knowledge with the discipline and structure of the military. We coach on diversity, organizational development, leadership, and culture.
UMPG is a media conglomerate whose corporate focus is on the implementation of celebrity-based programming, social media, and interactive TV. UMPG focuses on cutting-edge technology in media through music and sports to empower the millennial generation. We produce a show called Before the Fame in which we look at the history and experiences that made people successful.  
Tell us more about your passion project and book—Ray Leonard Jr.'s Life Success Playbook.  
I always wanted to write a book. I have an artistic personality and love to create music and entertain people. When the COVID-19 lockdown occurred, my kids started asking a lot of questions. My wife and I thought about the parents around the world dealing with similar circumstances. I took my children's questions, concerns, and fears, and put them in a guide for parents to use with their children. The book addresses anger, stress, peer pressure, mental health, and other issues young people face. It also features contributions from celebrities and other influential people who share their advice and experiences.  
How do you use your motivational talks to influence the masses? 
I use my story to inspire others. I speak from the heart and visualize the struggles of others. My goal is to remove the stigma around admitting we struggle to show that we can overcome and live more fulfilled lives on the other side. My grandfather always told me that when you know better, you do better. That advice changed my mindset and I realized you can only control what you can control. I always tell people that the greatest thing about being present in the moment of your life's movie is knowing that there's always more to write. Your yesterday doesn't have to be your today and your today can change your tomorrow.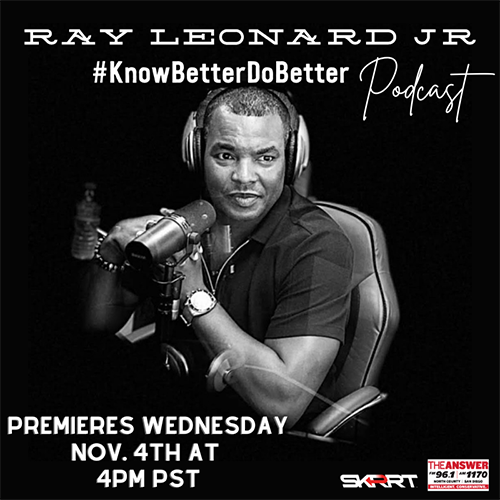 What are some of your greatest accomplishments?
My family! I never dreamed I could overcome the destructive behavior that created chaos in my life. Having a healthy and honest relationship with my wife and children is like winning a gold medal. Professionally, speaking at military bases around the world is one of my greatest joys. I'm always overwhelmed when people who sacrifice their lives for our freedom share that I've impacted their life in some way.
What advice would you give to those who want to mirror your success?
Do work that's meaningful to you, find a mentor, enjoy the journey, and never let someone else decide what success means to you 
What sense of purpose do you draw from your culture and community?
As a child, my community raised me and kept me out of trouble. Being born into poverty and seeing the struggles in my community defined my view of the world. I think it's our duty to know the sacrifices of those before us to blaze a better path for those who come after us. When you know better, you do better so the knowledge we gain as individuals must be shared with our community.
Tell us more about your father's words of wisdom when he said, "Within our dreams and aspirations, we find opportunity."  
To me, it means to never stop dreaming because dreams are the vision of possibility. Striving for greatness will put you in the best position to be successful. Even if you don't reach your goal, you'll find opportunities along the way.
What can we expect from you in 2021?
My business partner and I are working on a leadership book. I'm also working on my memoir.
How has the pandemic impacted you?
The pandemic was a major blow to my business since over 60 paid engagements were canceled or postponed within days. I felt sorry for myself for a few days and then realized I needed to take my own advice and find away to take care of my family. I converted to virtual presentations and used the time to work on expanding my brand. By starting the podcast, I've reached more people and had time to complete my book.
Leave us with a few words of wisdom.
Life is a day-today journey and time is our most precious resource. Don't waste it by living a life you hate or allowing others to steal your joy. Let go of the burdens that weigh you down and know you can't control everything that happens, but you can control how things affect you.
Where can we purchase your book?
Pre-sales launch before Christmas and will be available here and on Amazon.
All images courtesy of Ray Leonard Jr.