Actor, writer, and producer Lovell Adams-Gray is a jack of all trades! We've been loving seeing him on our television screens as Dru and it looks like we can expect more of him in the upcoming premiere of Power Book II: Ghost – slated to release this fall. Ahead of the premiere, we had the chance to sit down for an exclusive interview to discuss everything from filming during the ongoing pandemic, season two details, and much more!
Tell us what is has been like working on Power Book II: Ghost?
The experience has been fantastic. We're like a family. It's joyful, beautiful, and fun. All the actors are so generous, giving, and hilarious. They keep the energy up. Working on season two has been amazing because we all came together to make it happen.
What can we expect to see when the second season premieres this November?
A lot more fire than season one! In season one, we were just getting started. Everyone's in their bag in season two. The energy is heightened so much. There are veterans [in terms of the writer's room] and the director's chair who have returned. You have a lot of actors getting in their groove. As actors, [in speaking for myself] I feel like we are a lot more settled into our characters. Fashion is fire, as always. I think that the audience can expect to see a heightened version. I feel like things have gotten looser in terms of where the story can go. I'm excited for the world to see it because they're not ready! (Laughs).
What was it like being on set during the ongoing pandemic?
I feel like everyone on set adapted really quickly. The health and safety team really stepped up. We had a whole meeting before the season started to make sure that we were following the COVID guidelines. They made sure that we wore our masks and stayed socially distanced. We made sure that we didn't have too many people on set at a time. If there was a scene that normally required a lot of people, they made sure that it worked to get the most efficient numbers while being aligned with the COVID guidelines. We finished season one after the pandemic had started. So, we'd gotten familiar with how to adapt and how to move from there. By season two, we had known going in what we had to do. Everyone was on board for it.
What are you currently working on and what can we expect to see from you in the rest of 2021?
I'm currently working on my first feature film that I'm writing and producing with my team. That should be slated to release next year. We'll be going to shoot that next summer. I'm back home in Canada with my family and fiancée. We may have something coming up together, that's it (laughs).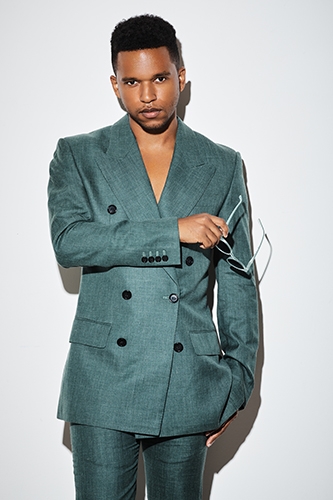 For more on Lovell Adams-Gray, follow him on Instagram.
All images provided by Strategic PR