Your Sunday nights are getting that much better! Sunday,July 18th 12:01am EST  is the premier of the highly anticipated Power Book III : Raising Kanan on STARZ. I was granted the opportunity to sit down with the amazing cast members, writers and producers to get some inside scoop; along with some previews of what's to come!
Raising Kanan takes us on a "power" trip through the early 90's in South Jamaica, Queens. A prequel to the original POWER on STARZ; Our TV screens are being heated with the struggles of a young, Kanan Stark (Mekai Curtis). He's learning to balance life as your average 15 year old yet nothing about his life is quite that average. Kanan's mother is Raq Thomas (Tony Award Winner Patina Miller)  a fierce but stern cocaine distributor who has big dreams for Kanan's education.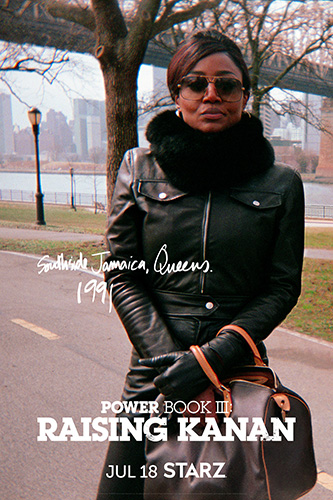 During my interview with Raq Thomas (Patina Miller) I was eager to find out what she did to prepare for such a daring role. "I bring a lot of my own experience into this role, Raq for me is a woman that I know, not only so much from my Mother but I know a lot of women like her. I know what it's like to want something more than anything," said Miller.
While tuning in, you are sure to see some familiar faces like Detective Malcolm (Omar Epps, Love & Basketball)  along with Kanan's Uncle Marvin (London Brown, Ballers) and Uncle Lou Lou (Malcolm Mays,Snowfall). The amazing Hailey Kilgore (Two Distant Strangers) will be starring as Jukebox, Kanan's trusted confidant. During the interview I asked Hailey," If she felt any pressure being one of the youngest and working on such a huge project?" "With my age-Hailey went on to say, I think I'm fortunate because I started working when I was 9 years old and so I think I've always been the youngest. This is actually the first show that I'm not the youngest, Meki is younger than me;so not as much pressure, it really motivates me because I have so many incredible examples of artists that I get to work with."
Although my time with the cast was limited, the chemistry and mutual respect amongst the cast was undeniable.
Raising Kanan explores dynamics such as betrayal, passion, loyalty, and violence; all the while demonstrating the universal power of love. Created by Courtney Kemp, written by Sascha Penn and Executive produced by none other than Curtis "50 Cent" Jackson. STARZ has ALREADY given the greenlight for a second season! Prepare for the unthinkable, your newest addiction has arrived.
Cast includes Tony© Award Winner Patina Miller ("Madam Secretary;" The Hunger Games Franchise) as Raquel Thomas, Kanan's queen pin mother, Mekai Curtis plays the titular character of Kanan Stark, the cast also includes Omar Epps ("House," Love and Basketball) as Detective Malcolm Howard, London Brown ("Ballers") as Marvin Thomas, Malcolm Mays ("Them," "Snowfall") as Louis "Lou-Lou" Thomas, Tony© and Grammy© Award Nominee Hailey Kilgore as Jukebox, star of the Oscar© winning shot Two Distant Strangers, Joey Bada$$ as Unique, Toby Sandeman ("The Royals") as Symphony Bosket, Shanley Caswell (The Conjuring) as Detective Shannon Burke, Lovie Simone (The Craft: Legacy) as Davina Harrison and Quincy Brown (Dope) as Crown Camacho.