Once you catch wind of Raiche, it's hard not to fall in love. The beautiful singer-songwriter hails from the small town of Pittsfield, Massachusetts, fondly remembering growing up in the church and singing along to all the greats of soul. From uploading covers on Youtube to shifting her focus to her own artistry, the rising star is here to bless the masses with her smooth, sultry voice and undeniable charm.
Fast forward to today, Raiche unleashes her newest single and visual for "Burn Your Clothes," fresh off the heels of her standout set at Austin City Limits. Released via GDE/Island Prolific/Atlantic Records, the track serves as her first single off her forthcoming project LOVELAND, arriving sometime early next year.
Sheen Magazine caught up with Raiche to discuss her new release "Burn Your Clothes," shooting the visual, being a hard worker, performing at Austin City Limits, beauty go-to's, new project LOVELAND on the way, and more!
How have you been since the last time we spoke?
Everything is great, just living life. Chugging along! 
That's what energy I'm on, every day is a new day.
Seriously, I feel like a lot of my friends have been on that sort of energy: going through some shit but still setting up some new shit for the new year. Really closing some chapters. I've been great! I've been discovering myself more and more, becoming more comfortable with the woman I am. It's been great. 
I like your top, it's super cute.
It's a little dress! I feel like such a housewife. [twirls] I got dressed for you!
"Burn Your Clothes" out now, how are you feeling?
I'm obsessed. I love "Burn Your Clothes" for many reasons ! One, Prince Charles who  signed me to Island Prolific/Atlantic Records was heavily involved with the record. He's an angel to me. He really has motivated me and pushed me, let me have the space to be able to explore myself, my creativity, and writing. Say Grace and Prince Charles wrote that song. I'm honored to have sung it and make it my own. She's incredibly talented as well. The song is such a dope song. It's big and cinematic and everything is gorgeous about it. The music video, which I was really happy about, I was able to actually be a part of that music video. The first music video I've been able to be a part of. So I was able to really implement my creativity and point of view and style, what I want. It was really exciting. 
Who's the lucky guy in the video? 
Oh, ha. It's our lucky guy. [laughs] Yes, I'm very private but no., I'm just music. Doing music and living life. Jeez, I'm 25. About to be 26 in January. 
My birthday's in January too! Capricorn?
Yeah, Capricorn! What is yours?
January 9th, when is yours?
Okay the 7th, cool! Yes, we're January Caps.
Does it mean you're hard-working like I am?
Oh yeah, totally! I have no envisioning of stopping. Literally, I can't relax. I just went to go get an IV, I got magnesium and it was putting me to sleep. I was trying to fight it, I was getting anxiety because I was so relaxed. So I have to tell myself "just chill out." I'm definitely an overthinker. That actually causes — what I'm trying to find my balance right now, I'll be so in my head about everything. Social media-wise, I'll do so much and I won't even end up putting it out because I'm so overthinking it all. "Oh this isn't good enough" or "this could be better. I didn't do this right" or "this should've been this." I'll spend all day doing a fucking TikTok sometimes and I don't even put it out, so that's something I need to work on. 
Why is that? Are you worried about how it will do?
Not even necessarily about how it'll do, just if I think it's good or not. I really have high standards for myself. I even had somebody come in and try to do it and I feel it wasn't what I would've wanted. Like good enough, I feel like I would've done it better than them.
What was your favorite memory from the video? I just love the looks and aesthetic.
Definitely the pouring milk on myself. That was inspired by David LaChapelle. He's this incredible photographer, an iconic photographer. I need to really look this up again but I'm pretty sure it's Naomi Campbell. She did this shot first. She's in a fridge with this gorgeous gown on, pouring milk all over herself. We got that idea from that, it's a dope shot. 
What's one thing you want fans to get from "Burn Your Clothes"?
I want them to, maybe have a laugh? But even if they relate to it, I mean don't go burning your man's clothes or your woman's clothes. It's really not worth it. Or even burn a house down, jeez. It's figurative speech. Be done with him, let it go, wash your hands off of them. That's definitely what you should get from that song , but also a laugh or two. Comical.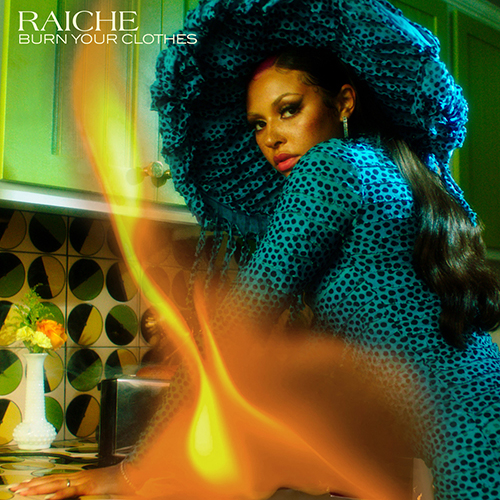 How was your set at Austin City Limits?
It was really good! I was so frickin' surprised! I have these big visions for myself and I'm in it so hard that I don't see that people are actually there, listening and following. When I went on stage and there was people singing multiple, I can count on my fingers, people singing my songs and taking it in and vibing out, I was taken aback. That was awesome, one. It was great to be out in general because of Covid and all that. Everyone seemed to be having a good time. 
Did you get to play your new song?
I did. It was great, it was awesome. It was exhilarating. I can't wait to play more music, new music. I don't have much music out, like I really don't. That's something I've been feeling a little insecure about, because I've grown so much. It's been 2 years, so I'm ready to get new music out. People need to see who I've become and who I've been becoming and what I have to offer. Just excited for new music. 
What did you learn about yourself in the last 2 years, would you say? 
Not just about myself, but how to implement things that I've learned through the years: in business, in music, in self. I've always been a shy person. I never really know how to speak up for myself and feel confident in my ideas. Now I've really been letting it all out there. We're all human beings. If you don't like what I have to say, not in a rude way, but if you don't like my creative idea or whatever, let's work around it. Let's figure it out. Really speaking up for myself, having confidence in myself. What I like, who I am, and what I do. 
What are your beauty go-to's?
First of all, every girl needs to know this because I think every girl goes through this stage where they feel like they're lowkey balding. This is a product I got, it's literally in every Walmart. It's called Doo Gro. The secret ingredient is horse tail, but it works! It works so good! I swear it to God, I preach it to everybody. Get it, put some oil in your hair, go to sleep. You can keep it in the daytime, I have really curly hair so sometimes I put it on the ends. I swear it thickens it up and makes it grow so long, quickly too. 
Honestly, my mom is an esthetician. She's always touched my skin and made my skin everything. For a while I'd been living down in Atlanta and I hadn't been getting regular facials, because she'd give me facials and give her product as well. I just went down there, my face was breaking out so bad. I just got a facial by her and a peel, she gave me some of her product. My skin is finally… I'm crying. I looked at the mirror at one point, I was tearing up because it was so bad. It really broke me down, I didn't want to do anything. Her spa is Essencials Day Spa and she's got products. That's my secret go-to: glycolic face lotion and her gentle cleanser is everything. The gentle cleanser smells like Tootsie Rolls, heaven. It's heavenly. 
I saw you've been cooking recently?
Yeah! I always cook, but I gotta put it out there. Been trying to show more of who I am, what I do on social media, but I'm a very homebody type of gal. My dad used to be sous chef in an Italian restaurant so cooking was always big in our family. He'd always make me and my sister cook with him. He'd say "come on down." Honestly it was a drag, like "ugh." But I love it now! I know how to cook, I'm really good at it.
What's your favorite thing to cook?
I like cooking new things, but probably pastas. Pastas are really fun, sauces, cheese sauces, but also regular tomato sauce is good. I made a lasagna for Christmas, that was really yummy. I just did a lamb, that was phenomenal. Eyes rolled in the back of my head, it was so good. [laughs] It was so good, it was the marinade that made all the difference.
Do you have a song with B.o.B. on the way?
I possibly do, maybe even a couple. He might be on the project, but he also might be on this all mixtape type of situation I may be releasing. Because I don't have much music out and people need it, they need the music. That could be really cool. I love him, he's so cool. Such a good friend. Honestly it's so funny how worlds collide. How I knew of him before and now what I know now, it's very relatable. He's super chill, it's dope.
What are you currently manifesting?
Girl, I'm manifesting a whole lot. I'm manifesting to be a boss. I want to be really good at everything I do. I don't want to waste a day. I don't want to waste a second of time. Life is so short, I really truly want to live it well and happily. Attack things i'm afraid of and conquer them. 
What can we expect from Raiche's new project, LOVELAND, due early 2022?
You can expect… I guess we might still be picking some songs, but majority of them are definitely end of the road type of songs. There are a couple of love songs in there too. It's a newer me, it's fresher. It feels young and fun. Feels sexy, moody, and sultry. 
What made you name it Loveland?
It's actually a song on the project. 
Anything else you want to let the people know?
No, just keep on following along. I promise it's going to get good soon! [laughs]
Atlantic Records